Spy Shots showing the new 2018 Mercedes-Benz G-Class SUV testing in China. The new G-Class will debut early next year. China is one of the largest markets worldwide for the G so it Mercedes has to make sure it behaves well on Chinese roads.
Interestingly, this test car has German license plates, indicating it just arrived in China. It was seen at a government car-inspection place, likely to get a temporarily Chinese test-license plate. Note the tow hook. Every single G-Class sold in China got one. Car buyers love it, even though they will never ever use it.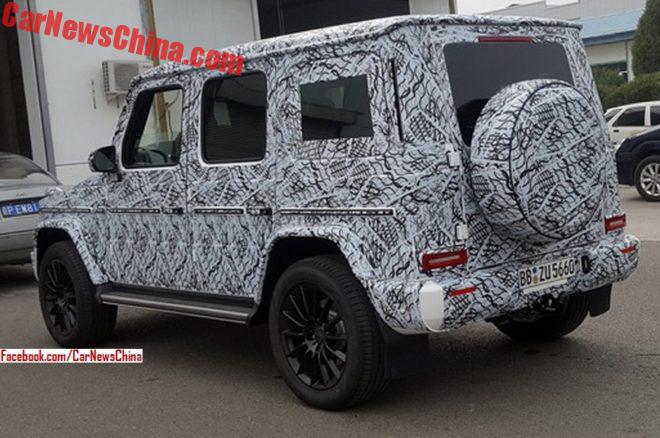 The new G will be 10 centimeters wider than the outgoing car, to create more space in the cabin. The basic design is unchanged, but there will be a larger and more pronounced grille, and the corners will be more rounded. The lights will be smaller and go fully LED.
Engine wise there will be the AMG 4.0 liter twin turbo V8 in various forms, and the new six-in-line 3.0 turbo-diesel, which will likely only be marketed in Europe. A V12 version might be added later on. There are no plans yet for a hybrid version.
Price in China of the current G-Class starts at 1.32 million yuan or 200,000 USD.