New images of the Hongqi H5, an executive sedan for China. The H5 impresses with a giant grille with 12 vertical bars. The 13th bar, right in the middle, extends into a red colored hood ornament. The H5 features a split-headlight design, with LED light bars flanking the grille and another set of lights on the sides of the bumper.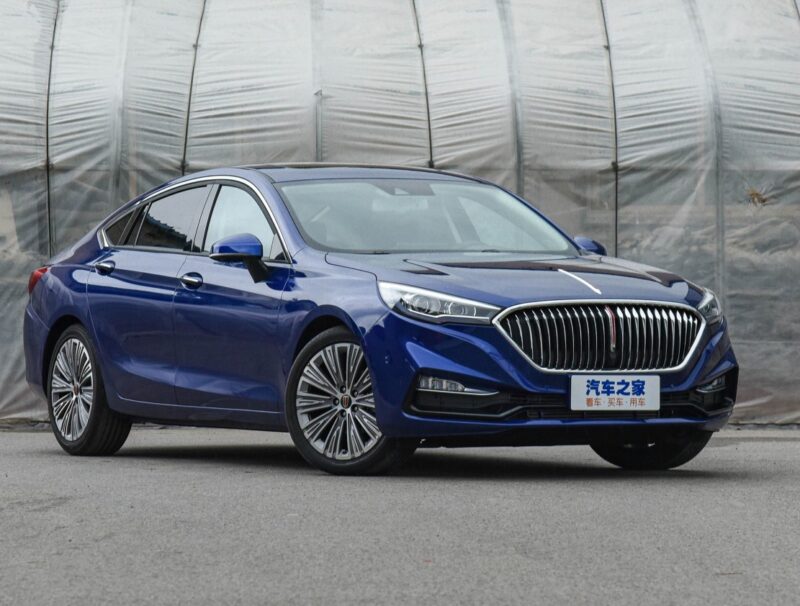 This is the current Hongqi H5 sedan. It debuted back in 2017 and has been updated several times over the years. The Hongqi H5 is based on the same platform as the third generation Mazda 6, which was made in China by the FAW-Mazda joint venture. FAW, or First Auto Works, is also the owner of the Hongqi brand. The current H5 is available with two engines: a 170 hp 1.5 turbo and a 197 hp 1.8 turbo, both developed by FAW. Price starts at 145.800 yuan and ends at 190.800 yuan ($23.100 – 30.230).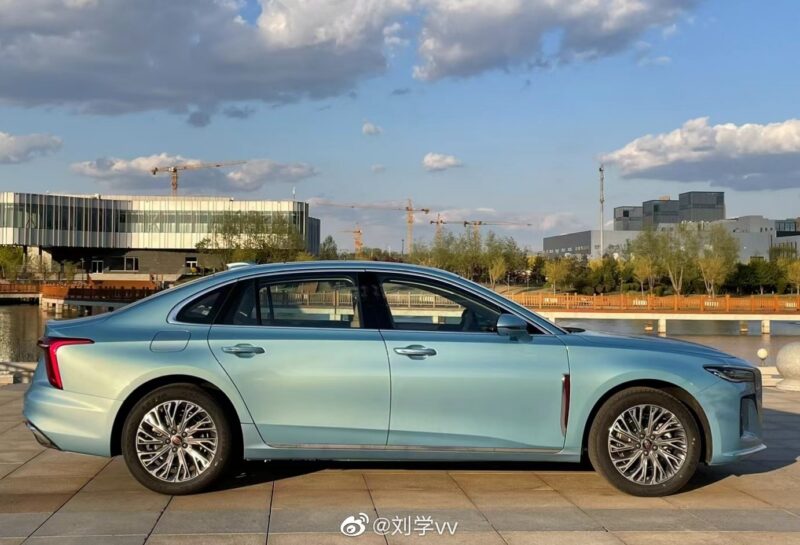 The new H5 has a traditional 3-box sedan design, with a long bonnet and sharp creases over the sides. It is a pretty car, with lots of shiny bits and an interesting red ornament on the front doors. The wheels are very pretty and very complex. Hongqi has been pretty good with wheel design in recent years. The door handles seem a bit old-school for 2022, when many Chinese car makers are switching to pop-out door handles.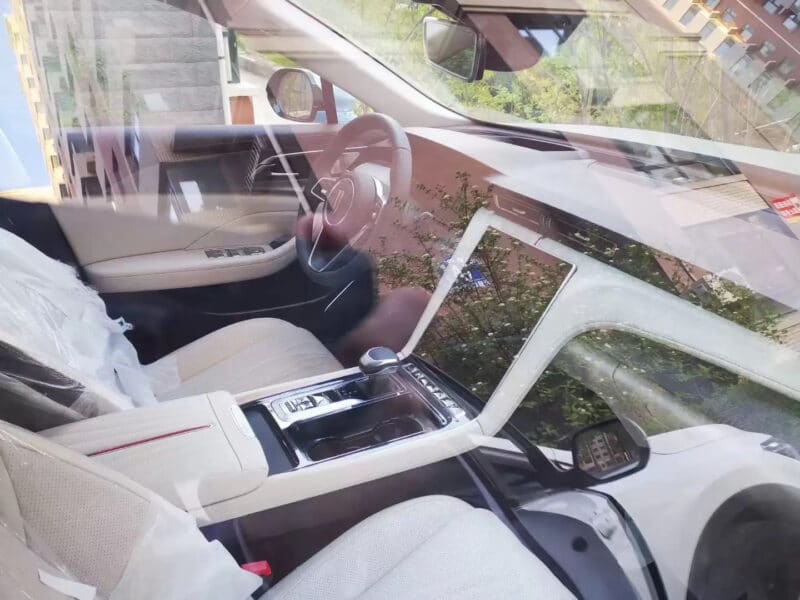 The interior looks great in this light white color. Note how the hood ornament continues over the arm rest. It has a digital instrument panel and a large touch screen in the center with a row of buttons beneath it. The cabin is loaded with leather, on the seats, dashboard, and doors.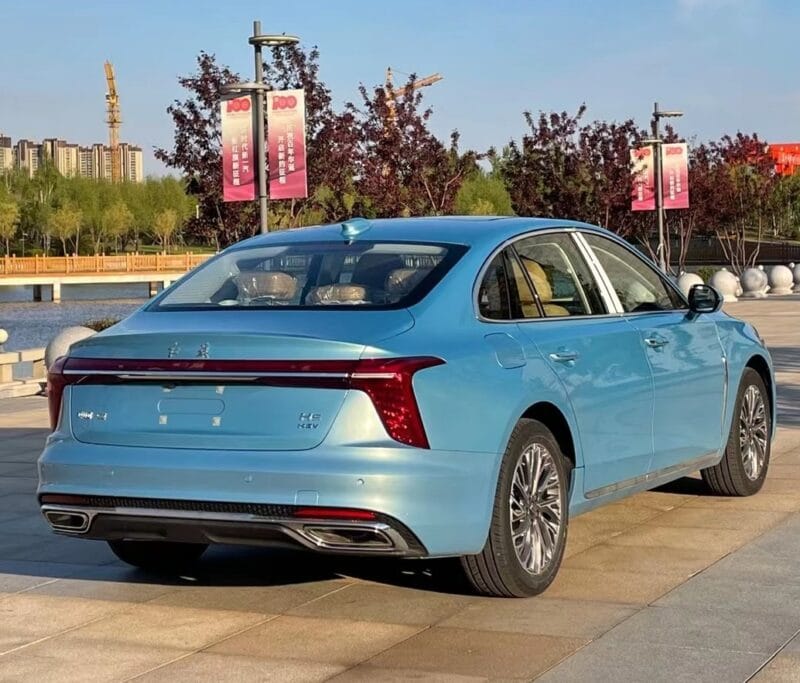 The rear design features a rather large integrated spoiler, a car-wide light bar, and pretty rear-light units. The handwritten characters in the center, below the spoiler, are 红旗, Hongqi, meaning Red Flag. The color name of this car is Aurora Blue. Since about year, Chinese car makers have started releasing information about color names before the actual launch of a vehicle. The Hongqi H5 will get a new 2.0 turbocharged petrol engine. Later on, Hongqi will add a 1.5 turbo PHEV version to the lineup.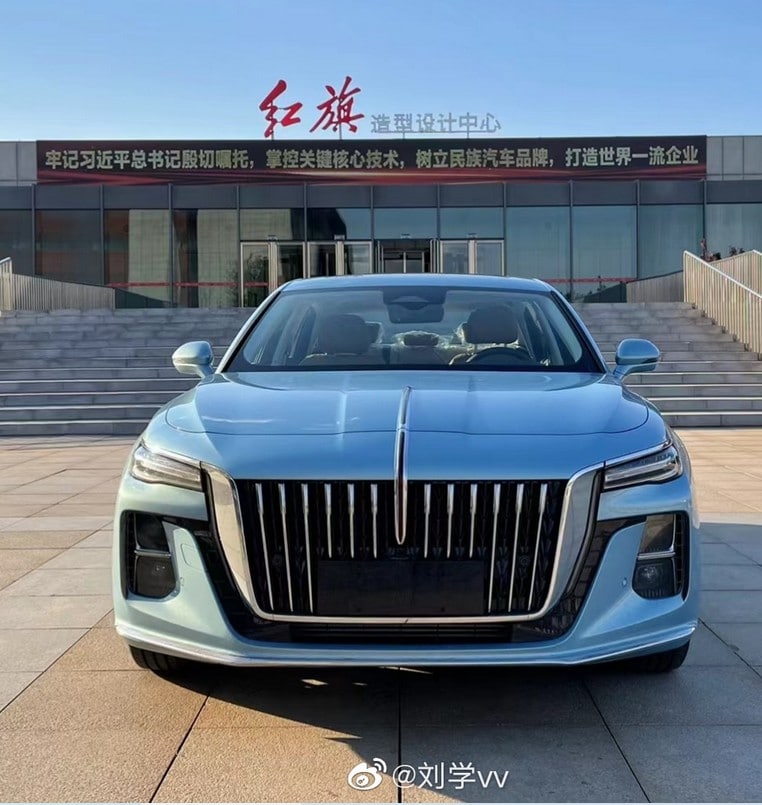 The Hongqi H5 in front of the Hongqi Design Center in Changchun, Jilin Province, located not far from the Hongqi Factory Museum.
Images via Weibo/刘学vv.