BYD Denza D9's official delivery started on October 25 in China, according to a Weibo post by Zhao Changjiang, general manager of Denza's sales division. Earlier on October 21, the first production model of the Denza D9 rolled off the production line.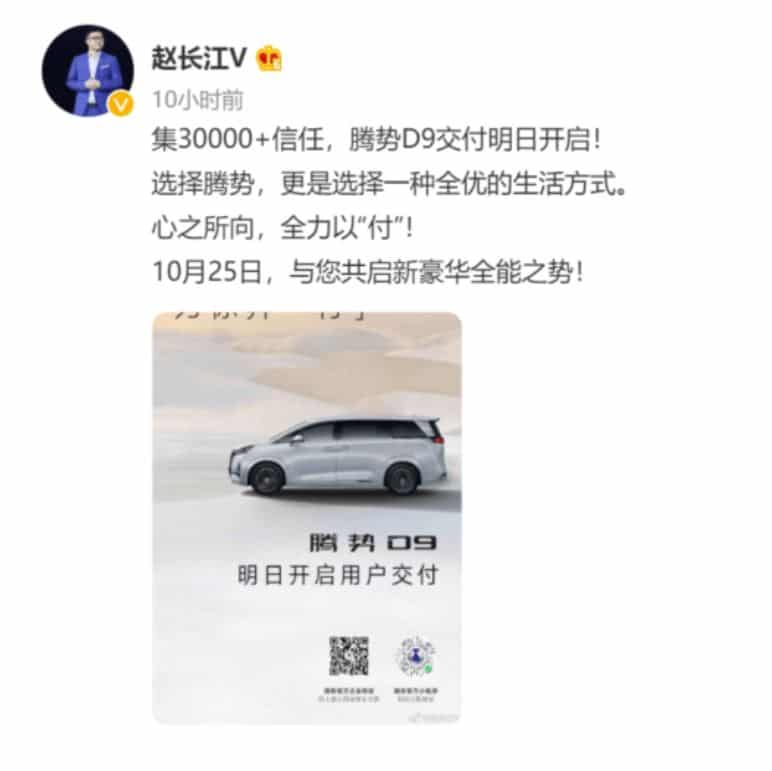 The D9 adopts the π-MOTION design, which represents circularity and infinite possibilities. Five colors are available, including black, dark and mid-blues, white, and light yellow.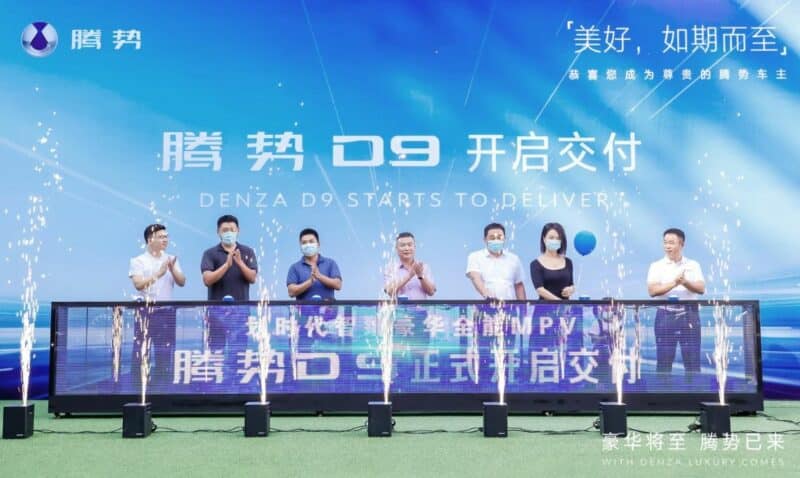 Since its launch, the number of reservations has exceeded 30,000. So far, 174 stores have opened across 61 cities.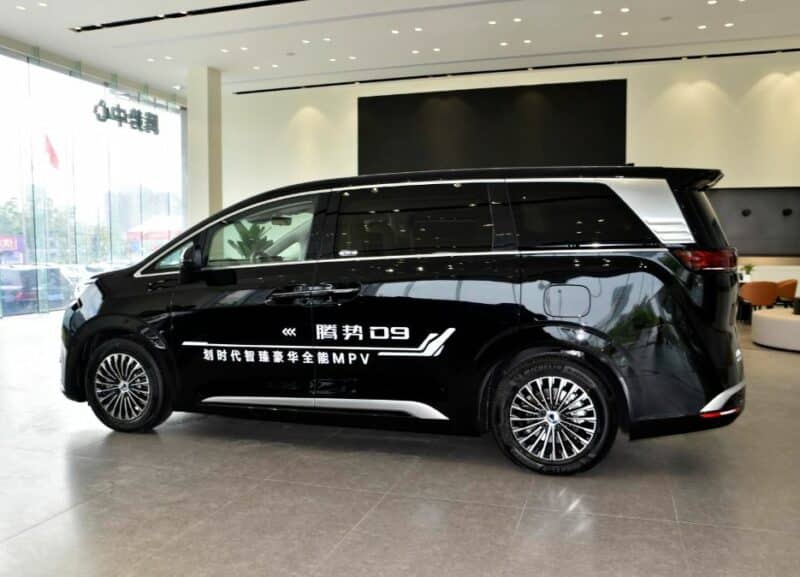 Positioned as an MPV, the size of the D9 is 5250/1960/1920mm with a 3110mm wheelbase. Currently, seven models are available for purchase, priced at 329,800 – 459,800 RMB (48,200 – 67,200 USD). Four hybrid models range from 335,000 RMB to 445,000 RMB (49,300 – 65,600 USD). Two BEV models range from 390,000 RMB to 460,000 RMB (57,500 – 67,800 USD). A super-luxury four-seat version costs 660,000 RMB (88,400 USD) and is limited to just 99 units.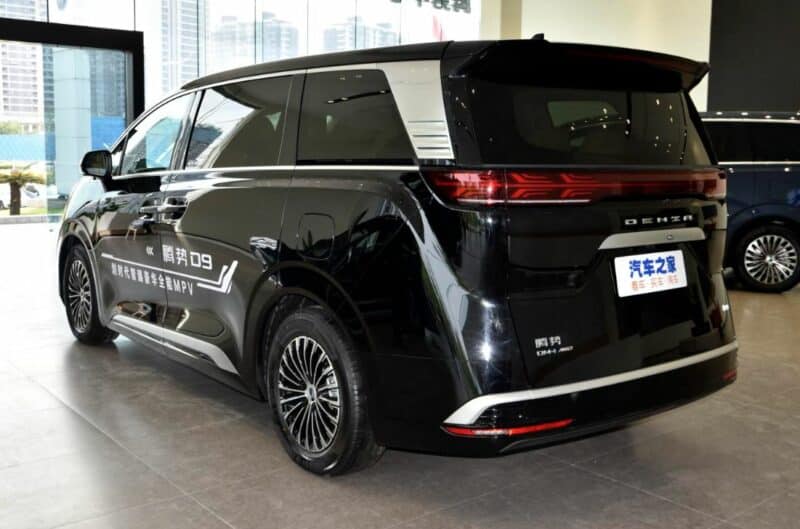 The hybrid models are equipped with a 1.5-liter turbocharged petrol engine mated with an electric motor in the EHS170 electric hybrid system and a 3-in-1 rear-drive hybrid assembly. The driving range for the hybrid models is between 945 and 1040km, with 190km of pure electric range, up to 80kW DC fast charging, and fuel consumption as low as 6.2-liters per 100km.
The BEV models have a maximum CLTC cruising range of 620km and are equipped with two DC charging ports that can be charged at the same time. The maximum charging power is 166kW and can achieve a 230km cruising range in just 15 minutes of charging.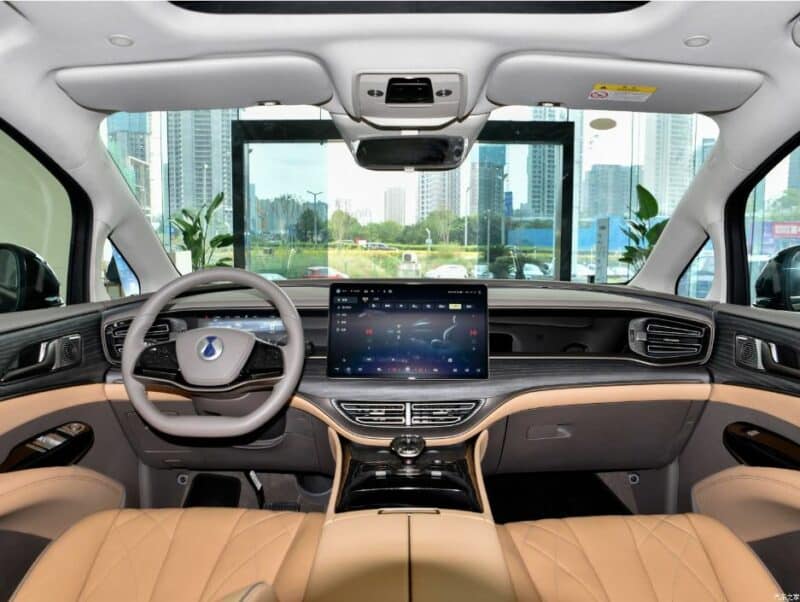 The interior comes with seven screens, three in the front (a 10.25-inch instrument panel, 15.6-inch central control screen, and heads-up display), two on the front seatbacks, and two in the second-row armrests. There is also a refrigerator between the front seats, accessible by those in the second row. For entertainment, Karaoke is present.
In terms of safety, the D9 offers a level 2+ driving assistance system, with 5 millimeter-wave radars and 12 ultrasonic radars among the 24 sensors on the vehicle. Denza claims autonomous parking is possible, as well as a find-my-car function in tier-1 cities. Nine airbags are placed throughout the vehicle, including a full-length curtain airbag on each side.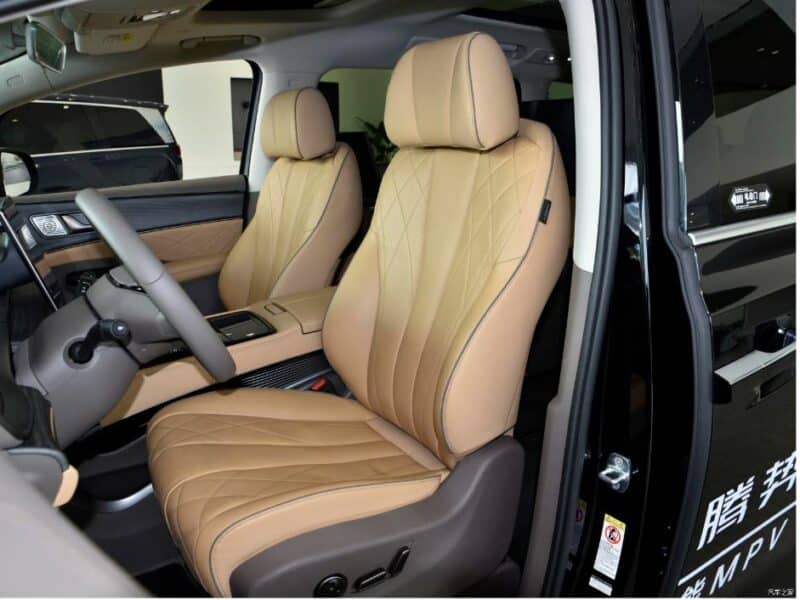 Nappa leather and wood are widely used throughout. A large panoramic sunroof brings lots of natural light into the car. Denza also claims that seven 180cm passengers can travel in comfort with seven 20-inch suitcases.
More to come
The D9 is the first of three new Denzas to launch this year. The Denza series will launch five more products in the future called the D, E, N, Z, and A, based on the name DENZA.
Source: AutoHome, Weibo