On December 24, Nio is holding the annual Nio day 2022 in Hefei. Nio day is an annual event usually happening at the end of the year, where Nio introduces new products into its portfolio. Today's Nio day is the first, where Nio will unveil two cars at once together with the new generation of power swap stations.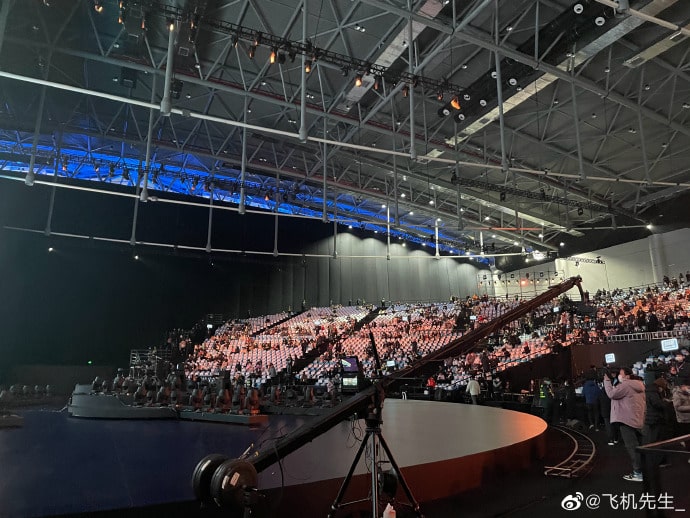 7:00 pm – The event starts with a performance by famous Chinese singer Yida Huang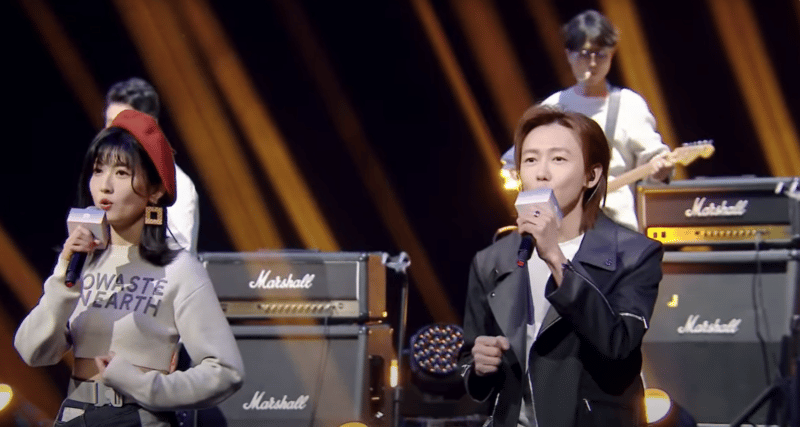 7:05 pm – Nio band performance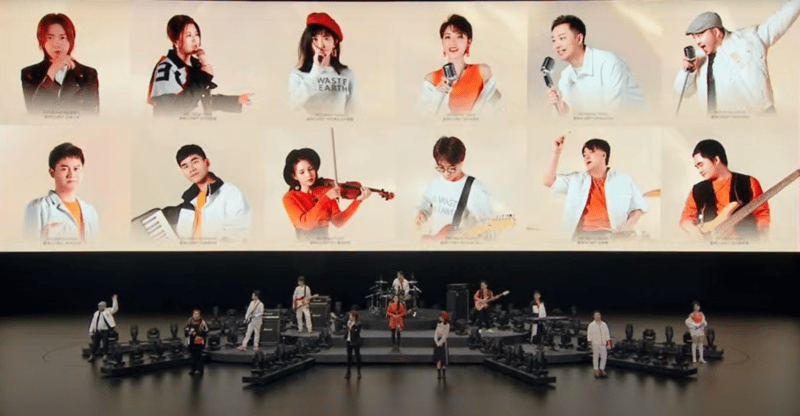 7:11 pm Nio plays the marketing movie
7:25 pm William comes on stage and welcomes people
7:30 pm Li: Nio is giving back to the community by organizing over 16 charity programs, and 500 charity events benefiting 8000 families
7:31 pm William Li presents Nio's ecology projects
7:31 pm – Nio delivered 273,700 vehicles by the end of November
7:32 pm 13 actors – Nio owners – in Shenzhen will perform a new play Should there be light?
7:34 Li: Nio has partnered with 600 global designers for the Nio Life program to bring beautiful lifestyle products to users
7:37: Li: This August, we became a partner of formula Student Germany 2022
7:37: Li: Nio has been one of the brands with the best charging experience in China. We installed Power Home for 160,000 users
7:38 Li: Nio is the company with the most public chargers in China (13,087 units). Nio's goal is to have 1,700 battery swap stations in China by the end of 2023.
7:38 pm: 80.8% of power has been charged for non-Nio users. 110 different EV models charged at Nio public chargers
7:44 pm William introduces the Gen3 swap station
7:47 pm Li introduces the world's first bidirectional liquid-cooled charging module with 98% efficiency and discharge power 62,5kW
7:49 pm: Generation 3.0 swap stations will start building at a large scale from March 2023, offering faster swaps and more smart features
7:52 pm Li: Today, we will add two new cars to our lineup
7:53 pm: Nio EC7 SUV coupe unveiled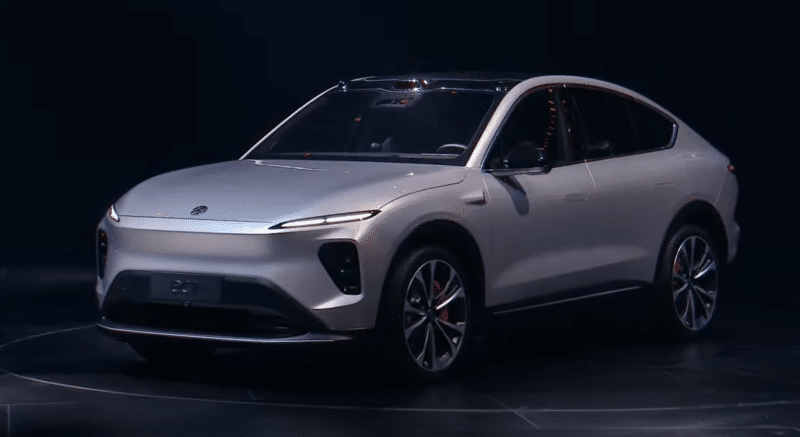 7:54 pm Li in English: Elegance is power!
EC7 has dual mode active rear spoiler. It could be controlled automatically or manually and adds 650N additional downforce.
EC7 size: 4,968mm long, 1974mm wide, 1714mm high with wheelbase 2,960mm.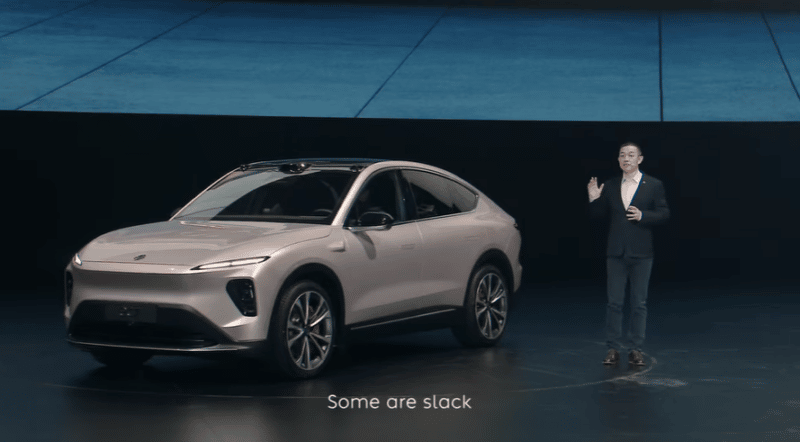 8:02 pm Nio's color of 2023 is Sunlight Gold
EC7 has 5 interior themes: Sand, Onyx Black, K2 Gray, Cocoa Brown, and passionate Coral Red
EC7 braking distance is 33.9m (100-0 km/h) which is 5m shorter than BMW X5
EC7 Driving range 490 km with 75kw battery and 635 km with 100 kWh battery. With 150 kWh battery it is 940 km.
EC7 Prices:
75kWh battery – 488,000 yuan
100 kWh battery – 546,000 yuan
Without battery (BaaS) – 418,000 yuan
Premier edition with 100 kWh battery and Nappa interior, 21″ elegant wheels and NOMI Mate 2.0 and 6 piston brakes in Airglow Orange – 578,000 yuan (BaaS 450,000 yuan)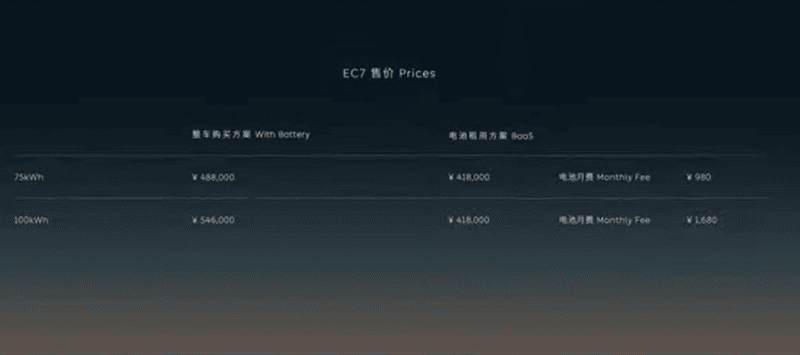 EC7 delivery to start from May 2023
Nio EC7 Original user rights:
10 years unlimited warranty
Lifetime Free Power Swap
Lifetime free roadside rescue
Free Power Home charger
8:16 pm: Nio ES8 NT2 2023 launched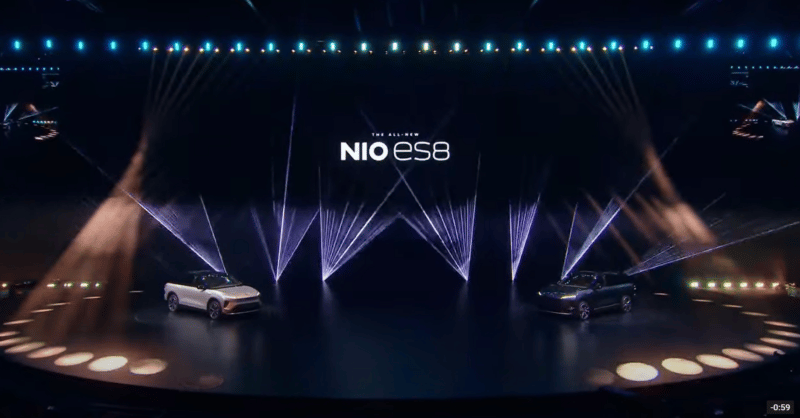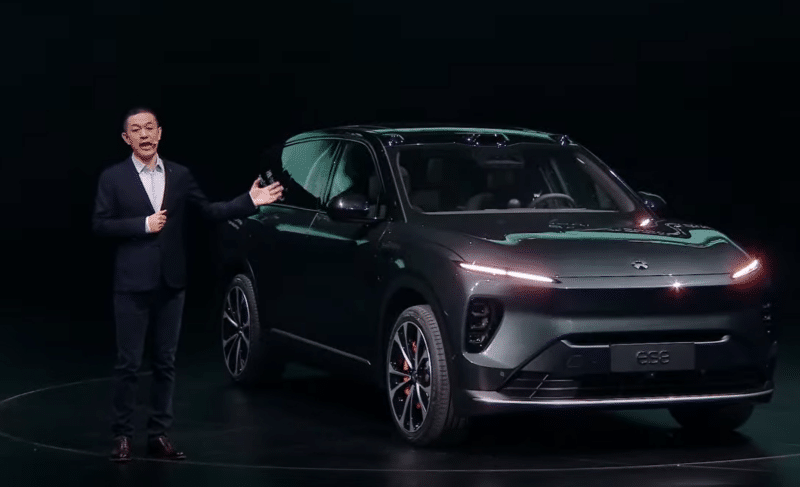 Nio ES8 comes with 22″ high gloss forged wheels
Sensors are invisibly integrated into the body
Size: 5,099mm length, 1,989mm width, 1,750mm height, and wheelbase 3,070mm

ES8 do 0-100km/h in 4.1 seconds, the drag coefficient is 0,250.
ES8 range is 465 km with 75kWh battery and 605 km with 100 kWh battery. With 150 kWh battery range is 900 km.
ES8 has all aluminum body created by the world's largest 8,800 tons die casting machine. 31 parts were merged into one thanks to the die casting.
8:35 pm: William's Li spoiler alert: Nio ES8 wireless phone charging is compatible with Nio Phone.
8:38 pm: Nio lifestream has some issues with sound and image quality, some information may be lost, I will update later
Nio ES8 prices:
75 kWh 528,00 yuan
100 kWh 586,000 yuan
Without battery (BaaS) – 458,000 yuan
The Executive version with a 100 kWh battery starts at 606,000 yuan.
The Signature edition with 100 kWh battery starts at 638,000 yuan
ES8 is available for pre-order now.
Deliveries of ES8 NT2 to start June 2023
8:47 pm William Li says goodbye.
8:48 pm Famous Chinese singer Ronghao Li performs If I were young song as the event ends.
8:50 Thanks for watching Nio day with CarNewsChina and see you soon again!