On January 9, the first Zeekr 009 vehicle rolled off the production line in China, and according to Zeekr, the MPV is ready for delivery this month. The Zeekr 009 was launched in November 2022 with a starting price of 499,000-588,000 yuan ($73,600 – $85,740). The Zeekr 009 is a 6-seater MPV based on the SEA architecture.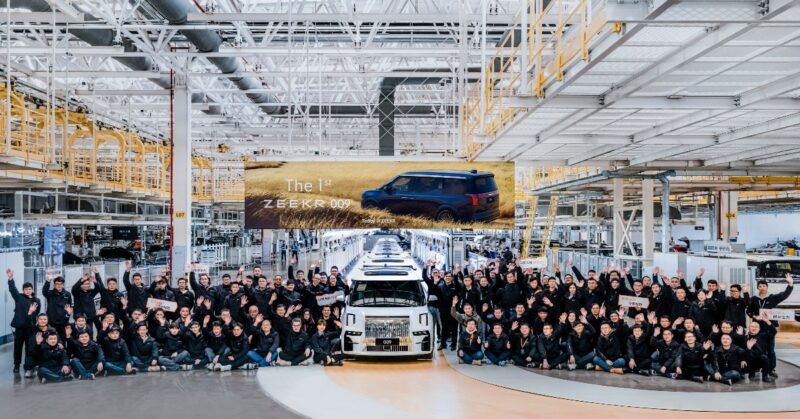 The six-seater MPV has sliding doors on each side and is a pretty big car. For dimensions, it measures 5209/2024/1856 mm, with a 3205 mm wheelbase. The Zeekr 009 is available in two versions.
The first, known as the Zeekr 009 WE, has a 116 kWh CATL Qilin battery and a 702-kilometer CLTC range, and it is priced at 499,000 yuan ($73,600). The other version, the Zeekr 009 ME, has a 140 kWh battery and an 822-kilometer CLTC range, and it goes for 588,000 yuan ($85,740).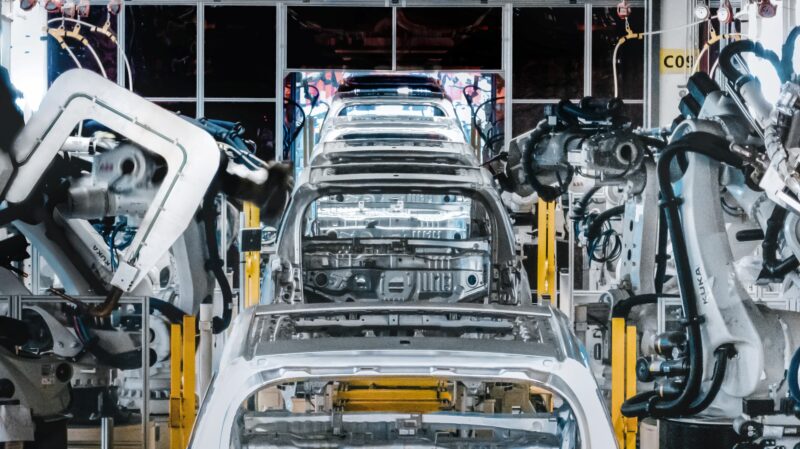 Both versions use a twin-motor four-wheel drive power train with a combined output of 400 kW and 686 Nm. Zeekr says the 009 sprints from 0 to 100 in 4.5 seconds, and braking from 100 to 0 is 36.9 meters. Fast charging from 10 to 80% takes 28 minutes. The top speed is a decent 190 km/h, and the MPV has a ground clearance of 122 mm.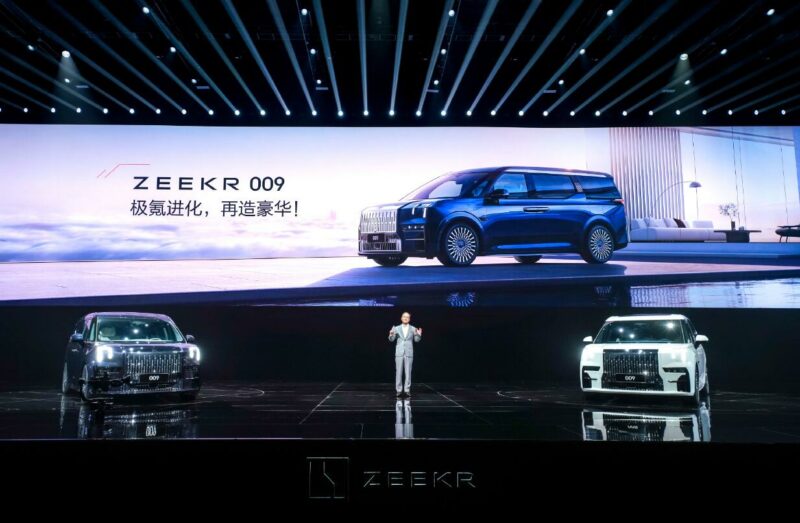 According to Zeekr CEO An Chunghui, Zeekr 009 is the world's first all-electric MPV with a range of more than 700 km, and its range performance surpasses 99 percent of currently available internal combustion engine vehicles. In addition, the vehicle is equipped with air suspension and CDC electromagnetic shock absorbers as standard.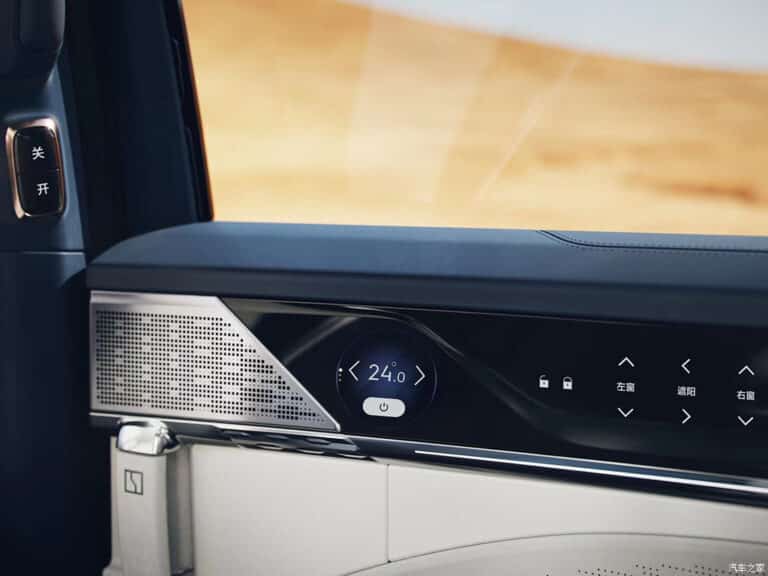 The door panel comes with a touchscreen control which Zeekr is very proud of. Dubbed the 'SMART BAR,' the touch-sensitive screen measures 3.4 inches and controls the seats, air conditioning, door locks, and sun shades. A major highlight of the MPV is its grilles, and Zeekr calls the grille design "Spring of Light." The grille consists of 154 programmable LED dot-matrix lights.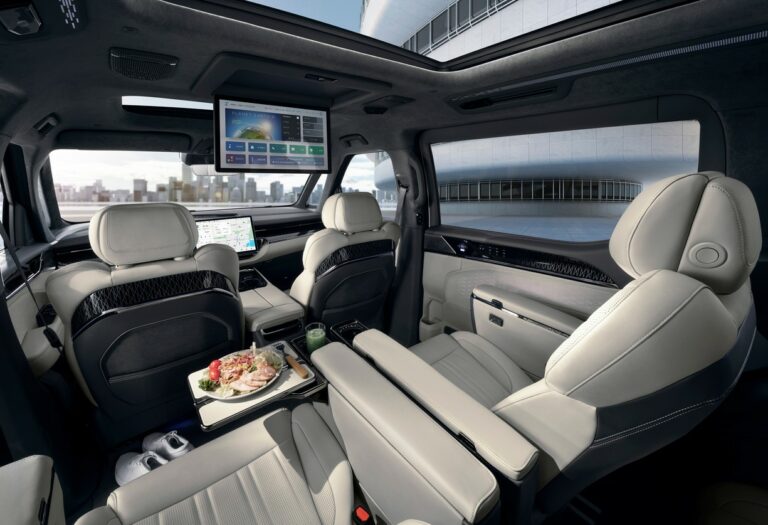 Inside the car, Nappa leather is standard, and the 'Sofaro' captain seats in the second row are 70 cm wide with a cushion thickness of 12 cm. The sound system is sourced from Yamaha, with 20 speakers, including headrest speakers on the first and second rows.
The centerpiece of the second row is a 15.6-inch television screen with a permanent 5G internet connection. It has a wireless screen projection function and a 1080P HD video conference function and the kids can connect their Nintendo Switch game console.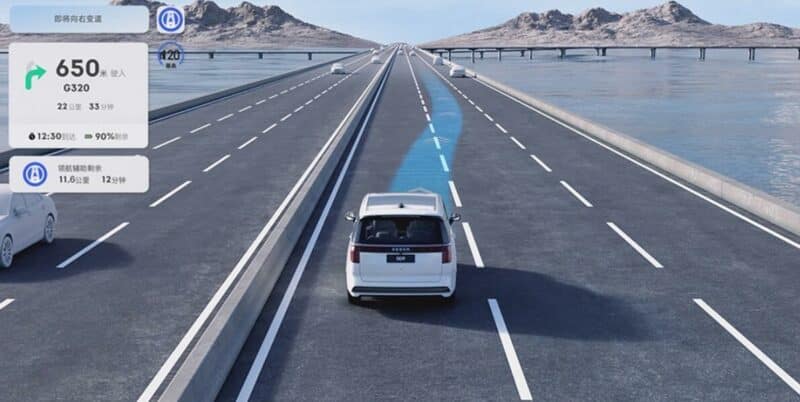 The 009 is loaded with "more than" 30 intelligent assisted driving functions, including full-speed active cruise control (LCC+ACC), automatic parking, rear collision mitigation, automatic lane change warning assistance, overspeed reminder, low-speed reversing emergency braking, and traffic light assistance.
The driver assist system is controlled by Mobileye's dual 7nm EyeQ5H high-performance chips, seven 8-megapixel HD cameras, four 2-megapixel surround view cameras, one ultra-long range millimeter wave radar, and twelve short-range ultrasonic radars.
With this, the Zeekr 009 has pilot-assisted driving and functions such as autonomous on and off highway ramps and active cruise.
Zeekr is a premium EV brand under the Geely Group, founded in 2021. Their first car was the Zeekr 001, and the Zeekr 009 is their second car.