On February 1, NIO announced that its EL7 SUV has begun deliveries to customers in Europe. The first batch was delivered to customers in the Netherlands at the NIO Space Mobile located on the grounds of CM.COM Circuit Zandvoort. Subsequently, customers in Germany, Denmark, Sweden, and Norway will also begin to receive the deliveries. The EL7 is known as the ES7 in the Chinese market and is manufactured in China by JAC-NIO, a joint venture between state-owned car maker JAC and NIO.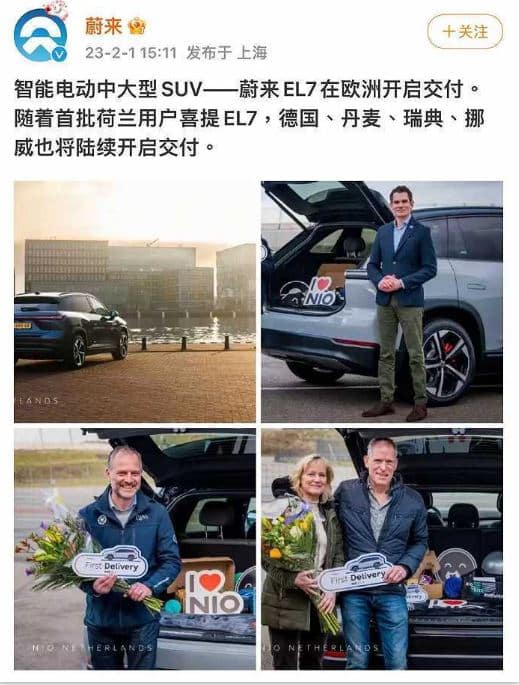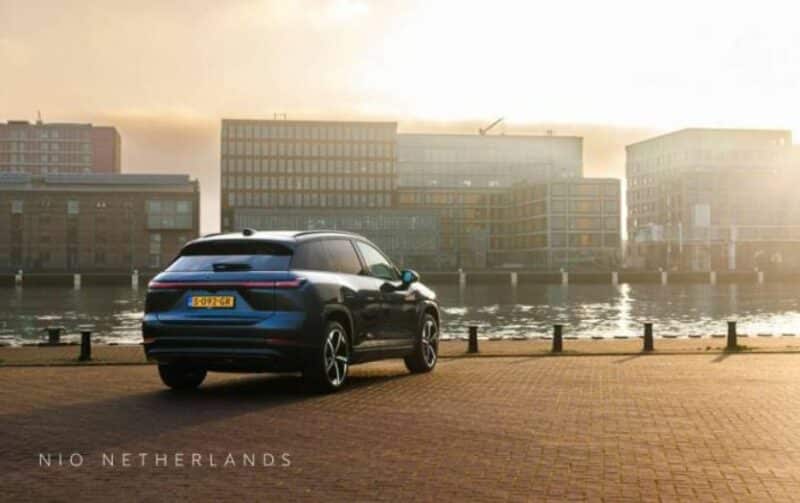 At the NIO 2022 Berlin Conference held in October last year, NIO stated that the EL7 along with the ET7 and ET5 can be pre-ordered in Germany, the Netherlands, Denmark, and Sweden via a subscription model for both short-term and long-term rental services. The minimum rental period is 1 month and the maximum rental period is between 12 – 60 months. Customers can customize the vehicle with different configurations and battery capacities. Furthermore, during the rental period, customers can switch vehicles and the monthly fee will decrease with the life of the vehicle.
Earlier, NIO announced the purchase price of the EL7 in the German market with a price range of 85900 – 94900 Euros.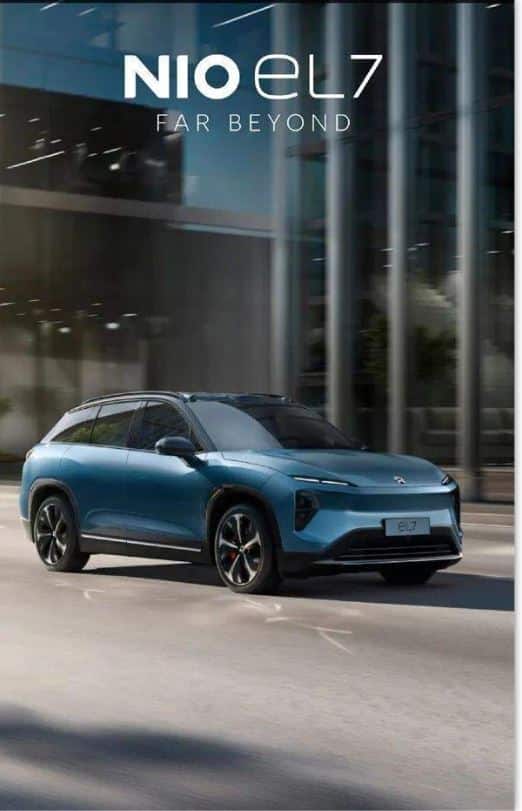 The NIO EL7 is a five-seat electric SUV positioned between the NIO ES6 and the NIO ES8.
Size comparison:
NIO ES6: 4850/1965/1758, 2900.
NIO EL7: 4912/1987/1720, 2960.
NIO ES8: 5022/1963/1756, 5022.
It is based on NIO's NT2.0 second-generation technology platform with a 50:50 weight distribution. The car has a slippery body with a 0.263cd drag coefficient. The NIO EL7 uses a dual-motor four-wheel drive layout. At the front, it has a 180kW permanent magnet motor, and at the rear a 300kW permanent magnet motor. NIO offers the EL7 with two battery pack options: 75 kWh Standard Range Battery and 100 kWh Long Range Battery, with a CLTC range of 485 km and 620 km, respectively.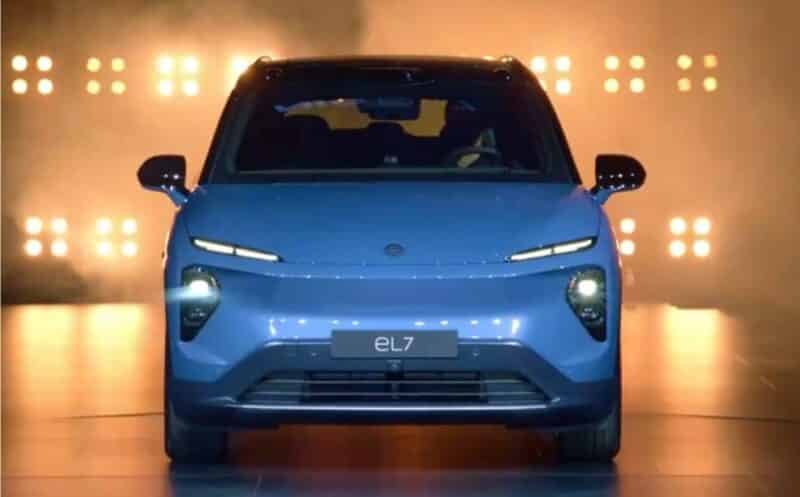 Combined power is 480kW (653 hp) and 850Nm. NIO claims a 200 km/h top speed and a 0-100 in 3.0 seconds. The front brake calipers are sourced from Brembo and fitted with four pistons, enabling the EL7 to brake from 100 km/h to a stop in 33.9 meters. The 75 kWh version comes in at a curb weight of 2361 kg, and the 100 kWh version at 2381 kg. Energy consumption for the 75 kWh version is 17.6 kWh per 100 km and for the 100 kWh version it is 19.1 kWh per 100 km.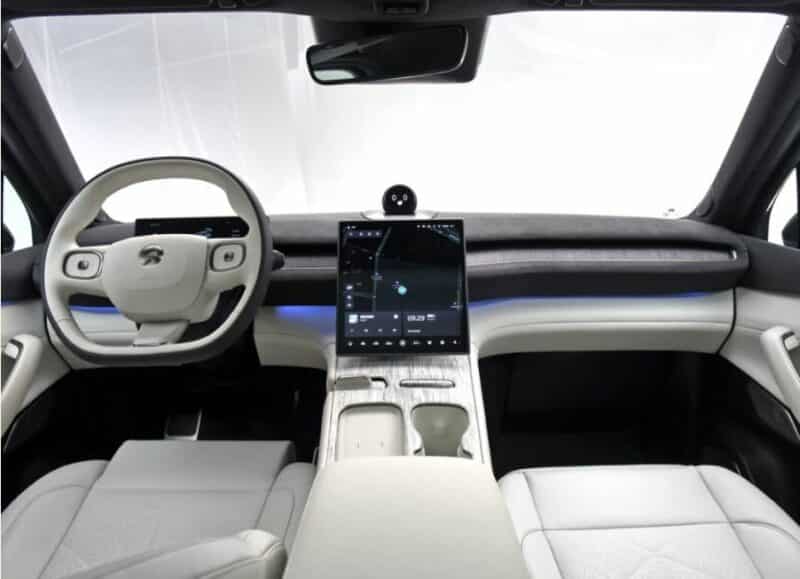 The interior is equipped with a three-spoke flat-bottomed steering wheel, a 9.8-inch instrument panel, a 12.8-inch floating central control touch screen, and a 260.000-color HUD.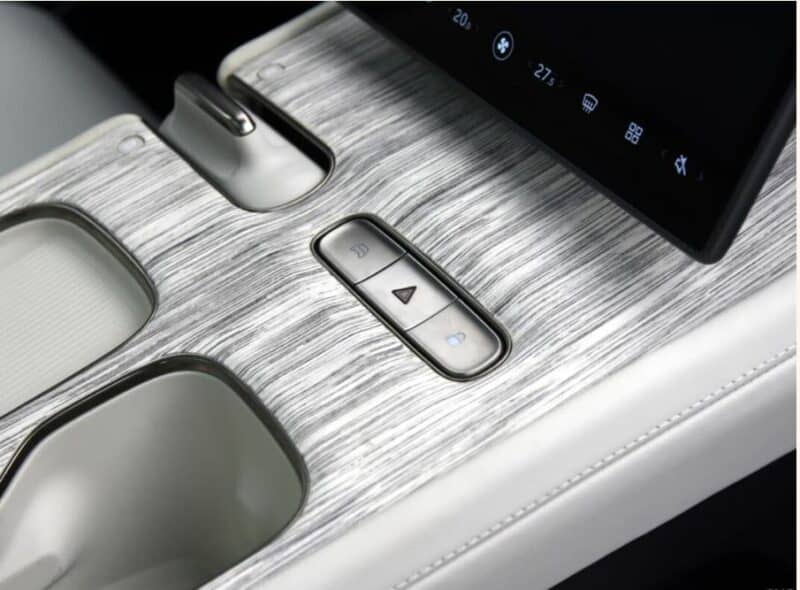 Source: NIO, YiChe