Tesla sold 137,429 vehicles in Q1 2023 in China, according to data released on April 10 by the China Passenger Car Association (CPCA), 26% up from Q1 2022 and 13% up from Q4 2022. Among them, 42,782 vehicles are Model 3, and 94,647 are Model Y. In addition, in Q1 2023, Tesla China exported 92,487 cars, accounting for approximately 40% of the Shanghai factory production.
One of the main factors contributing to Tesla's strong sales in China is the company's price reduction strategy. On January 6th, Tesla reduced its prices in China, with an average price reduction of about 10%. Currently, the average selling price of Tesla in China is around $30,000 to $40,000. This price reduction strategy has helped Tesla make its vehicles more accessible to a broader range of consumers and boost its regional sales.
In March 2023, Tesla delivered 76,663 cars in China, an increase of 16% compared to March 2022. Among them, 21,726 vehicles are Model 3, and 54,937 are Model Y. Set Tesla's highest monthly delivery record in China. Moreover, in March, Tesla China exported 12,206 cars.
According to CPCA data, Tesla ranked second in pure electric cars in China in Q1 2023, with BYD leading the pack by selling approximately 228,000 vehicles. However, it's worth noting that BYD sold about 132,000 cars at more than $30,000 in February, including about 42,000 pure electric vehicles, equivalent to 30% of Tesla's EV sales in China. This highlights Tesla's competition in the high-end market segment, where consumers have a wide range of options.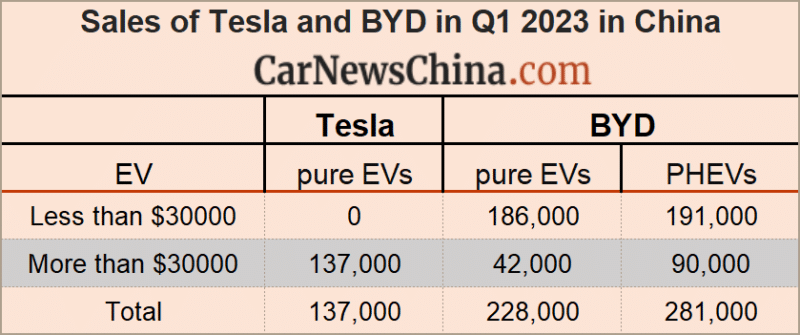 Since 2010, the Chinese government has been actively promoting the adoption of electric vehicles as part of its efforts to reduce air pollution and promote sustainable transportation. The government has implemented various measures to incentivize consumers to purchase electric vehicles, including tax exemptions, subsidies, and a quota system for automakers. However, it's worth noting that China has canceled EV subsidies since January 2023. This move could have an impact on the sales of EVs in China, including those of Tesla.
Despite removing EV subsidies, Tesla remains optimistic about its sales growth in China. The company plans to expand its presence there, including building a new factory in Shanghai to produce batteries.
Editor's Comment
Tesla achieved its best quarterly delivery performance in Q1 2023, but the growth rate has slowed compared to 2022. In addition, starting from mid-March, Tesla's weekly delivery data has begun to decline, and some institutions speculate that Tesla's order reserves in China are decreasing. Many institutions believe that Tesla cannot rule out further price reductions.