Chinese EV manufacturer, BYD, has launched the 2023 Destroyer 05 on April 28. The new car is a compact sedan and the first model of BYD's new Warship Series, a lineup of EVs and PHEVs aimed at a younger audience.
Making its debut at the 2021 Guangzhou Auto Show, the Destroyer 05 was launched in March 2022 and is based on the BYD Qin Plus DM-i. Offered in 5 trims, the Destroyer 05 has a price range of 101,800 to 148,800 yuan ($14,700 – $21,500)
The Destroyer 05 has a streamlined sedan coupe shape with large vertical air intake openings on both ends. Measuring 4780/1837/1495 mm with a 2718 mm wheelbase, the Destroyer is meek when compared to its name. Many would expect something more aggressive for a Destroyer bad.
The BYD Destroyer 05 is powered by BYD's DM-i hybrid EHS system Both versions are fitted with a 1.5-litre petrol engine producing 82 kW (110 hp) and come with either one or two electric motors based on trim levels for a combined output of 134 kW (180 hp) and 146 (197 hp) respectively. The smallest battery offers a pure electric range of 55 km, while the larger one allows it to travel up to 120 km on electric battery power alone.
The BYD Destroyer 05 has an ultra-low fuel consumption of 3.8 liters per 100 km and a combined range of over 1,200 km on a full tank of fuel and full battery charge. Acceleration from 0 to 100 km/h (0 to 62 mph) is 7.3 seconds. The 120km model is also equipped with a 17kW DC fast charging interface and a VTOL mobile power station function.
All models are equipped with the DiLink intelligent network connection system as standard, which supports functions such as voice interaction, karaoke, and OTA upgrades. Drivers can also unlock the door with an Apple watch or iPhone. There's also a 12.8-inch adaptive rotating suspension pad, 16 NFC digital keys
The 120 km top-of-the-line trim has a new front seat heating function, while the color of the seats, steering wheel, stitching, and air-conditioning trim are jade blue.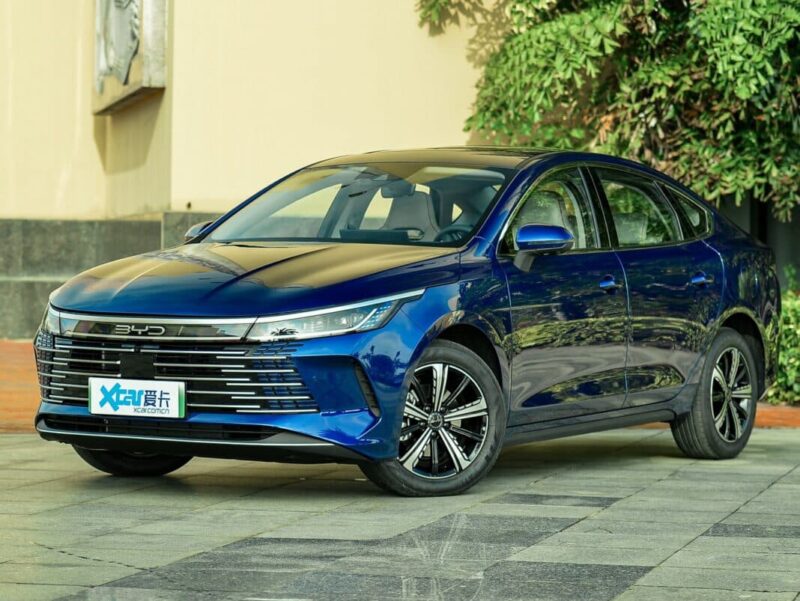 Like other models recently launched by BYD, the Destroyer 05 has suffered a price cut with the entry-level model shedding off 20,000 yuan. This is an effect of the price wars ravaging the Chinese automotive scene, where every automaker is reducing prices to sell more models.