On April 26, the BYD Seagull electric hatchback officially hit the market, revealing three trim levels. The budget EV starts at 73,800 yuan (10,700 USD), 5000 yuan less than the price announced at Shanghai Auto Show, where BYD began taking preorders for Seagull. CarNewsChina previously reported the final price would most likely be lower than advertised.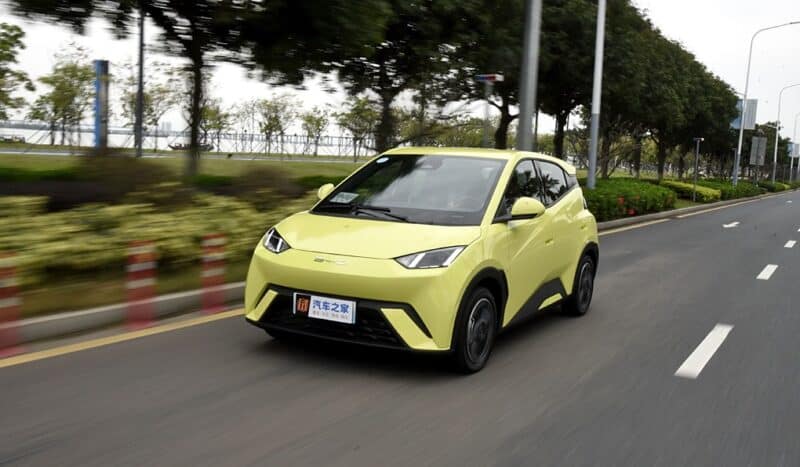 The three trim options offer a price range of 73,800 – 89,800 yuan (10,700 – 13,000 USD). All have the same 74 HP single front motor with a peak torque of 135 Nm and 130km/h top speed. They differ in the battery. The top trim level features a 38.88 kWH pack suitable for the 405 CLTC range; the other two configurations offer a 30.08 kWh pack good for the 305 km range. Both options have an LFP Blade battery and support 30-40 kW fast charging, allowing Seagull to get from 30% – 80% in 30 minutes.
The three configurations go as this:
| | | |
| --- | --- | --- |
| Trim name | Price (yuan) | Price (USD) |
| Vitality Edition | 73,800 | 10,700 |
| Free Edition | 78,800 | 11,400 |
| Flying Edition | 89,800 | 13,000 |
The Seagull had its public debut at 2023 Auto Shanghai last week, the presale started for 78,800 yuan, and customers could experience the car at the Show. Seagull received 10,000 orders in 24 hours after presales started. However, as it is challenging to stay in the headlines in the over-competitive Chinese EV market, BYD has launched it for the second time today.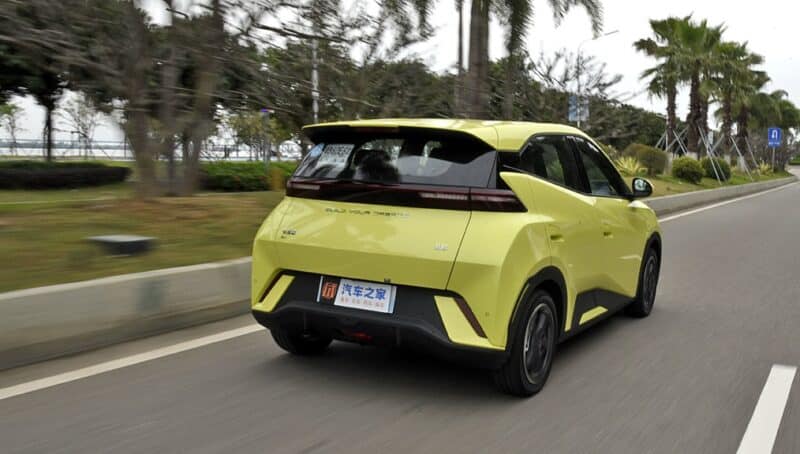 Contrary to what was expected, the car was launched without the sodium-ion option, and BYD didn't mention it at the event. However, according to sources, Seagull will get a sodium-ion option as the first BYD car in the year's second half.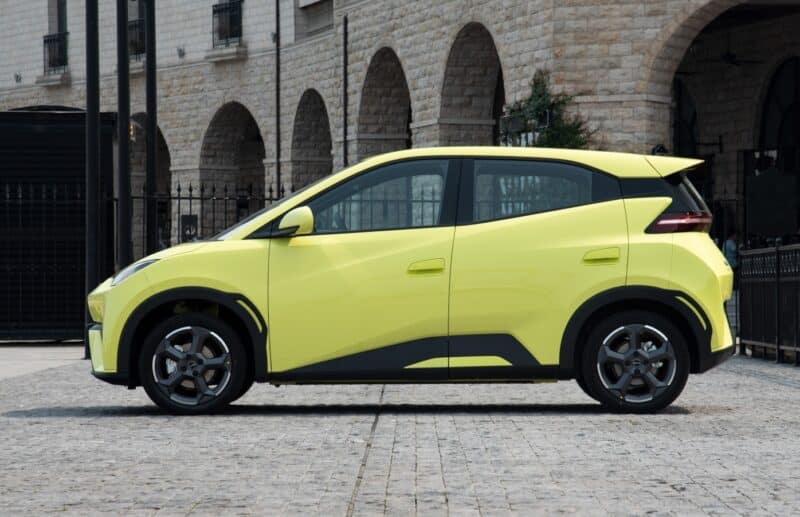 Seagull is a 5-door, 4-seater built on e-platform 3.0 and belongs to BYD's Ocean series. Its dimensions are 3780/1715/1540 mm, and its wheelbase is 2500 mm. It has a rough, sharp design with wavy lines, typical for Ocean series EVs. It supports NFC and Bluetooth key and has a smartphone app.
Inside the entry-level EV, you find a minimalistic design with several physical buttons, 7″ instrument panel, and a rotatable 11.1″ infotainment screen. Seagull has four airbags. Interestingly, the configuration with a 75 kW motor, revealed by MIIT homologation fillings, wasn't officially announced.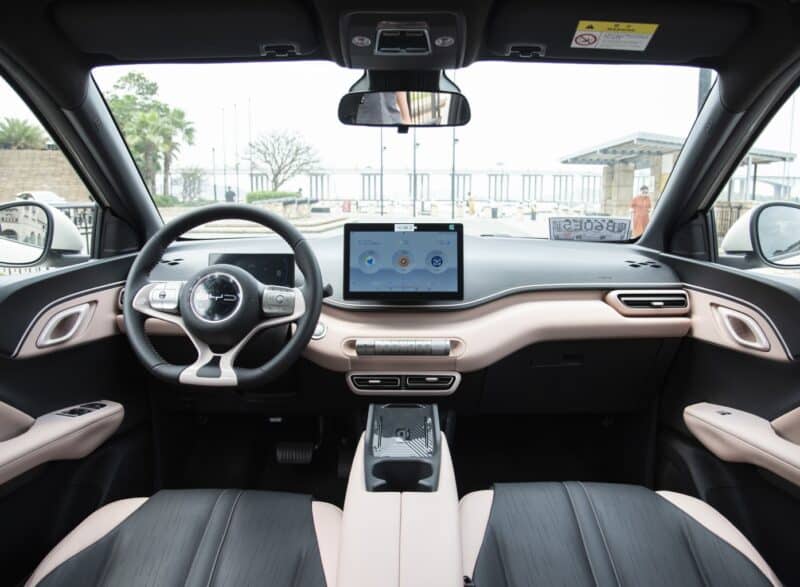 Competition
The car will compete with GM's joint venture with SAIC (SGMW) budget EV Wuling Bingo, which offers a 50 kW motor, 333 CLTC range for 59,800 yuan (8,700 USD). In BYD's lineup, it is positioned under the BYD Dolphin hatchback, also from Ocean series, which starts at 116,800 yuan (16,700 USD). Seagull is currently the cheapest model from BYD.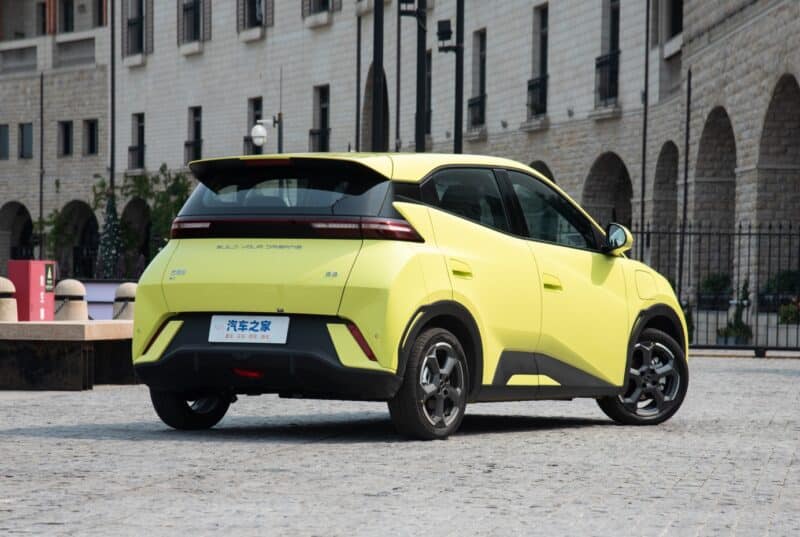 BYD sales
BYD managed to sell 207,080 NEVs in March, with 30,077 units coming from the Dolphin. With the introduction of Seagull's lower-priced model, BYD anticipates fulfilling the demands of younger consumers, thereby facilitating the realization of its ambitious sales target this year.
Last April, BYD ended production of ICE cars, and in 2022, they sold 1,863,494 NEVs. BYD's CEO and founder, Wang Chuanfu, stated during an investor conference last month that the company will sell at least 3 million vehicles this year and will strive to achieve 3.6 million.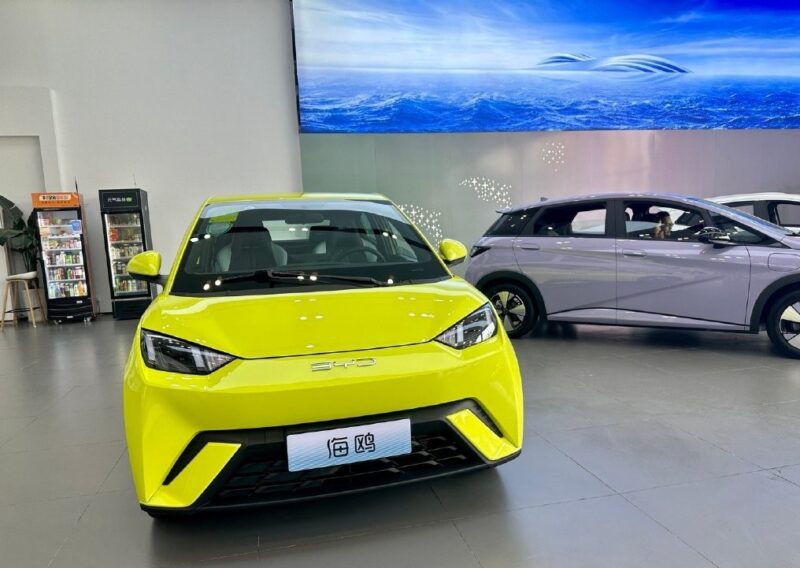 Editor's comment
This hatchback can be a game changer for the Chinese and Southeast Asian EV market. It is affordable, spacious, stuffed with tech, and belongs to Buffet-backed ambitious automaker that expanded to over ten countries with their EVs in the last few months, including Thailand, Israel, Japan, and New Zealand, and becoming sales champion instantly in many of them, not being afraid even of Western European markets. CarNewsChina learned that the car would get different for international markets, but it wasn't revealed by BYD yet.
Furthermore, vehicles that are priced below 150,000 yuan account for nearly half of all sales of new energy vehicles (NEVs) in China, and Seagull aims to capture a substantial portion of this market share. As LOTR fans like to say – So it begins.
You can also check this exclusive review (EN subtitles) if you are interested in Seagull.