1.63 million new cars were sold in the Chinese market in April 2023, according to data released by the China Passenger Car Association (CPCA). It represents a 2% increase compared to last month. Among the total sales, 370,000 were electric vehicles (EVs), and 157,000 were plug-in hybrid electric vehicles (PHEVs), which together are known as new energy vehicles (NEVs). They accounted for 32% of total sales.
Importantly, although China's overall car sales have increased by over 50% compared to April 2022, this is mainly due to the outbreak of Covid-19 in China last year, which resulted in many enterprises shutting down. As a result, this growth rate has little reference value.
Specific Brand Sales
BYD ranked first among the top five best-selling auto brands in China, selling 183,534 vehicles and holding a market share of 11.26%. Volkswagen ranked second, with 174,214 cars sold and a market share of 10.69%. The other three best-selling auto brands were Toyota, Honda, and Changan, each with less than 10% market share.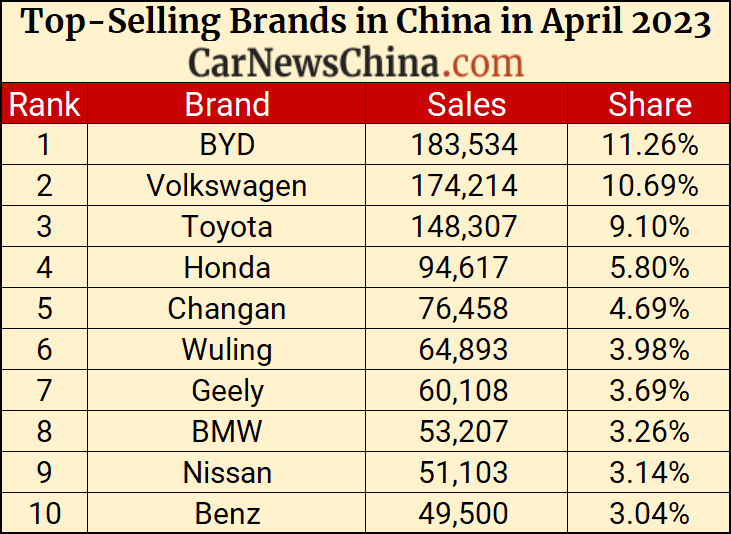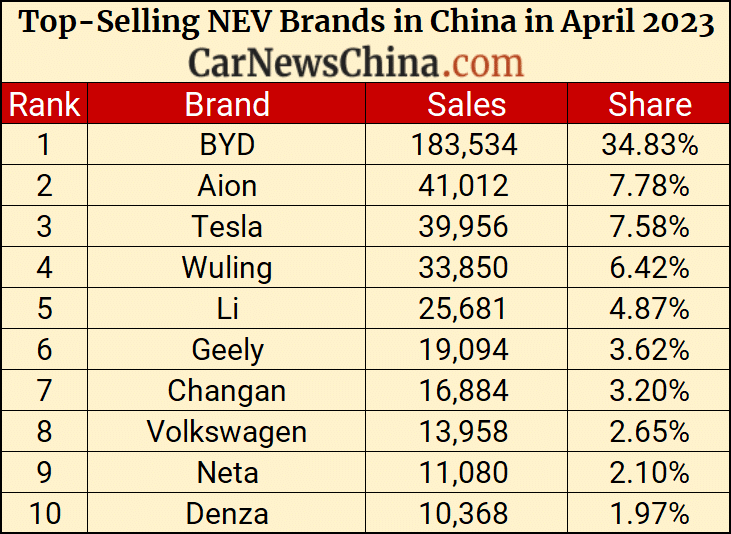 Specific Model Sales
Regarding individual models, the BYD Qin Plus was the best-selling car in China in the first quarter of 2023, with both plug-in hybrid and pure electric versions. In April, it sold 39,951 vehicles, while the second and third best-selling cars were the BYD Dolphin and BYD Yuan Plus, respectively. This means the top three best-selling cars in China in April were all from BYD.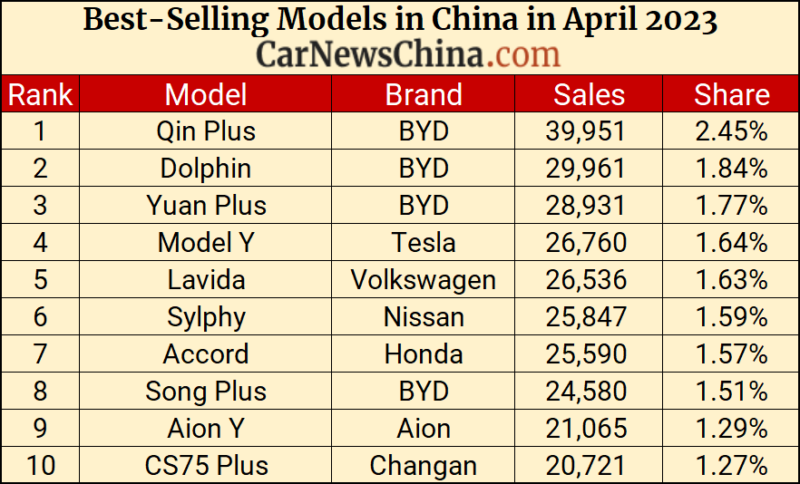 EV Sales
Regarding the pure EV market, BYD remained the leader, selling 88,371 vehicles and holding a market share of 23.88%. GAC Aion ranked second, with 41,012 cars sold and a market share of 11.08%. Tesla ranked third, with 39,956 vehicles sold and a market share of 10.80%. The fourth and fifth best-selling pure electric brands were Wuling and Geely, respectively.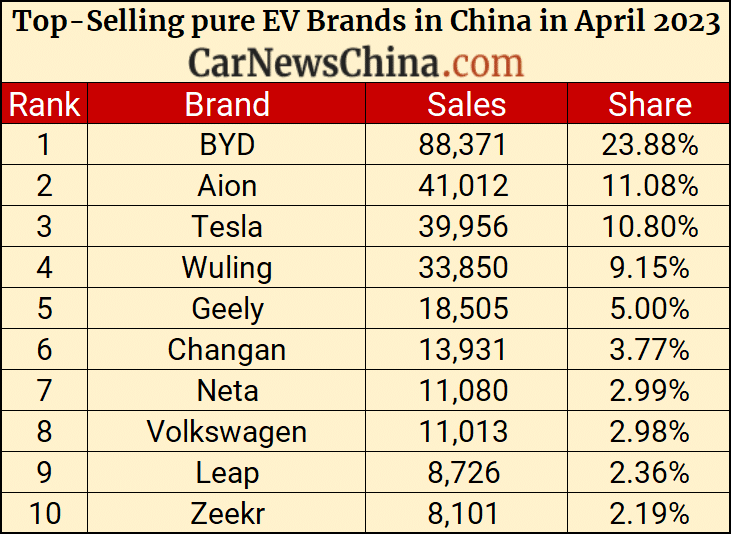 Editor's Comment
The Chinese government is still tightening its carbon emission control measures to address environmental pollution and climate change. 6B emission standards are being promoted in China. ICE companies such as Volkswagen and Toyota are striving to increase the proportion of EVs in sales.