On May 24, Nio launched its most important car – the second generation of their electric SUV ES6 based on the NT2 platform. The vehicle will offer ten exterior and four interior color options. The premium SUV will arrive in Europe as EL6 because of a trademark dispute with Audi.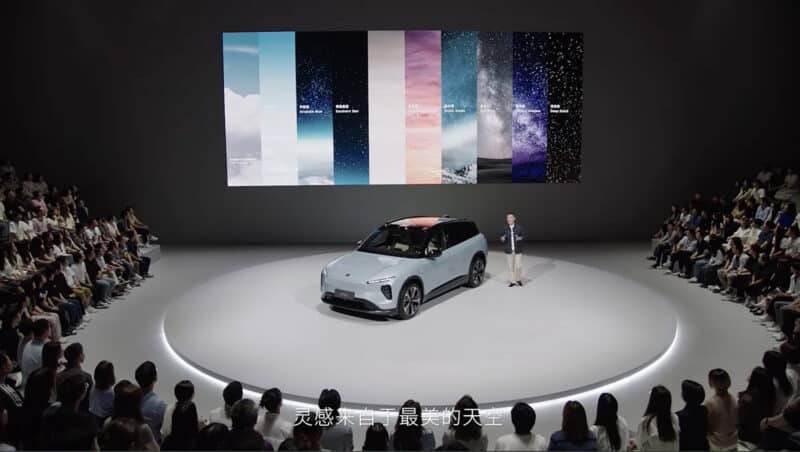 Three battery options will be available for the new Nio ES6:
75 kWh, suitable for a 490 km CLTC range
100 kWh pack, suitable for a 625 km range
150 kWh semi-solid battery, good for a 930 km range.
The ES6 with the first two battery options will start deliveries on May 25, while the trim with a 150 kWh pack will be available later in July.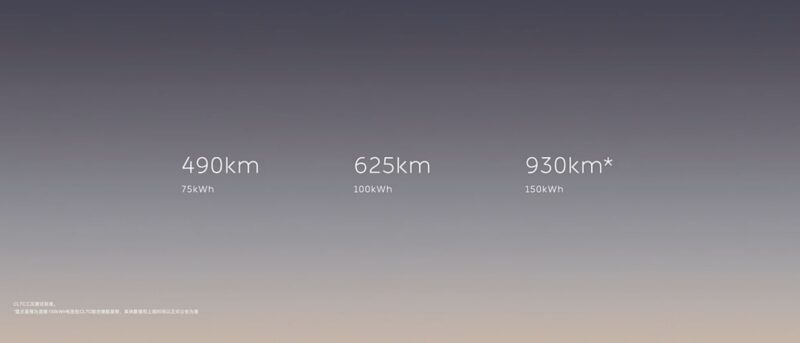 The 2023 ES6 75 kWh starts at 368,000 yuan (52,200 USD), and the 100 kWh trim starts at 426,000 yuan (60,400 USD). The 150 kWh price wasn't announced yet.
If you buy a car without a battery, then it will cost you 298,000 yuan (42,300 USD), and you will need to subscribe to BaaS (battery as a service), which is 980 yuan/monthly (140 USD) for a 75 kWh pack and 1680 yuan (240 USD) for a 100 kWh battery.
The price is lower than the 2022 version of ES6. The ES6 NT1 base model with a 75 kWh battery started at 386,000 yuan, so the new generation is 4.7% cheaper. The NT1 ES6 100 kWh trim cost 444,000 yuan, so the new generation is 4.1% cheaper.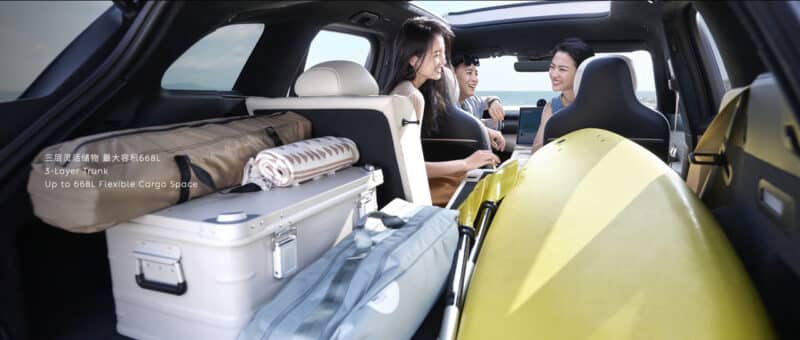 It is good to see that Nio keeps it simple and offers only two variants of ES6, no Performance, Sport, or Signature version like in the NT1 case, which would make the company's lineup even broader.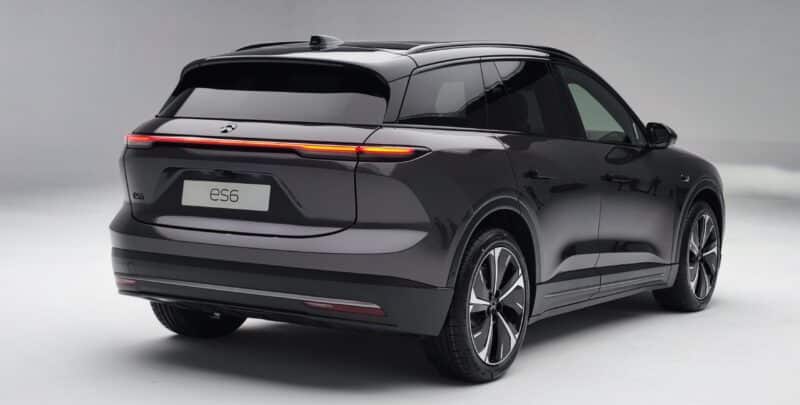 Well, simple only if we forget that you can combine ten exterior and four interior colors, but Nio is traditionally and rightfully proud of its color options so I will give them that.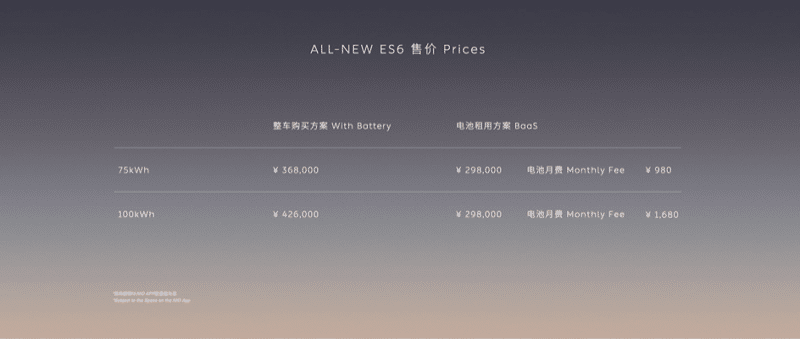 The length, width, and height of the new ES6 are 4854/1995/1703mm, and the wheelbase is 2915mm. This is slightly bigger than the previous generation, but the height is reduced by 55mm. You can compare the dimensions here:
ES6 NT1 (first gen): 4850/1965/1758mm and the wheelbase is 2900 mm
ES6 NT2 (second gen): 4854/1995/1703mm and the wheelbase is 2915mm
Moreover, the new ES6 has 668 liters of cargo space and 1,430 liters with folded rear seats. It features an optional electric tow bar with a 1,200 kg towing capacity.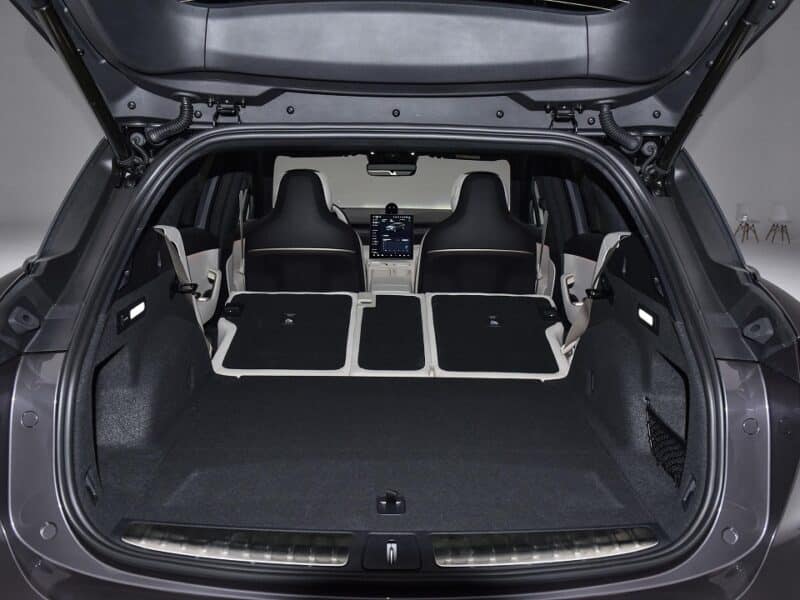 Nio also unveiled an enhanced Queen Co-pilot Seat for ES6. The leather passenger chair effortlessly transforms into a comfortable bed with a simple click on the central control screen. It glides to the furthest rear position, reclines to 160 degrees, and activates the leg rest, allowing you to relax in a nearly horizontal position. Nio refers to this feature as the "Zero Gravity" function. Additionally, you can choose from eight different massage programs.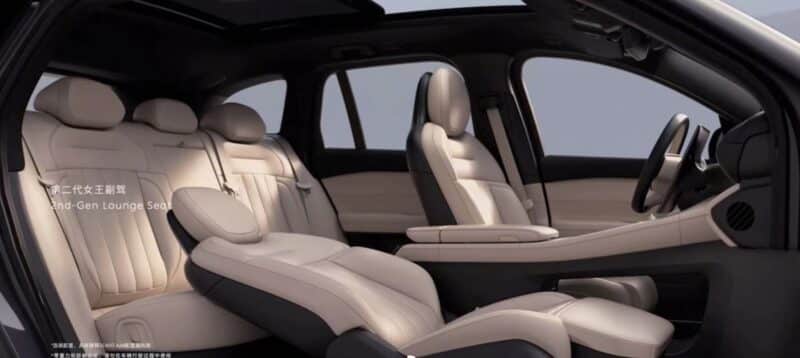 ES6 is a 4WD and can accelerate 0-100 km/h in 4.5 seconds thanks to dual motors with a maximum power of 360 kW (482 HP) and a peak torque of 700 Nm. The front motor has 150 kW, and the rear motor has 210 kW of power. The EV will feature 20″ or optional 21″ wheels.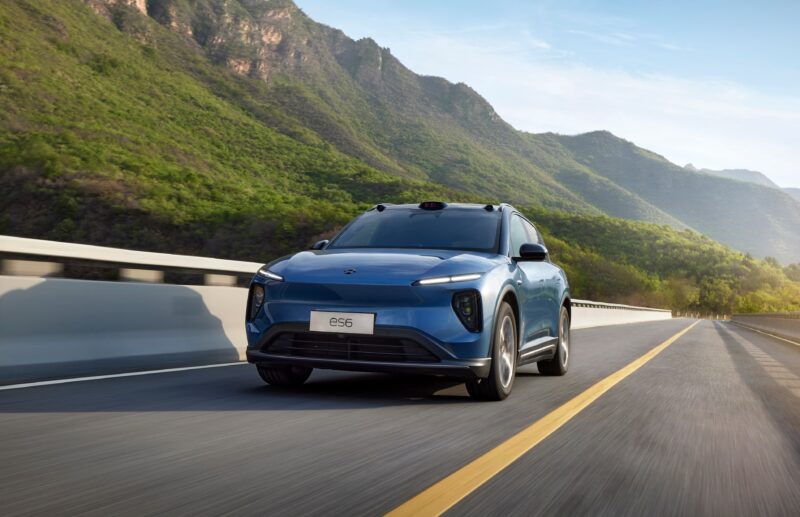 Nio also announced that ES6 would feature Inteligent Comfort Braking System (ISS), Continuous Suspension Damping Control (CDC), and Inteligent Chassis Controller (ICC).
ICC is a fancy SW that puts together different controllers that manage how a car steers, moves, and other things related to steering. It puts all these controllers into one powerful chipset supporting OTA updates.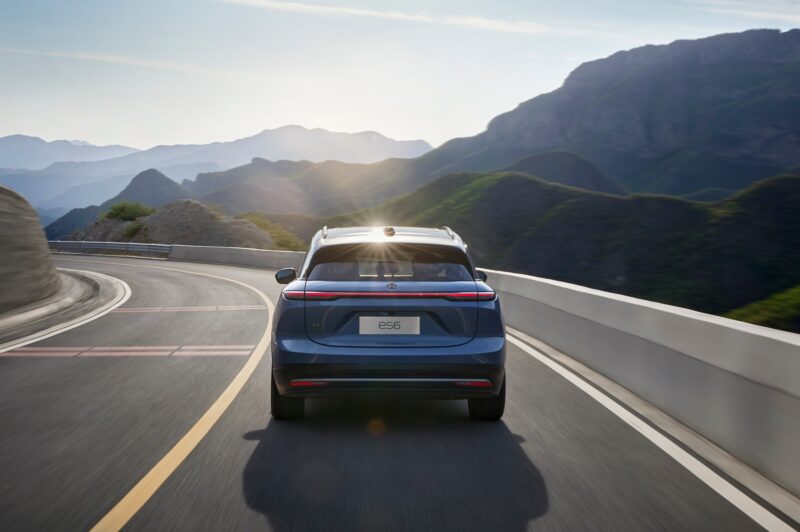 Nio also announced it would soon open City NAD (Nio Autonomous Driving) in Shanghai. City NAD is their answer to Tesla's FSD. They also have a NOP+ (Navigation on Pilot), which is more for highway driving or battery swap and can be seen as Tesla's autopilot alternative. Moreover, ES6 will be the first car to use Nio's Banyan in-car 2.0 software.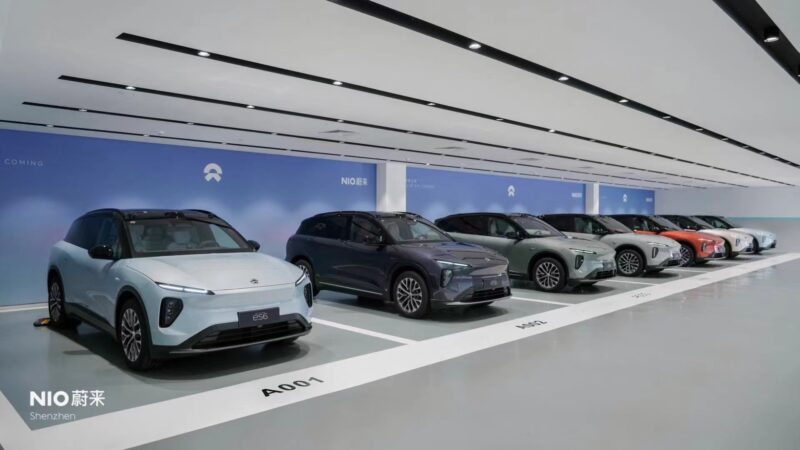 Editor's comment
The NT1 ES6 was Nio's second car (after ES8) and is responsible for 40% of all Nio sales as it delivered over 130,000 units in four years (Nio sold 327,255 since it was founded to April 2023). As ET5, Nio's cheapest car, made some product compromises, its sales were not as high as expected, putting even more pressure on ES6 second generation.
As I watched some first reviews, it seems Nio hit the jackpot, as ES6 is the Nio that most people want. Moreover, Nio fixed many little bugs from the first generation and gave ES6 2023 a reasonable price tag. We will watch the sales number closely and let you know.
You can check all color options here: