Israel's new car market experienced a slight decline in May, falling by 3.1% year-on-year to reach 24,303 units. Among these sales, electric vehicles (EVs) accounted for approximately 15% of the market. However, when looking at cumulative sales from January to May, the market saw a positive growth of 10% compared to the previous year, with 149,604 units sold during this period.
Japanese and South Korean car companies continue to dominate the top three spots in Israel's car market, but all three have experienced an inevitable decline. On the other hand, Skoda saw a significant rise to the fourth position with an impressive year-on-year increase of 88%. Chinese automakers BYD and Chery secured the fifth and sixth spots, respectively. It is important to note that BYD and Chery entered the Israeli market relatively recently, so they had no sales in Israel during the same period last year.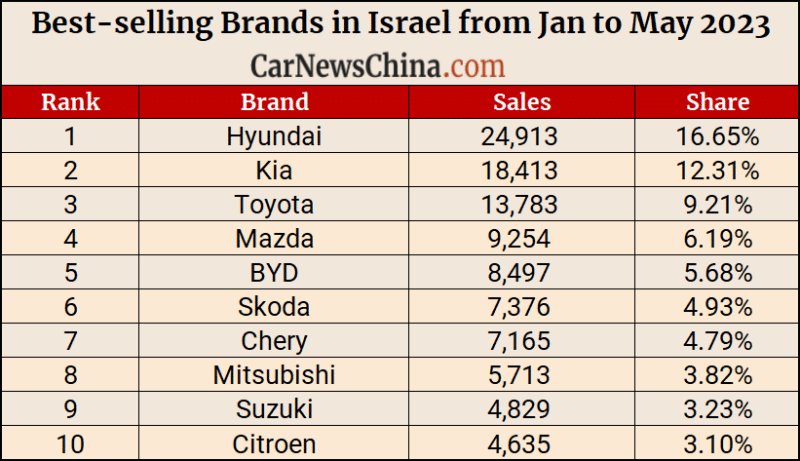 BYD has sold 1,268 EVs in May 2023. Moreover, BYD holds a 5.2% market share, including internal combustion engine (ICE) vehicles. Tesla also performed well in Israel, selling 408 cars in May 2023, securing the fourth position among EVs.
BYD's strong presence in Israel's EV market continued in May, with the company selling 1,268 EVs, accounting for approximately 35% of total EV sales in the country. BYD has established itself as one of the top automakers in Israel, primarily driven by its ATTO 3 model sales, which constitute a significant portion of its sales in the country.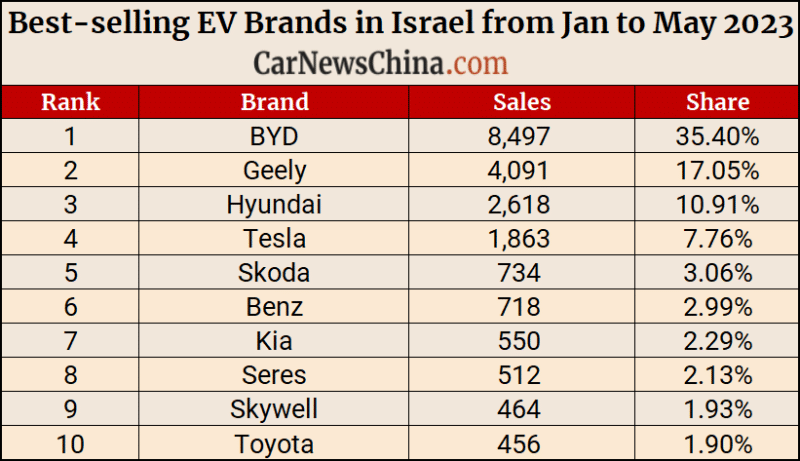 From January to May 2023, BYD delivered 8,497 EVs in Israel, surpassing other competitors. Geely secured the second position with 4,091 EVs delivered, followed by Hyundai with 2,618 EVs and Tesla with 1,863 EVs.
The ATTO 3 model has become a cornerstone of BYD in Israel, representing most of the company's sales. It is worth noting that the ATTO 3 has a starting price of 163,500 ILS (45,600 USD) in Israel, which is higher compared to its starting prices of 139,800 RMB (19,600 USD) in China and 38,000 EUR (40,800 USD) in Europe.
BYD's export performance also deserves recognition, as the company exported 10,213 EVs in May 2023, marking a remarkable 23-fold increase compared to the same period in 2022. The primary export models include 5,338 units of the ATTO 3, 2,250 units of the Song Plus, and 1,598 units of the Dolphin. A significant portion of the ATTO 3 models has been shipped to Israel.
In addition to the ATTO 3, BYD introduced two other models in Israel in the first quarter of 2023, namely the Han and Tang. Deliveries of the Han and Tang models have already commenced in Israel, with the Han starting at 335,000 ILS (93,500 USD) and the Tang starting at 316,000 ILS (88,200 USD).
Source: cartube.co.il; bestsellingcars