In 2010, the party was already in full swing. Homegrown Chinese car brands popped up left and right on an ever more crowded dance floor. The Roewes, Geely's, Great Walls, and BYDs were all over the place, competing for a turn in the spotlights. So GAC was quite a latecomer to the party and joined at the end of the conga line. If you want to work your way forward, you'll have to do a couple of things right.
Gonow
GAC founded its passenger car business, GAC Motor Co., Ltd., in 2008. It still needed a factory and some products to sell. Let's start with the factories. GAC Motor initiated the construction of a new factory in 2008, of course in Guangzhou. For additional capacity, the company followed a remarkable strategy of praying on smaller manufacturers and chasing them off their premises. It's hard to tell if this was a deliberate plot or just a coincidence, but all three brands GAC Motor got involved with, ended that way. Two of the manufacturers, Changfeng Liebao and Zhongxing, already have a feature article, so you can read the details there. Which leaves only the third company, Zhejiang Gonow Automobile.
Gonow is the brainchild of Miao Xuezhong. As a teenager, not having enjoyed a high school education, Miao sold buckets and other plastic items on a market square in late 1980s Shanghai. On a good day, he was noticed by Li Shufu of Geely fame, who gave Miao a job in Geely's sales department. At the time (we're in 1988 now), Geely wasn't a car manufacturer but made refrigerators and aluminum home decoration panels. Miao sold the panels. In 1993, Geely started making an aluminum composite panel, and Miao, then Head of Supply and Marketing, quit his job. He and his family set up a chain of stores to sell the Geely panels. The business grew nicely, helped by a good supply deal with Geely, and by 1997, Miao handed control to one of his family members.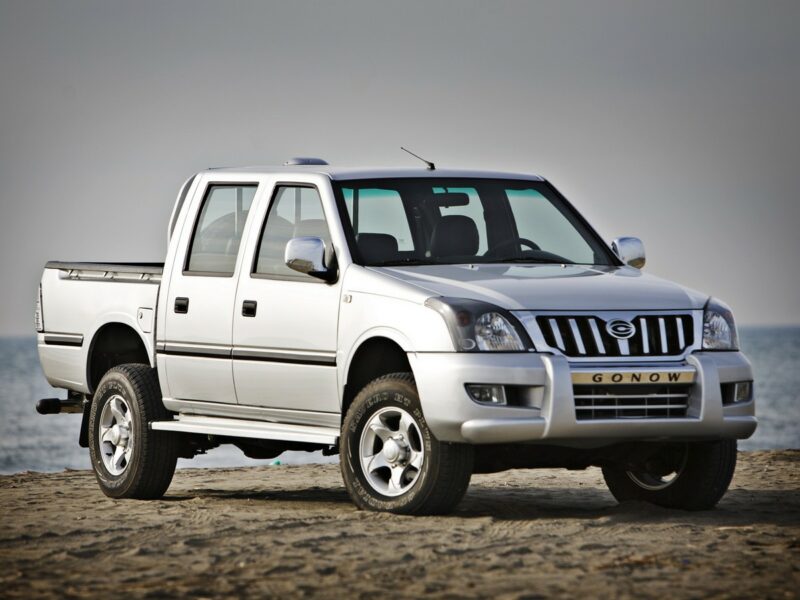 Miao returned to Geely at the invitation of Li Shufu and became the manager of Geely's scooter factory. When one of Li's brothers left the company in 1999, Miao took over his role and became the head of Geely's automobile operations in Hangzhou, Zhejiang. In addition, he also became a board member of the Geely Holding and stayed in that role for three years. Then he left Geely once again and this time for good.
Miao briefly returned to Shanghai in late 2002, setting up his own company Shanghai Gonow Board Industry, making decorative solar panels. He was lured back to Zhejiang province by some government incentives for new businesses. He invested in two more companies, Gonow Auto Parts, and Gonow Steel Structures. All his companies were joined under the Gonow Group. In 2003 he added another operation, Zhejiang Gonow Automobile. The story says that Gonow Automobile merged with Chenzhou Nanyan Chifeng Automobile Factory to become a car manufacturer. I can only assume Nanyan Chifeng is a small, pre-existing car maker based in Chenzhou, Hunan, because I haven't been able to find any details on this factory. Anyway, the merged Gonow makes the well-known, Isuzu-inspired, generic pickups and SUVs in the Chenzhou factory.
Meanwhile, Miao also has started construction of a new factory in Taizhou, Zhejiang, with a much bigger capacity. Production begins there in early 2004 and the Gonow products become a surprise hit in the province. The Gonow pickups are reasonably well-built and a lot cheaper than similar pickups from Great Wall. After the initial success, Miao drastically increased the development pace of Gonow Automobile. He planned additional factories in Hangzhou, Zhejiang, and Dongxing, Shandong, set up an R&D department, bought another car company in 2005, and contracted Daewoo International for engineering services in 2006.
The car company that Gonow bought, was Shaanxi Hanjiang Automobile. This company originated in 1984 as a branch of the Shaanxi Aircraft Corporation, itself part of the aviation conglomerate AVIC (Aviation Industry Corporation of China). Like many others in the defense industry, Shaanxi Aircraft turned to car manufacturing in the post-Mao era. AVIC had acquired the rights to several Suzuki models and Shaanxi Aircraft started making the Suzuki Carry minivan under the Hanjiang brand. In 1999 the car factory was formally incorporated as Shaanxi Hanjiang Automobile Co., Ltd., at the same time bringing in some strategic investors. In 2002, Hanjiang added a second minivan, based on the Daihatsu Atrai, but with a self-designed body.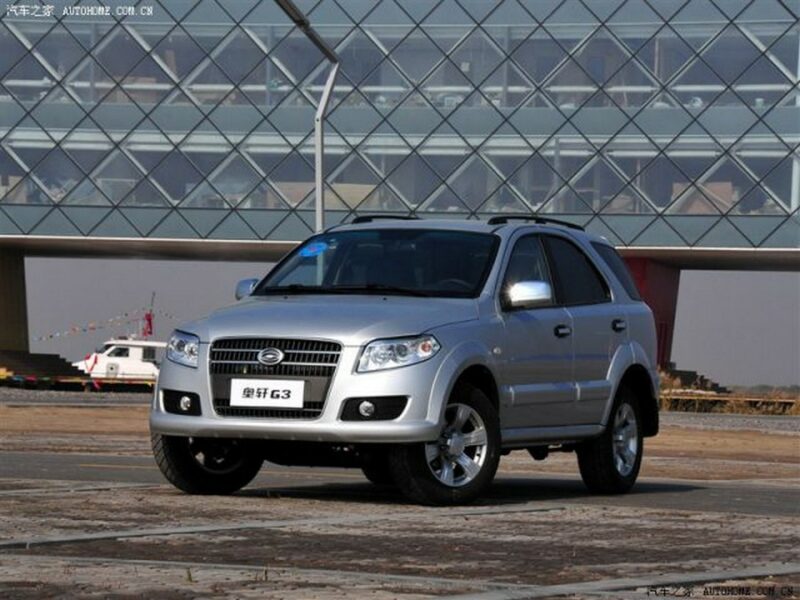 Gonow wanted to make minivans and so they bought Hanjiang Automobile in 2005. They bought the brand and car designs, but not the factory in Shaanxi province. In 2009, Shaanxi Aircraft and some other investors revived car manufacturing in that facility by establishing Shaanxi Tongjia Automobile, a minivan maker that still exists today. The Gonow minivan, named Xingwang appeared in the same year.
Gonow enlisted Daewoo International to assist with the development of new SUVs and pickups, as they wanted to move away from the generic models they were making. Daewoo International was mainly a trading company in auto parts and split off the Daewoo holding during its bankruptcy crisis. It was not part of GM Daewoo, the car manufacturer. Daewoo International also assisted Geely in developing a new line of cars. Gonow and Daewoo jointly developed the Aoxuan G3 and G5 mid-size SUVs, that debuted in 2009.
By then, it was clear that Miao had overstretched the Gonow company in its accelerated growth. He ran out of money and needed someone to pick up the bills. In July 2009, Gonow and GAC Motor agreed to set up a joint venture, transferring some of Gonow's assets, but that never happened. Still, under financial pressure, Miao was forced to sell 51% of Gonow Automobile to GAC Motor in April 2010.
After the take-over, Gonow production continued. Some of the old models remained in production and the Aoxuan was upgraded to GX5 in 2012. Two years later, a further improvement spun off as GX6, and a new pickup called GP150, based on the Aoxuan technology, was added. It helped a bit, but financial troubles kept rearing their ugly head. In 2016, GAC acquired the remaining 49% of equity from Miao's Gonow Holding. GAC discontinued all Gonow models, renamed the company GAC Motor (Hangzhou) Co., Ltd., and assigned the factories to the Trumpchi brand. Gonow was gone.
Well, for a while. About a year later, Miao Xuezhong established a new car company called Zhejiang Xin Gonow New Energy Automobile (Xin means new) and went into the modification business. Initially, he made recreational vehicles (RVs, camper vans) and later he started modifying minivans to electric vehicles. New Gonow, which has a factory in Hangzhou, also does some contract manufacturing for car makers such as Dongfeng Junfeng and Dayun. New Gonow still exists.
Trumpchi
Around the time GAC Motor acquired Gonow and its factories, it had also taken hold of the Changfeng factory in Changsha and the GAC-Zhongxing plant in Rizao. So it had the production capacity covered, now it's time to look at the cars. As said, GAC Motor started operations in 2008, and contrary to many compatriots, GAC decided to go at it alone. They did not borrow technology from one of their joint venture partners and just put on a different body. GAC set up a proper R&D department, later supported by Gonow R&D, and designed the car from the ground up.
Now, that is a time-consuming operation, especially when you are a beginner without much experience. So at the same time, GAC Motor searched for a way to fast-track their car production. They found the solution in Italy, where Alfa Romeo had just discontinued its 166 model. GAC Motor bought the production line, the 166 platform, and some of the engine IP. Next, GAC Motor designed a new body, redesigned the engines, and was able to supply the first batch of sedans to the organizing committee of the Asian Games in Guangzhou midway through 2010. The "Alfa"-team beat the "self-design"-team by three years.
For the general public, the mid-size sedan debuted as GAC Trumpchi at the Guangzhou Auto Show later in the year. Deliveries started directly following the show. Trumpchi was just the model name then but would become a brand name when GAC launched its second model in 2012. This was another Alfa-based car, the GS5 SUV (long before the Italians imagined the Stelvio). The sedan became Trumpchi GA5. The engines for both models were 1.8, 1.8 Turbo, or 2.0, based on Fiat designs.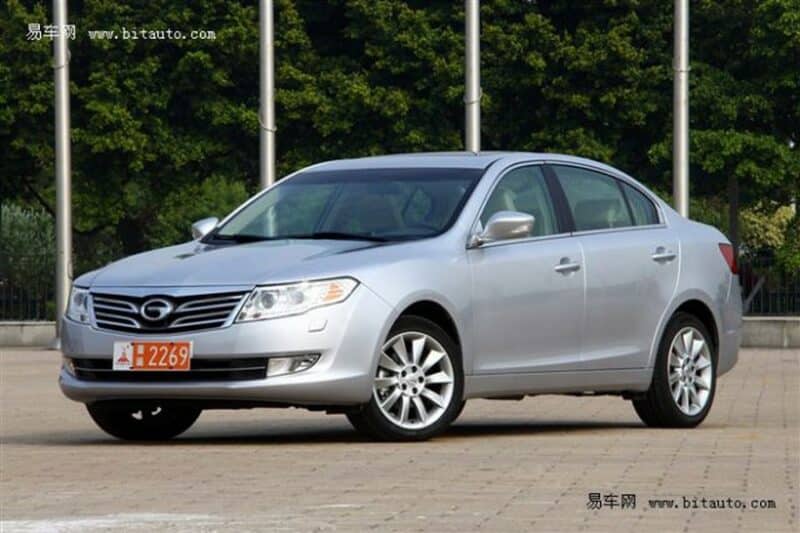 With a major upgrade taking place in 2014, both cars lived on until 2018. And that wasn't the end for the Alfa platform. GAC spun off two more cars on the same technology, the GA6 and GA8. The GA6 appeared in 2014 and had roughly the same dimensions as the GA5, although it was positioned slightly above it. The GA8 from 2016 was an executive car, with a stretched version of the platform. The GA5 was discontinued in 2018, but both the GA6 and GS5 got a second generation (the GS5 has been renamed GS4 Plus in 2022), again with the Alfa underpinnings. These two models and a facelifted GA8 are still for sale.
GAC's independent R&D focused on the vehicle segments below the Alfa-inspired cars. In 2013 the first model appeared a compact sedan named GA3. The design was a lot more basic with MacPherson struts and a torsion beam instead of the double wishbones and a multilink rear axle. Gonow assisted in the development of the GA3 and thus it was also sold as Gonow Emei from 2014 until the demise of the brand.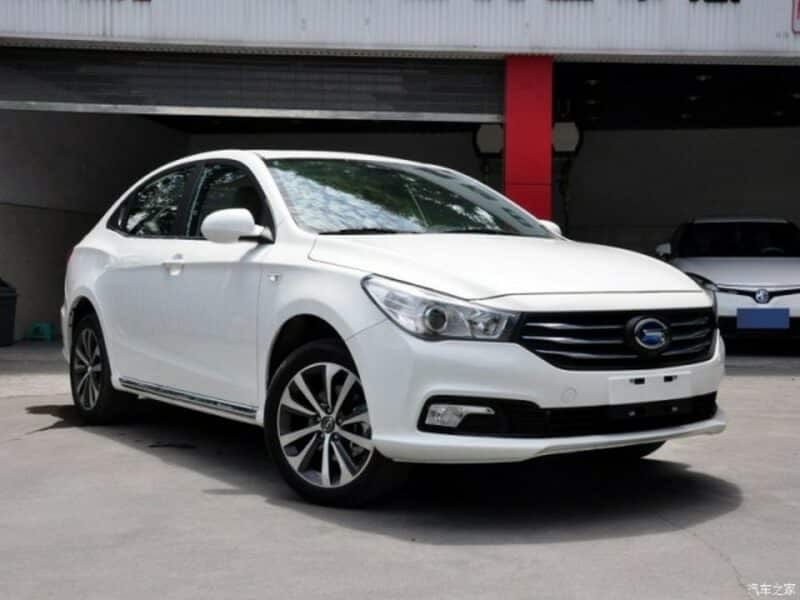 GAC's major breakthrough in the market would be its next model, the GS4. This was a compact SUV on the GA3-platform. The GS4 launched in early 2015 and soon became a huge sales success. It was not too expensive, reasonably well-built, well-equipped, and looked like a modern car. A plugin hybrid version followed in 2017 and this model was adopted by pretty much every GAC joint venture partner to boost their NEV sales. A second generation of the GS4 was introduced in 2019, with a liftback/coupe version following in 2021.
The GA3-design spun off another crossover model in 2017, the sub-compact GS3. This car didn't achieve the same popularity as its larger brother, but it is still available. The significance of the car is that it also came with an electric drive train, the first for GAC. This GE3 can be considered the predecessor of the Aion brand, which will be discussed next. The GA3 itself was replaced by the GA4 in 2018. The new car grew a little and also covered the lower end of the mid-size spectrum, formerly served by the GA5.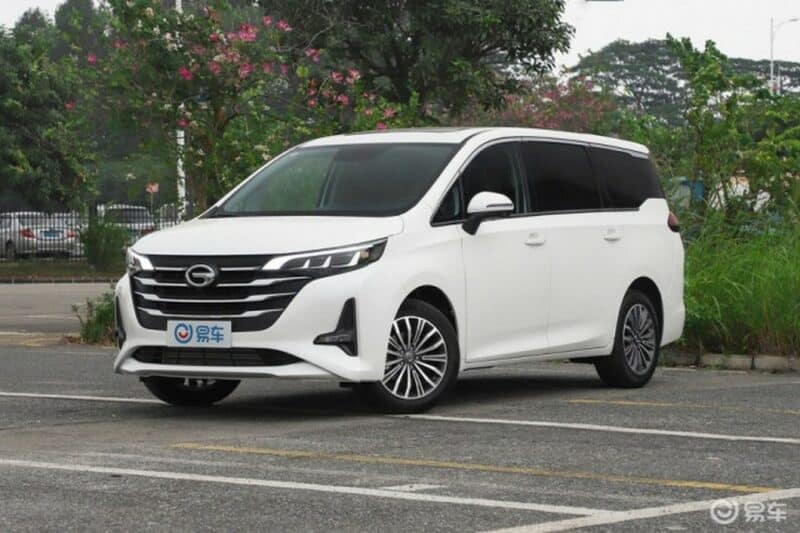 Trumpchi also made a hybrid platform, combining the straightforward MacPherson front suspension from the 3- and 4-series models with the more sophisticated multilink layout of the 5-, 6- and 8-series. This platform was used for a series of larger SUVs and MPVs, starting with the GS8 7-seat SUV in 2016. A year later followed the GS7 5-seater and the GM8 MPV. The range was completed with GM6 MPV in 2019. Not much later Trumpchi renamed the MPV-models to M6 and M8.
So far, Trumpchi's cars have been built on their first-generation technology. There have been many facelifts and some models got an upgraded second generation, but the underlying technology has remained much the same. That is however going to change. In the summer of 2021, Trumpchi launched the Empow, a sedan of similar size as the GA4, but with much more aggressive styling and a completely new, self-developed platform called GPMA (GAC Passenger Car Modular Architecture). This platform will be the basis for all future compact and mid-size Trumpchi models. A crossover version of the Empow, called Emkoo, was launched in 2022. In parallel with this modular frame, Trumpchi also developed the GPMA-L architecture for its larger cars. The first models on this platform are the second-generation GS8 and M8, both launched in 2022.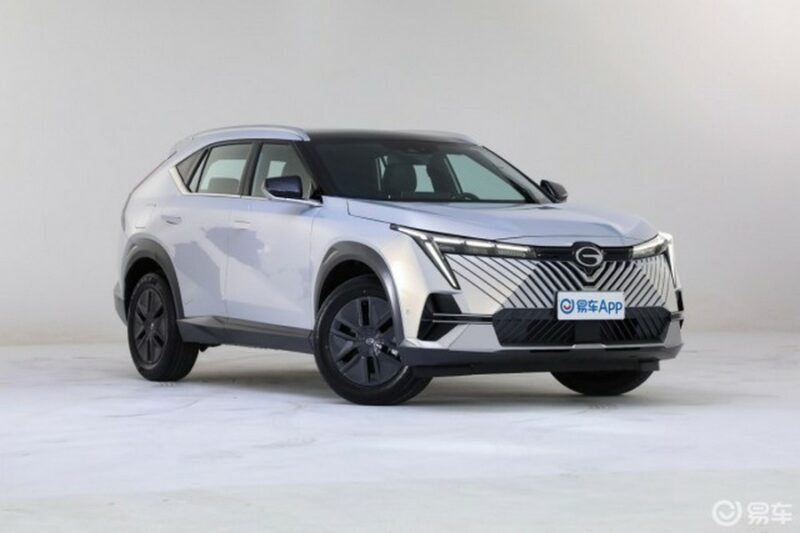 Aion
In the mid-2010s, GAC began to introduce PHEV-versions of the Trumpchi cars and one all-electric model, the Trumpchi GE3. So far, the GE3 is Trumpchi's only BEV and will probably remain so for quite some time, because GAC decided to split off its EV research into an independent company. This GAC New Energy Co., Ltd. (GAC NE) was established in 2018 with the aid of some strategic investors. In the expansion phase of GAC NE, the mother company sold off more and more equity, until its share bottomed below 40%. In late 2022, GAC bought back a huge chunk of the shares and now owns a 51% majority again.
GAC NE revealed its first car in November 2018, a mid-size sedan in pretty much the same segment as the BYD Qin. Deliveries started in the spring of 2019. Initially, the car was marketed as the Trumpchi Aion S, but the Trumpchi moniker was quickly dropped. That made Aion the de facto brand name. In November 2020, GAC renamed the company to GAC Aion New Energy, and Aion became officially the brand name. In late 2019, GAC NE also started selling the SUV version of the Aion S, called the Aion LX.
GAC NE built the Aion brand on two important cooperations. For the traction motors, GAC consulted the Japanese company Nidec. All motors used by Aion come from Nidec, but since GAC and the Japanese have also formed a joint venture, some of the motors are labeled GAC NE. The other partnership was with CATL. GAC NE was one of the first customers for CATL's NCM811 ternary battery technology. This chemistry put the battery maker on par with the leading brand at the time, Tesla's Panasonic cells. Both battery makers reached an energy capacity close to 300 Wh/kg at cell level, which put them ahead of the competition.
CATL's production start wasn't very smooth however. In the early stages, production had very low yield, meaning many cells didn't meet the quality criteria. That made deliveries uncertain and even some faulty cells slipped through the quality control process. So GAC went looking for an alternative supplier and found CALB (China Aviation Lithium Battery). This was a long-established battery maker, but mostly of cheap LFP cells for storage. In the mid-2010s, CALB was reorganized and wanted to break through in the automotive industry. So, it was a good match and CALB soon passed CATL as Aion's major battery supplier.
CALB is now becoming a serious player, helped by Aion's commercial success. It seems, however, that they didn't play fair to catch up with the leaders. In the last few years, CATL has filed several lawsuits against CALB for several patent violations. Most cases are still under consideration, but with the few that have been judged, the ruling went in favor of CATL every time. So CALB may have copied some of CATL's technology, but it says all patented technology has been replaced. Anyway, Aion is growing so quickly in 2022, that it has added a third battery supplier: Sunwoda (Xinwangda in Chinese) which rose from buying Sony's lithium battery research a long time ago.
GAC is also working on its own battery technology. They claim to have made a breakthrough with a graphene battery. Graphene is a sheet of carbon in a honeycomb structure, only a single atom thick. So it's basically a 2D material. Since its discovery, it's envisaged for many applications, because it's a very versatile material with very good conductivity, high strength and very low weight. It is however very difficult to make and to process. And while prices have come down from $100 per gram to $100 per kilo, it's still very expensive. GAC hasn't announced yet how it is using the graphene. It could be a replacement for a regular carbon anode, or it could be an addition to a regular lithium-ion battery for faster charging. Anyway, we will find out soon as GAC has announced a very fast-charging graphene battery (6C for the techies, or 10-80% in about 8 minutes) for limited production in 2023.
Back to the cars then. In 2020 and 2021, Aion added the V-series and Y-series, respectively a compact SUV and a compact MPV. And starting at the end of 2021, Aion revised its entire line-up, upgrading all model series to 'Plus' status. The most eye-catching of the upgraded models is the LX Plus Long Range model. This is the world's first electric car in mass production exceeding a 1000 km range. Albeit on the generous CLTC cycle.
So, let's end with the sales numbers. GAC Motor grew quickly from less than 10.000 vehicles in 2010 to over 500.000 in 2018. Those were all Trumpchi-branded cars and 2018 would be a temporary peak. After that, GAC Motor sales dropped to around 400.000 for the next few years. In reality, Trumpchi sales kept dropping, while Aion made up an increasingly bigger part. In 2022, GAC Motor had its best year yet with total sales of over 600.000 vehicles with Trumpchi still narrowly leading Aion. 2023 willl be different. With the Hyper GT coming to Aion, it will be the first year that GAC sells more Aions than Trumpchi's.
Hycan
On the surface, it might have looked like a good idea and for a fleeting moment, it even may have looked like the brand could be a success. But after a promising few months, people seemed to forget all about Hycan, the brand we're talking about now. The first Hycan model, named 007, sold just over 500 times in the second half of 2020. But that was more than the sales of 2021 and 2022 combined.
The idea behind Hycan was quite promising. In April 2020, GAC and NIO established GAC-NIO New Energy Technology, a joint venture with the purpose of combining GAC's low-cost production capabilities with NIO's advanced digital and self-driving technologies. A year later the Hycan brand was revealed and the company showed the first teaser of the upcoming SUV.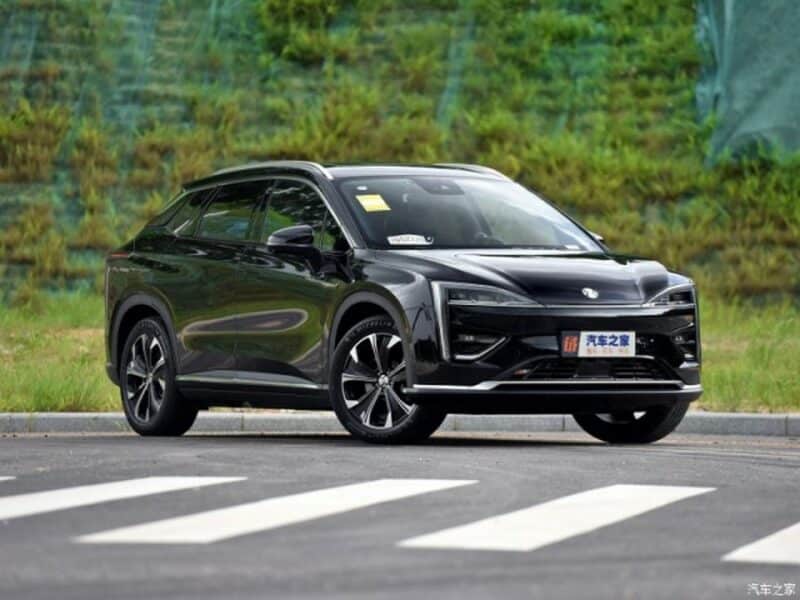 The 007 hit the market another year later and is the first and only car, that adhered to Hycan's founding principles. The 007 is built on the Aion platform, and uses the same drive train and a restyled Aion LX-body. On the inside everything changes, as the 007 shares many of its interior features with the first generation NIO models. It has NIO's smart cockpit, NIO Pilot and even its own version of the Nomi driving assistant, although without the charming emoticon on top of the dashboard.
Around the time of the 007 launch, NIO ran into serious liquidity problems, causing the Hycan brand to be somewhat neglected. After NIO was saved by the Anhui provincial government, it dumped most of its stock in the joint venture, retaining only a 4.5% stake. It means that Hycan can now be considered a GAC brand only and it shows in the next product launches. In 2021 Hycan added the Z03-model, basically an Aion Y MPV with redesigned front and rear end. The interior was different as well but lacked all the NIO stuff. On the commercial side, the Z03 sells much better than the 007.
Hycan's latest addition is the A06 sedan. It's presented as a newly developed model but is probably an upgraded Aion S in reality. With pricing in the same bracket as that of Aion, it leaves a confusing message about the brand. Is Hycan GAC's up-market, high-tech EV brand, positioned above Aion or is it just Aion in a different dress? For now, it looks like Hycan profits in the slipstream of Aion's commercial success, but in the long run, it probably needs a sharper profile to survive as a standalone brand.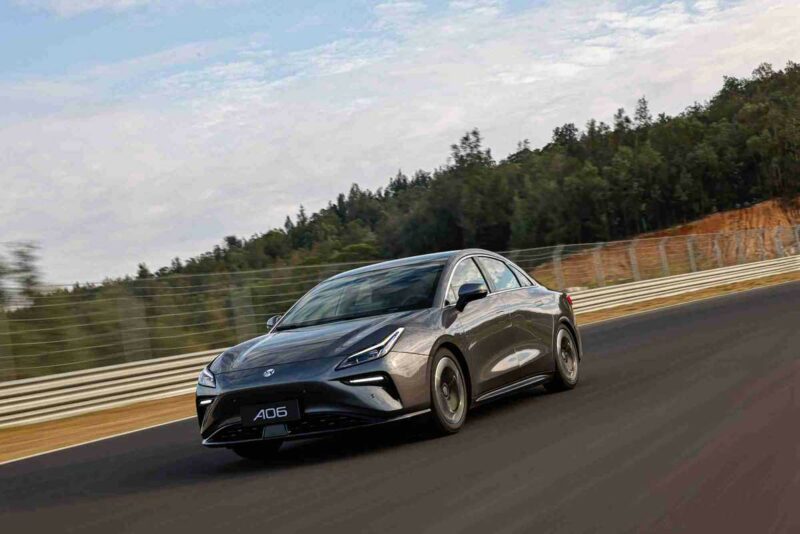 GAC recap
So, that's it for the story of the Guangzhou Automobile Group. It grew out of a multitude of small businesses in one of China's largest cities. Then gained some prominence as a bus maker, before it dived into passenger cars early in the joint venture era. GAC executed these joint ventures with differing levels of success, but the ones with Honda and Toyota seem rock solid.
In the new century, GAC developed its self-owned car brands quite successfully. First, the Trumpchi brand made inroads into the mainstream market, and in 2022, Aion became China's third largest BEV  manufacturer, behind BYD and SAIC/Wuling. Fortunes can change quickly in the China market, but right now GAC seems well-positioned for enduring success in the near future.