On July 26, Volkswagen Group and XPeng entered a long-term cooperation technical framework agreement. According to the initial stage of cooperation, both companies will collaborate on developing two electric vehicles under the Volkswagen brand for China's mid-size car market. The targeted launch date for these models is 2026, pending the final agreement.
As part of the collaboration, Volkswagen will increase its capital investment in XPeng by approximately 700 million USD (about 4.998 billion RMB) and acquire 4.99% of XPeng's shares for 15 USD per American depositary receipt (ADR). Following the capital increase, Volkswagen will be granted an observer seat on XPeng's board.
The key points of this cooperation are as follows:
Volkswagen and XPeng have reached a technical cooperation framework agreement.
After the transaction's completion, Volkswagen will invest around 700 million USD in XPeng, owning about 4.99% of the company.
Volkswagen and XPeng will focus on the mid-size electric vehicle market and jointly develop two models based on the MEB platform.
Audi, a subsidiary of Volkswagen, has also signed a memorandum with SAIC Motor to deepen their existing cooperation and introduce new models in markets where the Audi brand does not currently exist.
The new models resulting from these collaborations will expand the existing product portfolio and cater to various segments and customer groups in China's rapidly growing electric vehicle market.
This strategic cooperation aligns with Volkswagen Group's "In China, for China" strategy, enhancing its local research and development capabilities to meet Chinese customers' demands better.
The specifics of the cooperation will depend on the final agreement reached between the companies. The increased capital investment by Volkswagen and the acquisition of XPeng's shares are subject to customary delivery prerequisites, including regulatory approvals.
Furthermore, Audi and SAIC Motor's strategic memorandum outlines plans for the joint development of a new local platform for the next generation of intelligent connected vehicles (ICVs). This platform will incorporate cutting-edge software and hardware, providing Chinese customers an enhanced digital experience. Both parties will contribute their core competencies during the development process.
These agreements aim to swiftly expand the Volkswagen Group's product lineup and create more localized models catering to China's unique market segments. By joining forces with local partners like XPeng and SAIC Motor, the group seeks to achieve synergies and efficiently launch innovative products tailored to the preferences of Chinese consumers while optimizing development and procurement costs.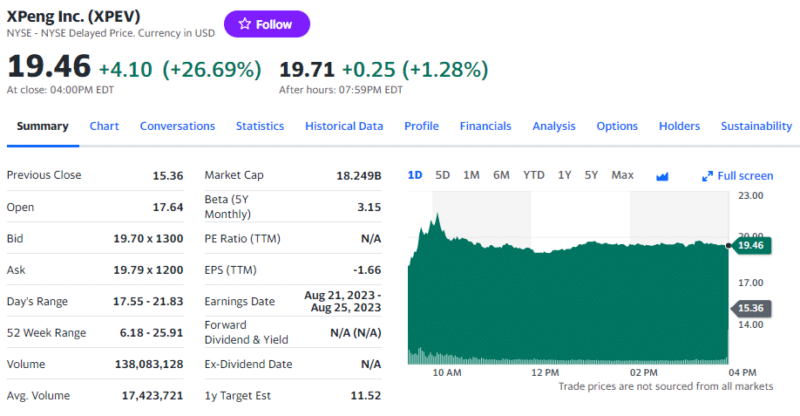 The announcement significantly impacted XPeng's stock price in the United States, with a rise of over 14% at the market opening. As of the close of the US stock market, the stock has risen by over 26%.