On August 1, Xpeng released its latest delivery data, providing insights into its performance. In July, 11,008 new cars were delivered, representing a year on year decrease of 4.5% but a month on month increase of 27.7%. This is the month with the highest monthly sales of Xpeng so far in 2023, breaking through the 10,000 monthly sales mark for the first time in 2023. The cumulative sales from January to July 2023 are 52,443 vehicles, a decrease of 34.9% from the same period last year. However, with the mass production and delivery of Xpeng G6, The sales problem will be improved.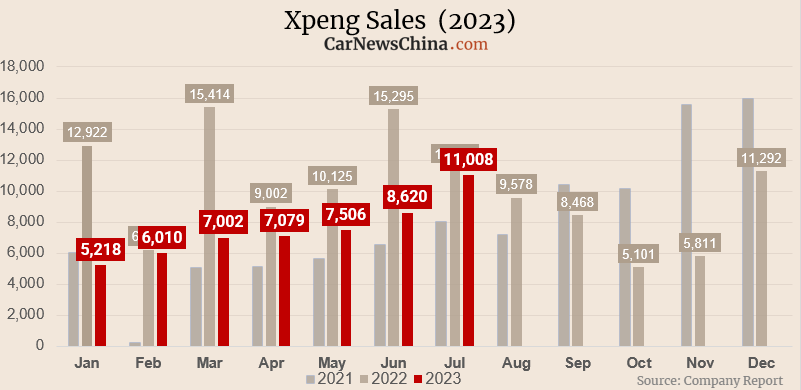 One of the significant highlights for Xpeng in June was the launch of the Xpeng G6 on June 29. The price range for the G6 is between 209,900 yuan and 276,900 yuan (29,300 USD to 38,600 USD).
Xpeng G6 currently has a large order backlog. Currently ordering the Xpeng G6 still takes more than 10 weeks for delivery. At present, Xpeng G6 has been delivered in more than 110 cities in China, and the delivery volume in the first month of July exceeded 3,900 vehicles. Xpeng G6 accounted for more than 35% of the sales this month.
Another important news is that at the end of July, the Volkswagen Group announced that it would spend 700 million USD to invest 4.99% of Xpeng's equity and cooperate with Xpeng to develop and produce EVs. Analysts still believe this move will increase Xpeng's cash reserves, improve operating conditions, and increase consumer confidence in Xpeng, thereby improving sales.
We have also summarized the sales of some other EV brands this month as follows: