On September 1, Xpeng, the Chinese electric vehicle (EV) manufacturer, unveiled its latest delivery statistics, providing a snapshot of its recent performance. In August, the company achieved the delivery of 13,690 new vehicles, marking a notable 43% increase compared to the same period last year. However, this figure represents a month-on-month increase of 24%, indicating an increase in the pace of deliveries compared to July. Therefore, August stands as the month with the highest monthly sales for Xpeng in 2023 thus far.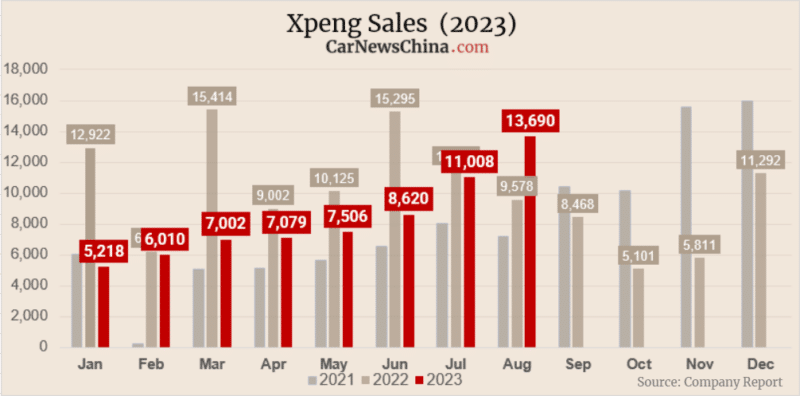 The cumulative sales data for the period from January to August 2023 reveals a total of 66,133 vehicles delivered. This figure represents a 26.6% decrease compared to the same period in the previous year. This decline in cumulative sales is attributed to various factors, but it's expected to be mitigated with the mass production and delivery of the Xpeng G6, a vehicle that holds substantial promise for the company.
Among Xpeng's vehicle lineup, the Xpeng G6, introduced last month, sold 7,068 units and continued to lead the pack with exceptional performance. The Xpeng G6 has garnered substantial demand, resulting in a significant backlog of orders. As of now, customers can expect to wait for over 8 weeks for delivery when placing an order for the Xpeng G6. Impressively, within just 45 days of its launch and commencement of deliveries, the Xpeng G6 achieved cumulative deliveries exceeding 10,000 vehicles. The Xpeng G6 alone accounted for more than 51% of the company's sales in the past month.
It's worth noting that in the preceding month, the Volkswagen Group made a noteworthy announcement, revealing its plans to invest a substantial 700 million USD in Xpeng, acquiring a 4.99% equity stake in the company. This strategic partnership aims to facilitate collaboration between the two entities in the development and production of electric vehicles. Industry analysts widely view this investment as a boost to Xpeng's cash reserves and an enhancement to its overall operating conditions. Additionally, it's expected to instill greater confidence in consumers regarding Xpeng's products and services, which could further stimulate sales.
In the coming week, Xpeng is set to participate in the Munich Auto Show, where it will showcase two of its models, the Xpeng P7i and the Xpeng G9, to European audiences. This international presence and display are indicative of the company's ambitions to expand its market reach beyond China and into the global arena.
Source: Xpeng; iTHome