The article was updated with the editor's comment.
On September 5, the German Federal Motor Authority published a Vehicle registration report for August. 273,417 passenger cars were registered in the most populated European country, +37.3% compared with last year.
All-electric vehicles (BEVs) sales exploded as 86,649 cars were registered, up 170% from July. Plugin hybrids were much less popular and registered 14,552 units, 41% down from the previous month.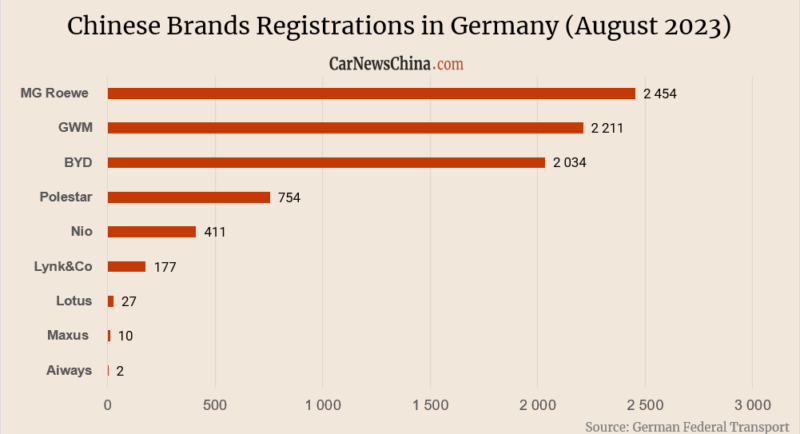 The most popular among China's brands in August was SAIC-owned MG, which registered 2,454 cars in Germany, up 9.6% compared with the previous month. MG 4 electric hatchback received great reviews on the German market and competed directly with VW ID.3. Recently, MG launched the performance version Xpower with 435 horsepower.
The second most popular Chinese brand was Great Wall Motor (GWM). They grew ten times (+900%) and registered 2211 units in August – it was only 221 EVs in July. The EV hatchback ORA Funky Cat (Good Cat in China) is the main motor behind the sales. ORA is an electric subbrand under GWM.
The third spot goes to BYD, which registered 2,034 EVs, up 403% month-on-month. We can't even compare it with the sales in August of last year, as BYD wasn't selling in Germany yet. This is a radical step up from Shenzhen-based automaker as their sales were relatively flat in the first half of the year: between 7 to 63 units monthly.
From January – August, BYD sold 2,666 electric vehicles. BYD lineup in Germany consists of the Atto 3 crossover, BYD Dolphin hatchback, premium SUV BYD Tang, and premium sedan BYD Han.
The company recently launched the sedan BYD Seal and unveiled BYD Seal U, a Europe-dedicated SUV, basically rebadged Song Plus.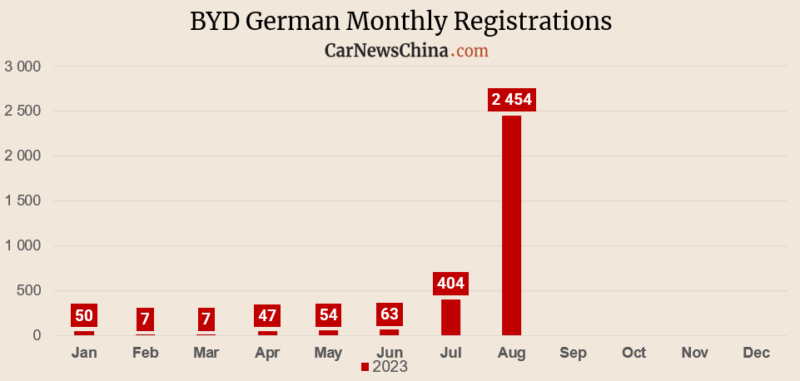 Geely Group's Polestar got the fourth spot, registering 754 cars, down 28%, being one of only two Chinese brands that decreased in August. The other one is also from Geely's stable – Lynk&Co registered 177 units, down 14% MoM.
Nio registered 411 EVs, up 834% from the previous month. In Germany, Nio currently offers the Nio EL7 SUV, Nio ET5 sedan, and Nio ET7 premium sedan, and the company recently introduced the ET5 Touring station wagon (shooting brake), later renamed ET5T, and its best-seller Nio EL6 (Nio ES6 in China).
In January – August, Nio registered 805 electric cars in Germany.
Editor's comment
Many of you contacted us with a question about what registration actually means and if these are insurance registrations. In Germany, the Erstzulassung is the first registration when the car gets the plate – and this is the case with KBA data.
Usually, most dealer's stock cars are stored without registration and get plates only when sold. However, there are some exceptions: show cars, press cars, dealer's company cars, and of course – cars that have been pre-ordered by customers and just shipped from China.
We reached out to BYD and Nio for comment but didn't get a reply as of press time. We will update it as we get it.