On October 2, both BYD and Tesla unveiled their Q3 sales data. In Q3, BYD sold a total of 824,001 vehicles, out of which 431,603 were pure electric passenger vehicles, accounting for 52.4% of their total sales. In contrast, Tesla sold 435,059 cars in the same period, all of which were pure electric.
This quarter saw BYD's pure electric vehicle sales reach an impressive 99.21% of Tesla's sales, marking the closest sales volume between the two companies since they began disclosing EV delivery data.
Examining the sales growth trends of these two giants, Tesla's sales for this quarter increased by 26.5% year-on-year but dipped by 6.7% compared to the previous quarter. In contrast, BYD pure electric vehicle sales increased by 66.9% year-on-year and 22.6% month-on-month this quarter. BYD's growth rate outpaced that of Tesla in Q3.
Let's review the pure electric vehicle sales data for both Tesla and BYD since 2022. Up until Q3 2023, Tesla maintained a substantial lead over BYD. In the first six quarters, Tesla consistently outsold BYD by more than 670,000 vehicles. However, the gap has significantly narrowed in Q3, with a difference of just 3,456 units, indicating a remarkable convergence in sales volumes.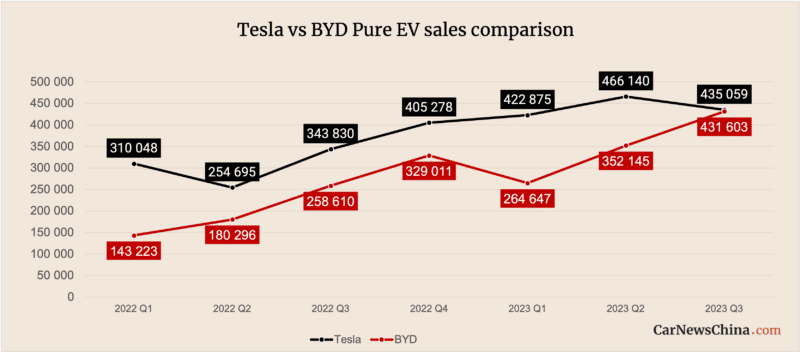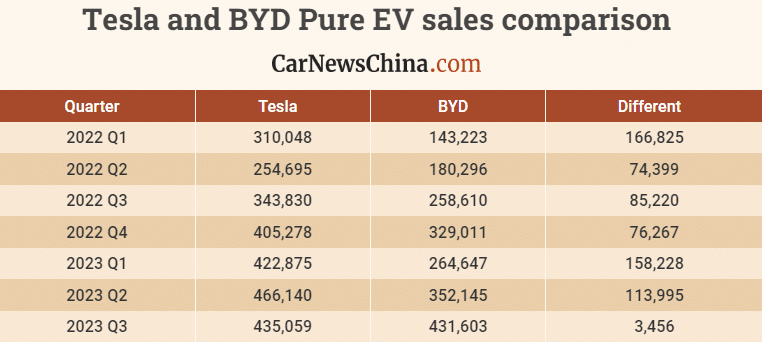 According to the current increasing trend, BYD's pure electric vehicle sales are likely to surpass Tesla's in Q4 this year.
Both companies are making global plans
Both companies have adopted a global outlook, expanding their presence across various regions. Tesla has established vehicle factories in the United States, China, and Germany, with a new factory in Mexico under construction.
Meanwhile, BYD boasts multiple vehicle factories in China and has made significant investments in new facilities in countries such as Uzbekistan, Thailand, and Brazil. With their global expansion strategies in full swing, these two automotive giants are poised to engage in increasingly intense competition worldwide.
Source: Tesla; BYD