Chery Group has got the production permission for Exeed Exlantix ET. It is a mid-size electric SUV with large exporting ambitions. In China, it is also known as Sterra ET. It will get the EREV (range extender) version in the future. Exterior design and specs of the Exlantix ET stay close to the Li Auto L7. And since Li Auto doesn't seriously consider overseas expansion until 2028, the SUV from Exeed can become the L7's international replacement.
Basics on Exeed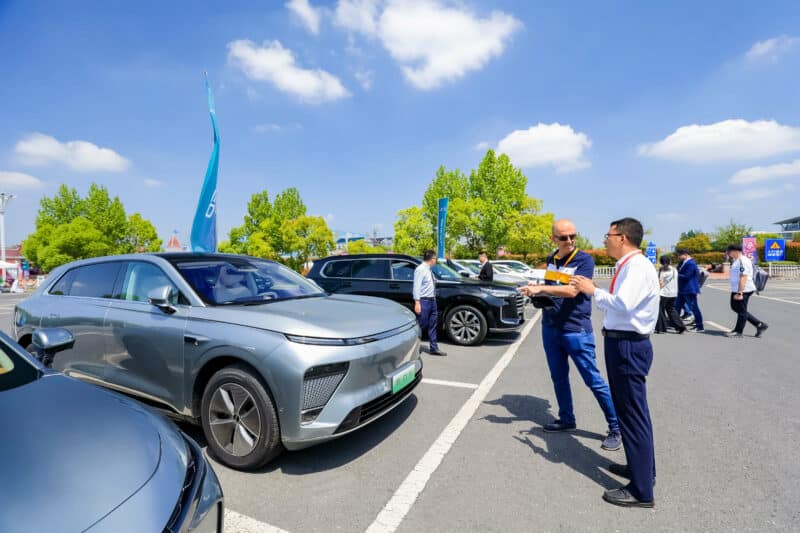 Exeed is a high-end brand under Chery. It was launched in 2017 at the Frankfurt exhibition. At the moment, Exeed sells petrol-powered and plug-in hybrid vehicles. Its model line comprises four SUVs: LX (Zhuifeng), TXL (Lingyun), VX (Lanyue) and RX (Yaoguang). Recently, Exeed founded a new car series called Exlantix. Its domestic name is Sterra. This branch comprises NEV vehicles. In 2026, Exeed plans to launch six Exlantix models, turning it into an independent brand.
Exeed doesn't sell well enough in China. In 2023, its cumulative sales volume reached 33,989 units. However, this brand is aimed primarily for the overseas markets. For example, Exeed sold over 29,000 units in Russia in the first nine months of 2023. Other key markets of the Exeed brand are South America and the Middle East. And the Exlantix line is also designed especially for overseas markets.
Exeed Exlantix ET & Li Auto L7 comparison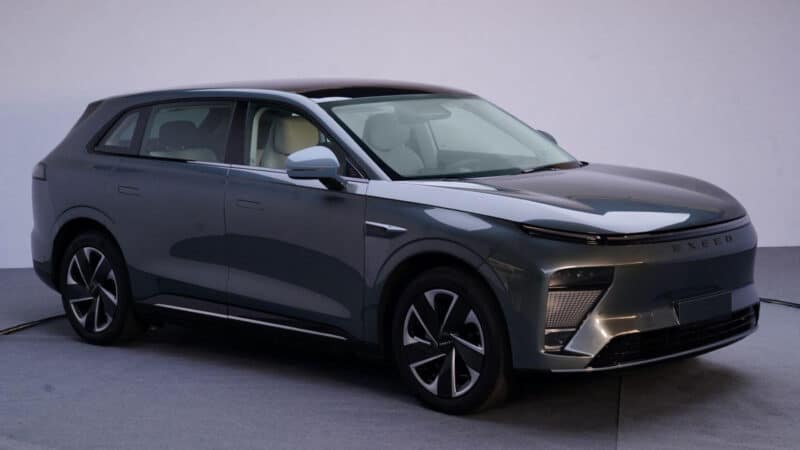 The Exeed Exlantix ET stands on the E0X platform from Chery that also underpins Luxeed S7 and Exlantix ES (Sterra ES). It supports both BEV and EREV powertrains. Its main features are air suspension and 800V high voltage architecture. Exlantix vehicles also adopt Shengxing, M3P, and Qilin batteries from CATL.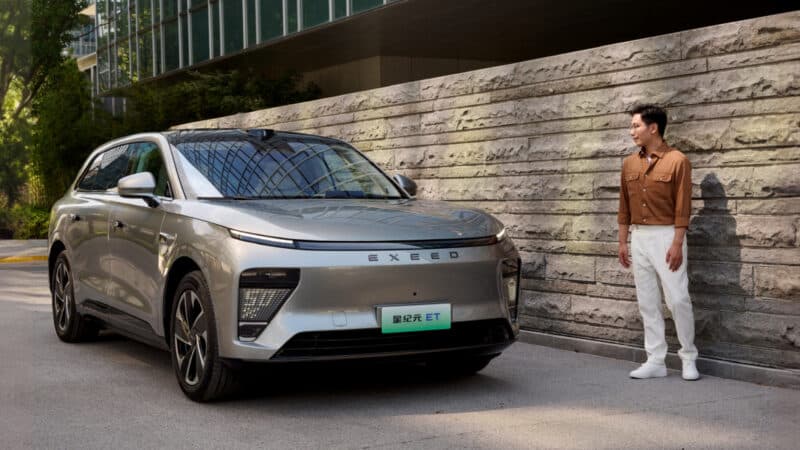 Back to the Exeed Exlantix ET, its exterior and interior design was developed by Pier Luigi Ferrari. He has vast working experience in Changan, SAIC, and Pininfarina. He has added the Exlantix ET some fine exterior features like large interactive LED elements (ISD Cyber Butterfly) in the front bumper. They let the driver express and communicate with other road users.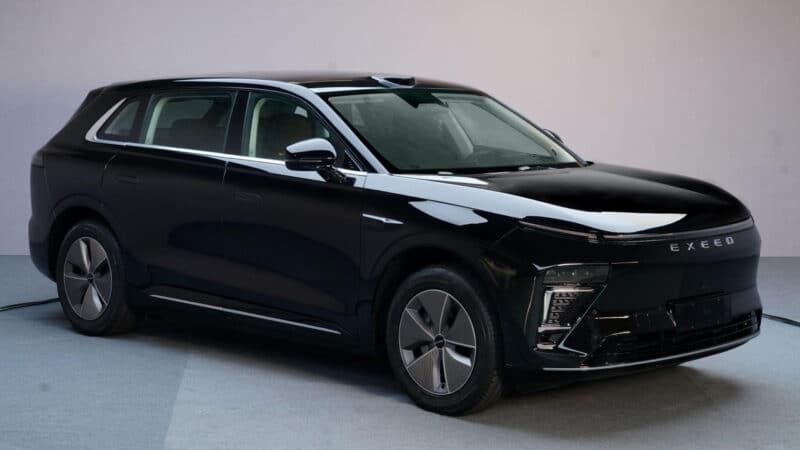 And still, the Exlantix ET's styling has Li Auto L7 vibes. These models stay close regarding running lights, taillights, retractable door handles, and proportions. The top trim level ET has a LiDAR sensor on the roof, just like the L7. And the dimensions of these two models are also similar. The Exlantix ET measures at 4955/1975/1698 mm with a wheelbase of 3000 mm. It is just 95 mm shorter, 20 mm narrower, and 52 mm lower than the Li Auto L7. Another similarity between Exeed Exlantix ET and Li Auto L7 is the five-seat interior layout.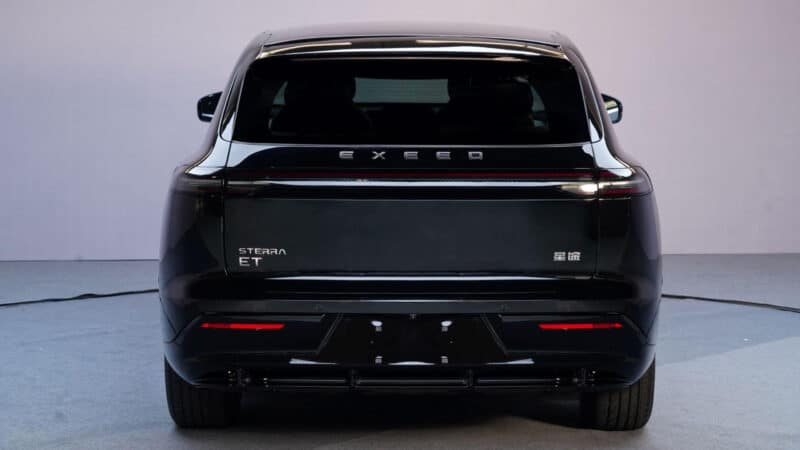 We made an informative table where we compared these two models' specs.
| | | |
| --- | --- | --- |
| | Exeed Exlantix ET | Li Auto L7 |
| Dimensions (mm) | 4955/1975/1698 | 5050/1995/1750 |
| Wheelbase (mm) | 3000 | 3005 |
| Front & rear tracks (mm) | 1690/1695 | 1725/1741 |
| Approach & departure angles (degree) | 19/21 | 19/21 |
| Wheels | 255/55 R19; 255/50 R20; 265/45 R21 | 255/50 R20 |
| Curb weight (kg) | 2070 – 2340 | 2450 – 2460 |
| Gross weight (kg) | 2504 – 2748 | 3080 |
| Power output (kW) | 185 – 413 | 330 |
| Air suspension | Yes | Yes |
Exlantix ET powertrain options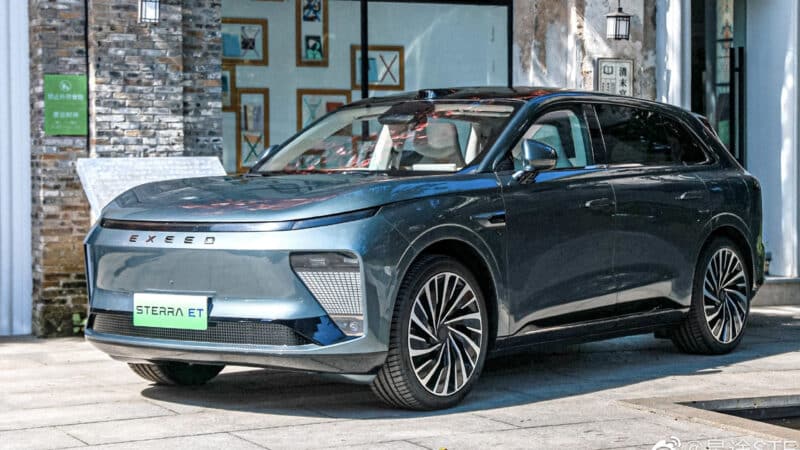 The Exeed Exlantix ET has four powertrain options. The entry-level trim has a single electric motor on the rear axle. Its power output reaches 185 kW (252 hp). The LFP battery from FinDreams (BYD subsidiary) powers this e-motor. This ET's top speed is limited to 190 km/h. The second trim level has a more powerful 230-kW (313 hp) electric motor. Its peak speed reaches 200 km/h. This version adopts the M3P (LFP+NMC) battery from CATL.
The third trim level of this SUV has two e-motors for 353 kW (123 + 230 kW) or 480 hp. Its top speed is limited to 210 km/h. As for the battery, it is the M3P pack from CATL. And the top-trim Exlantix ET has two e-motors for 413 kW (183 + 230) or 561 hp. They are powered by the Qilin ternary (NMC) battery from CATL.
Editor's comment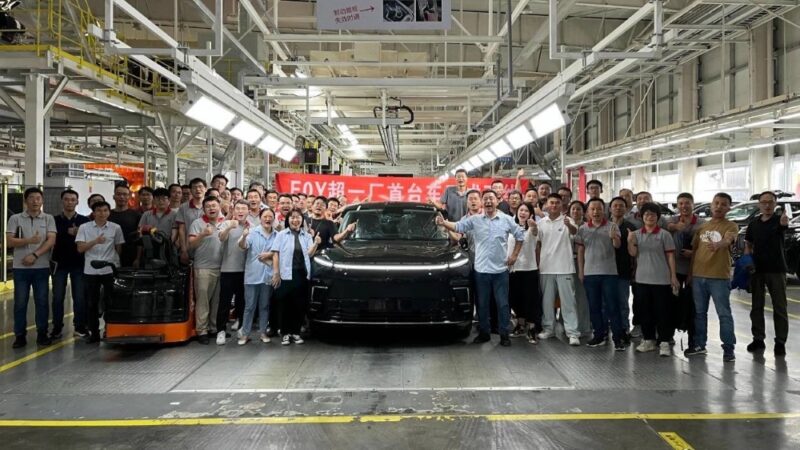 The Exeed Exlantix ET will enter the Chinese market in 2024. It will also hit overseas markets next year. This vehicle's price range has yet to be revealed. Considering how similar this vehicle is to the Li Auto L7, Exlantix ET can become "Li Auto for the overseas markets". This should be the first call for the Chinese startup. If Li Auto continues to focus only on the domestic market, it can lose potential customers in the future. Maybe it will be better for them to take the international markets more seriously earlier than in 2028.
Source: MIIT, Exeed Sterra Weibo, Exeed International