In October 2023, the Chinese automobile market continued its robust performance, registering the sale of 2.033 million new cars, as the China Passenger Car Association (CPCA) reported. This figure represents a 0.7% increase compared to the previous month and 10.2% YoY. Notably, the market witnessed significant activity in the new energy vehicle (NEV) sector, with 195,000 electric vehicles (EVs) and 272,000 plug-in hybrid electric vehicles (PHEVs) finding buyers. NEVs accounted for 37.7% of total vehicle sales.
BYD Secured the Top Spot
Regarding market dominance, BYD emerged as the top-performing auto brand in China for the month, achieving remarkable sales figures. BYD sold 246,389 vehicles, securing an impressive 12.12% market share.
Volkswagen maintained its second-place position as the second best-selling brand in China, with total sales reaching 198,210 cars. This achievement translated to a 9.75% market share. Toyota secured the third spot, selling 151,003 vehicles, equivalent to a 7.43% market share.
Honda closely followed in fourth place, with 130,221 vehicles sold, capturing a 6.41% market share. Geely rounded off the top five, recording sales of 92,770 cars, which accounted for a 4.56% market share.
Tesla began deliveries of the new Model 3
Tesla has updated its new Model 3. Deliveries of the new Model 3 only started in the last few days of this month, while the delivery of the old model has long been stopped. Only about 2,000 Model 3 vehicles were delivered this month. This brings total deliveries for the month to 28,686 vehicles, the lowest level since January 2023.
However, because most of the production capacity in the same period last year was exported overseas, Tesla's sales in China this month still increased significantly year-on-year.
BYD Both Dominated EV and PHEV Market
BYD showcased a commanding presence within the Chinese NEV segment, excelling in both the EV and PHEV categories. BYD captured a substantial 27% market share in the Chinese EV market. Impressively, the brand secured an even more significant 41% market share in the PHEV category for the month.
Top-Selling Pure Electric Vehicle Brands
In the pure electric vehicle market, BYD maintained its dominance, selling 133,785 vehicles and securing a notable 27.03% market share. Wuling claimed the second position with 45,087 cars sold, constituting a market share of 9.11%. Aion secured the third spot with 40,825 vehicles sold, capturing a market share of 8.25%. Tesla and Volkswagen completed the top five list as the best-selling pure electric brands.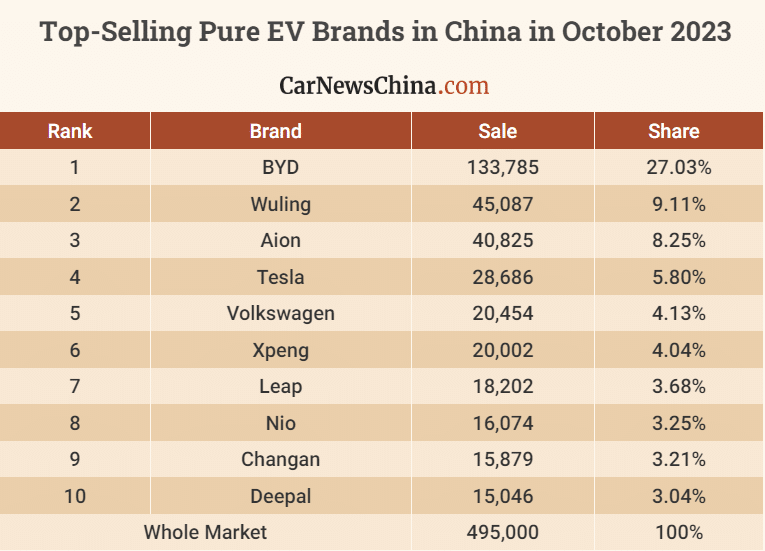 Top-Selling Models
In terms of individual models, the top three vehicles in the Chinese market for this month were:
BYD Qin Plus: With an impressive sales figure of 37,902 cars.
BYD Seagull: This model came in second, with 37,836 units sold.
BYD Song Plus: The BYD Song Plus claimed the third position, with 34,799 vehicles sold.