"I see Volvo as a tiger: it belongs to the forest and shouldn't be contained in the zoo. The heart of the tiger is in Sweden and Belgium," he said, referring to the two countries where Volvo has its main plants. "Its paws should extend all across the world."
Said Geely Chairman Mr. Li Shufu, a new Chinese hero who finally got his Volvo. For only 1.8 billion dollars Geely buys one of the most famous automotive brands in the world. Ford on the other hand sold it's last possibility to compete with Benz and BMW, it won't work with Lincoln, never.
Some of the latest news on the deal from China Daily: Geely is planning a new Volvo factory in Beijing with an annual capacity of 300.000 cars. Volvo made 330.000 cars in 2009. Chinese 'experts' have high hopes on Volvo's technologies: "Li Shufu has a very strategic target that can be boosted by Volvo's green technologies." Volvo is not considered very green in the west but compared with many a Chinese car it is as green as grass.
More importantly, Geely gets all Volvo's safety knowledge in house which it will use to improve the much critisized safetly of it's own cars. It is so far unclear what will happen to the Volvo factory in Chongqing, a joint venture with Chang'an Auto that makes the S40 and S80. Earlier rumors said the factory would continue but that is likely only until Geely starts up the new one in Beijing.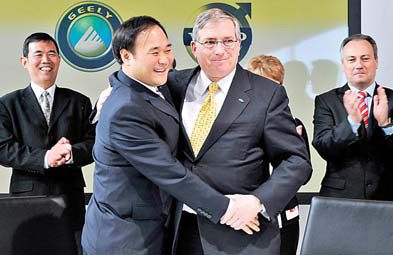 Chairman of Zhejiang Geely Holding Group Li Shufu and Ford's Chief Financial Officer Lewis Booth after signing the agreement on Sunday.