The Dongfeng-Fengshen H30, usually simply called 'Dongfeng H30', is a rather boring looking machine from Dongfeng Automotive. Dongfeng has joint ventures with Honda, Nissan, Peugeot (PSA) and Kia. The Fengshen-brand is Dongfeng's first all-by-itself adventure on the passenger car market. To make a boring car a little bit more exciting Dongfeng decided to go for the Cross-treatment.
All the usual Cross-thingies are there so a nice job done. The H30 Cross will debut at the Beijing Auto Show at the end of April and cost around 8000 rmb more than the standard car which costs between 75.800 and 99.800 rmb. Engine is the same for all: a 1.6 litre with [email protected] and [email protected]. That'll do great in a heavier crossmachine!
And the good news doesn't end here. Dongfeng has another brand called Jingyi, it makes mpv's. Those used to be simple argicultural van-like vehicles but since a year of two Dongfeng is steering the brand to a more luxury territory. At the Beijing show Jingyi will unveil… another crossmachine!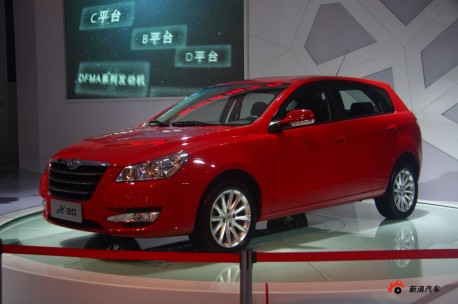 the Standard H30. It's not an 'X' there on that numberplate, it's just Dongfeng's way of writing.