By Birminghammail. LONGBRIDGE'S Chinese owners have taken the wraps off a new saloon car as the rebirth of the Birmingham car factory goes into over drive. Shanghai Automotive-owned MG Motor UK unveiled a new five-seater MG6 saloon, priced £17-20,000, yesterday.
It will go on sale in the UK in July. The saloon version will be the second volume car produced at Longbridge as full car manufacturing finally gets under way again at the factory for the first time in six years. Pre-production work on the MG6 sports hatchback, Longbridge's first all new MG for 15 years, is already under way in advance of a full launch in the spring.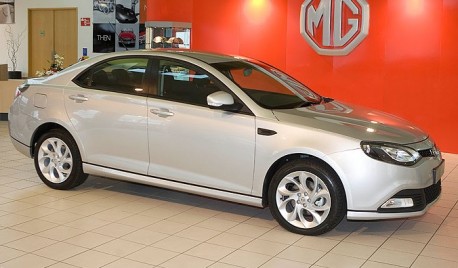 Meanwhile the new saloon will supplement the MG6 and sell for between £17,000 to £20,000.
Full production targets have not been released but the car firm is looking to produce several thousand vehicles when the assembly lines are up and running. [edit: the MG3 will also be assembled at Longbridge, exactly when is yet unclear]
A total of 39 UK dealers are already in place whilst MG Motor UK has also unveiled a new badge and logo in line with the new production plans. Guy Jones, marketing director, said: "We have been building a little part of a new global automotive business here in Birmingham. We have the backing of the largest manufacturer in the world's largest market."
He said SAIC had already pumped in £45 million worth of capital investment into Longbridge along with hundreds of millions of pounds in new product development. "The strategy at MG can be summed up in one word and that is quality. Part of the magic of MG is the great love people have for the brand."
The firm's PR manager, Doug Wallis, said: "These are pre-productions cars but its pretty much the finished article." The launch of two new vehicles will mark the restart of car production at Longbridge for the first time since MG Rover closed in 2005 with the loss of 6,500 jobs.
Nanjing bought the assets of MG Rover for £53 million in July 2005 and were later taken over by the Shanghai Automotive Industry Corporation.
[edit: new website from MG Great Brittain: www.mgmotor.co.uk.]