Let's say you had a Ferrari. You wouldn't stick Toyota badges on it because a Ferrari is much rarer than a Toyota. A Geely China Dragon, or Zhongguo Long, is much rarer than any present day Ferrari, in China. Still, this was not good enough for this owner in Nanjing and he stuck Toyota badges on it anyway. I am in Nanjing for a couple of days, found this very rare Chinese sportcar near a computermall in the center of town.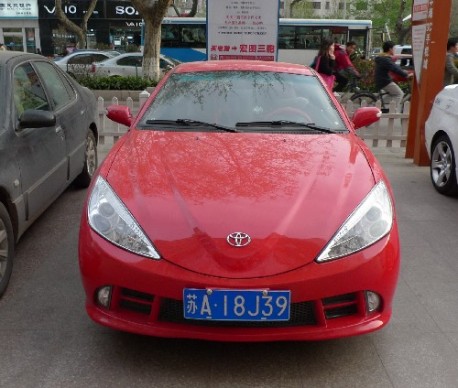 The Geely China Dragon was originally meant to be the successor of the Geely Beauty Leopard, or Meirenbao. But in the end Geely, the wisest of all Chinese auto makers, decided otherwise. There came a new Meirenbao called Meirenbao and the Zhongguo Long came on the market right next to it. Indeed, two sportscars from Geely on the market at the same time on exactly the same platform with exactly the same engine and similar looks. None became a success and neither was the original Meirenbao.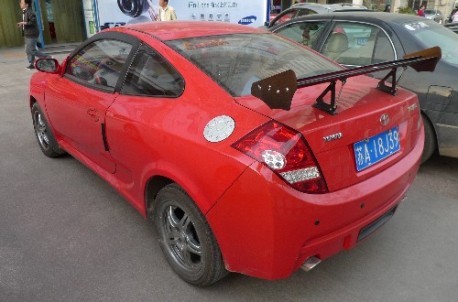 Huge spoiler is very aftermarket. Now, another question. If you had one of the rarest cars in the world, the Geely China Dragon, and you had for some reason the need to put Toyota badges on it. Which type of Toyota would you choose? Supra? MR2? No!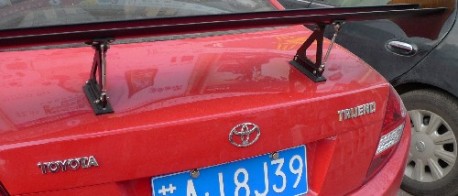 A Trueno it is. At least the owner knows his Japanese cartoons. The Trueno is better known as the AE86, a cheap rear wheel drive coupe that for some reason got a cult status long after it died. The China Dragon is fwd. Now, a little history: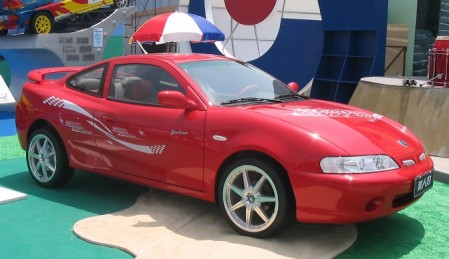 The original Meirenbao. I took this pic on the 2006 Beijing Auto Show when wise Geely was still too poor to have a boot inside one of the halls. Instead they got some space outside. I once drove one of these in Shenyang, actually a lot of fun, the small 1.5 spinning happily and very direct steering. What then was not good about it? Don't get me started…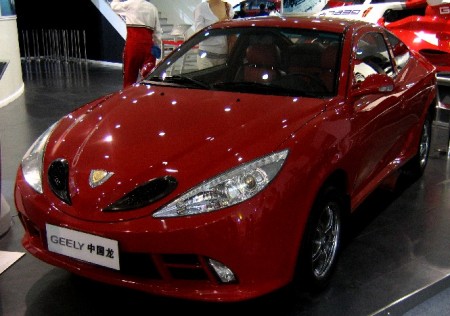 The Geely Zhongguo Long. I took this pic on the 2008 Beijing Auto Show and since it is everywhere on the internet. I am very proud of that…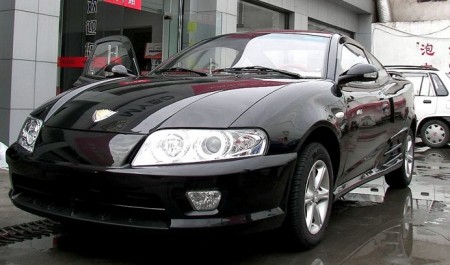 This is the 'new' Meirenbao, I nicked this pic, I am no better than everbody else.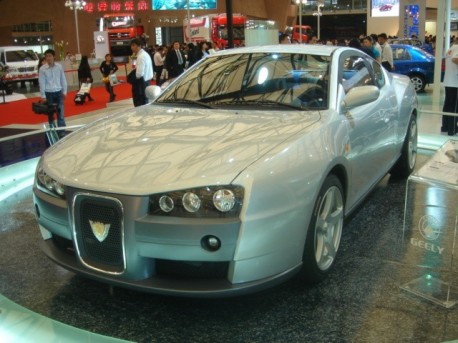 There was one more, a concept called the 'Meirenbao 2', it debuted in Shanghai in 2009. Strong loox it has, but it never made it to production. By that Time, Geely had had it with sportscars. But!, a new one is on its way.., or is it?