Luxgen is a brand from the Taiwanese Yulong Group. The new Luxgen7 SUV is made in Taiwan by Yulong and is made in China as well by the Dongfeng-Yulong joint venture.
In Chinese Luxgen is translated as Nazhijie. 7 is translated as Da7, meaning Big 7. Together: Nazhijie Da 7. But the car has the L-shaped Luxgen-logo's and L7, from Luxgen7, written on the back. Bit messy it is.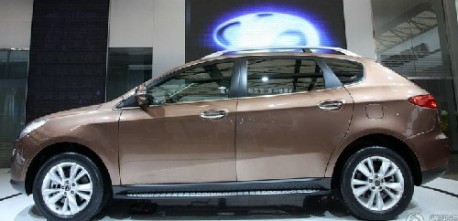 Quick now to the engine: 2.2 turbo with 175hp and 280nm mated to a 5-speed tiptronic, 4×2 or optional 4×4. Size: 4800x1930x1750, wheelbase is 2910. Seating is 5+2. Engine a 2.2 turbo with 175hp and a 5-speed tiptronic. Price will start around 175.000 yuan and end around 250.000 yuan.
This Luxgen7 will be listed in June. There will be more Dongfeng-Yulongs in the near future. Second one will be the Luxgen RoyaLounge (Yolong's writing), to be sold in China as Da7 CEO.