HOHHOT – A traffic jam stretching nearly 100 km has reappeared on an expressway in north Inner Mongolia autonomous region following similar situations last year.
The severe congestion came as reconstruction and expansion of the Inner Mongolia section of the Beijing-Tibet Highway and a paralleling state-level road started on July 10. A long line of mostly trucks was seen Tuesday by Xinhua reporters crawling along the highway from Zhuozi County in the city of Ulanqab to Hohhot, the regional capital.
Surging coal transportation has been blamed for the traffic jams on the Beijing-Tibet Highway, the major highway for the country's largest coal-producing region.
Liu Jianjun, a coal truck driver from neighboring Hebei Province, said they covered the 100-km road section in 40 hours.
Many drivers complained that they saw no signs of traffic diversion after the start of the two-year-long road reconstruction and expansion when entering Inner Mongolia from Hebei.
Hao Zhijun, an on-duty traffic police officer, said traffic controls over large trucks were imposed on the two major roads and several other roads in the region for some time starting July 10.
Many drivers said they hoped local traffic police would help divert the current traffic volume and post traffic diversion signs ahead of the jammed section to prevent further congestion.
Some local residents were selling water and instant noodles at higher prices, but many drivers said they didn't buy and hope local authorities can bring them enough water and food during the hot summer.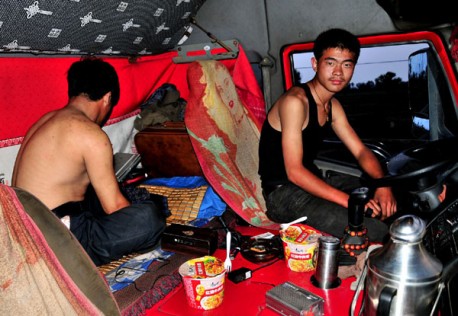 Note seat cover.
Via: ChinaDaily and ChinaDaily.