The great pick-up truck makers from China are Greatwall and Zhongxing. Their trucks are affordable, big, basic, easy to run and do fine in a war. However, they don't make any really small pick-up trucks and this where Geely saw a niche-market in 2001. Meet the pick-up trucks based on the Geely HQ hatchback, and there was a panel-van as well…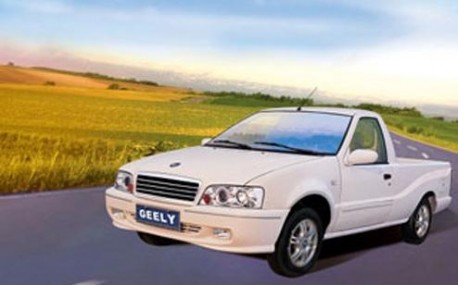 The first pick up truck was the Geely JL1010N 'Rural Nanny', it saw life in early 2001 and stayed on the market until 2005. The Geely Rural Nanny (吉利乡村保姆) was based on the Geely HQ hatchback, both cars were identical until the B-pillar. Power came from a 1 liter 4-cylinder 'JL376QE' engine with 38kw mated to a 4-speed manual. Max speed was… 98km/h. Price started at 31.800 yuan.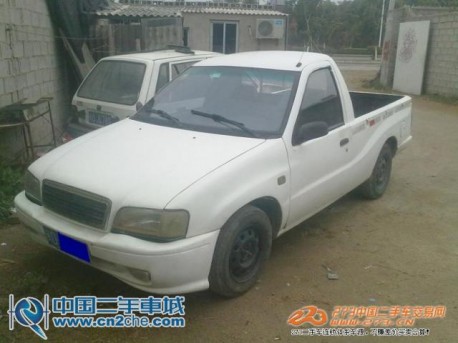 Size: 3965/1640/1435, wheelbase was 2340. The bed measured 1530/1330/370.That was all just enough for a few boxes of lettuce, a small cow or a big wife. As the name indicates the Rural Nanny was not sold inside the big cities and actually most stayed where they were born, in rural Zhejiang province.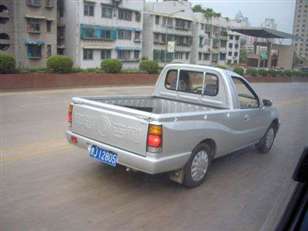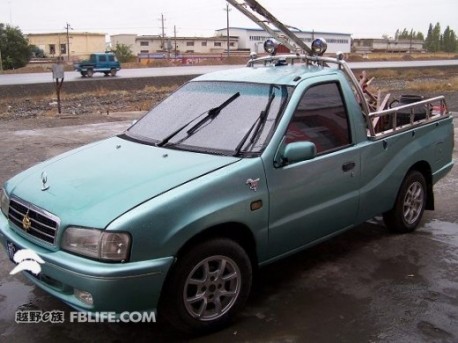 Well, at least there was someone who loved his Rural Nanny very much. Sporty wheels, a chrome bar on the bed, an Geely-ornament on the bonnet, lights above the roof and one pair of ski's, guess the wife didn't wanna go.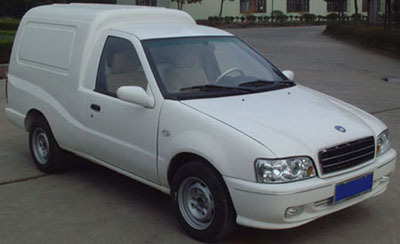 This is the panel-van, the JL5010X Rural Nanny. All specs are the same as on the JL1010N except for the cargo department height which was exactly 1000mm. Price started at 33.800 yuan.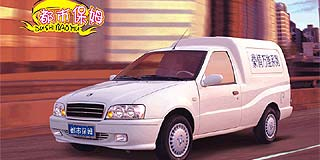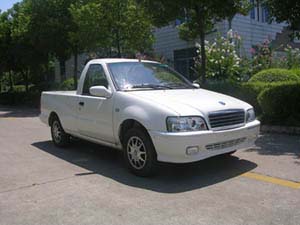 The JL1010E1 Rural Nanny arrived in 2005 and succeeded the JL1010N. The side of the car was now straight and sporty wheels were standard. The JL1010B1 had the same engine as the JL1010N but this time there was also a stronger JL1010E1 with a 1.3 'MR479Q' engine, good for 63kw and a 120km/h top speed. A huge improvement indeed, price though went up to almost 37.000 yuan for the 1.3. The panel-van did sadly not return in 2005.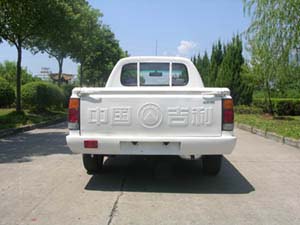 Characters: Zhongguo Qirui, China Geely.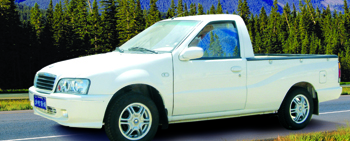 Factory pic, the JL1010E1 on a sunny day under a bright blue sky. Window is open, driver clearly enjoying the ride… Production ended in 2007 and Geely hasn't produced any pick-up truck ever since.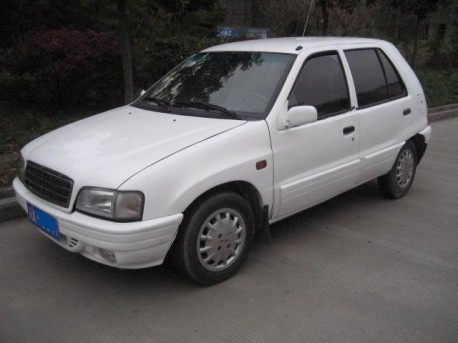 Standard HQ 4-door hatchback, called the HQ6360E2 'Pride'.
Via: oosyoo.com.cn, oosyoo.com.cn, oosyoo.com, ch2che.com, china2car.com, xche.com.cn, cn357.com,