June 20, 1958. Chairman Mao inspects one of China's first self-made tractors in the Zhongnanhai government compound in Beijing. The tractor was simply named 'Dragon' and made by the '147 Machinery Production Plant', also know by its pre-communist name 'Hebei Yan Xing Machinery Company' from in the great city of Yanxing in Heibei Province.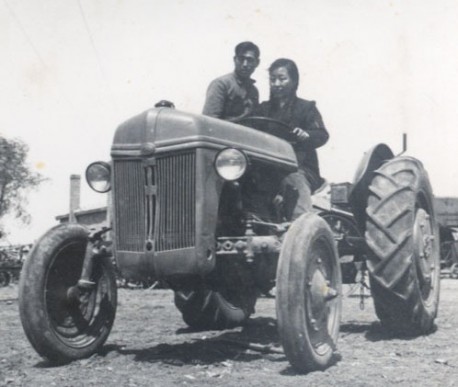 One on the field, note the woman driving, man watching. This was typical for the Mao-era, Mao believed in absolute equality between man and woman. This is still visible today with many women working as a bus or train driver.
Hebei Yanxing, its old name came back in the late 1980's, still exist today but they make no tractors anymore, it is now part of weaponmaker Norinco and produces all sorts of machinery for drilling oil and some odd modified buses.
Via: rmbg80.