The Buick GL8 is one of those cars that looks blend but hides an incredible story.
I remember being transported in a Buick GL8 for the first time in 2004. It was General Motors' minivan from the 1990's, and it was typical-GM all the way. I was impressed by how smooth and quiet the ride felt, how roomy the interior was with the leather captain second-row seats.
But other than that, it was just cheap plastics and fake woods all-around, a squeaky dashboard, heavy manual sliding doors, huge panel gaps, and 0-100km/h was done in about 15 seconds. For those who wonder, it had a 3.0L V6 producing 164 horsepower…
Also, what I didn't realize as a kid was its terrible fuel economy, its boat-like handling and absence of road feel, and to a certain extent, its lack of reliability. Yet for those Shanghai executives at the time, the GL8 embodied luxury. It quickly became the number 1 trendy business car in China. Yep, a minivan.
The GL8's interior. Fake wood was trendy in China in the early 2000's.
So how did it get to that status? Well, the story can be interpreted as a sheer coincidence… GM arrived in China in 1999 and launched the GL8 almost immediately. It didn't take them long because it was already sold in the US as the Chevrolet Venture, Oldsmobile Silhouette and Pontiac Montana.
The same minivan was also sold under 2 more brand names in Europe: Opel and Vauxhall. Thus, adding one more brand name to the car was a piece of cake for GM. The Buick nameplate was tactical for China, as the brand had kept the reputation of making high-end luxury cars since many Chinese leaders, including the Last Emperor, President Sun Yat Sen, and even the progressive minister Zhou En Lai, had Buicks. So GM marketed the GL8 as a luxury car, which interestingly contrasted the practical minivan posture it had to keep in America in order to maintain sales…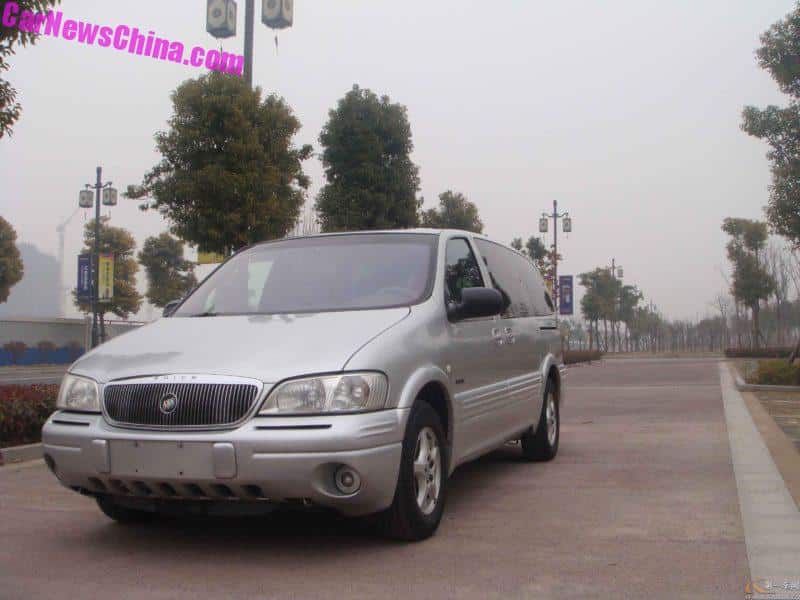 The made-in-China Buick GL8, and…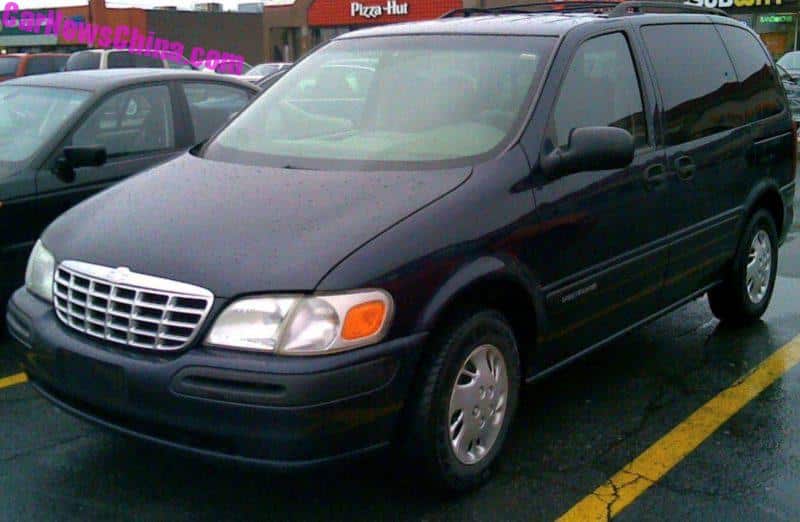 … its American sibling; the Chevrolet Venture.
To sum things up: Same car. Less powerful engines (3.0L vs 3.4L). More leather and fake wood. An "8" in its name (this is China). Marketing. And there you have it: probably the cheapest upgrade from practicality to luxury in the entire automotive History. And unbelievably, it worked.
The big question is: was all of this deliberate? Because selling a car originally designed for practicality as an upscale luxury car was not only a major first in the industry, but also undoubtedly a big risk. To me, it sounds like taking a Tupperware, adding a "Louis Vuitton" badge to it, and sell it as a jewelry box. As shown below, that is kind of what they did. But did Buick intend to do this in the first place, or did they do it after realizing who their customers were ?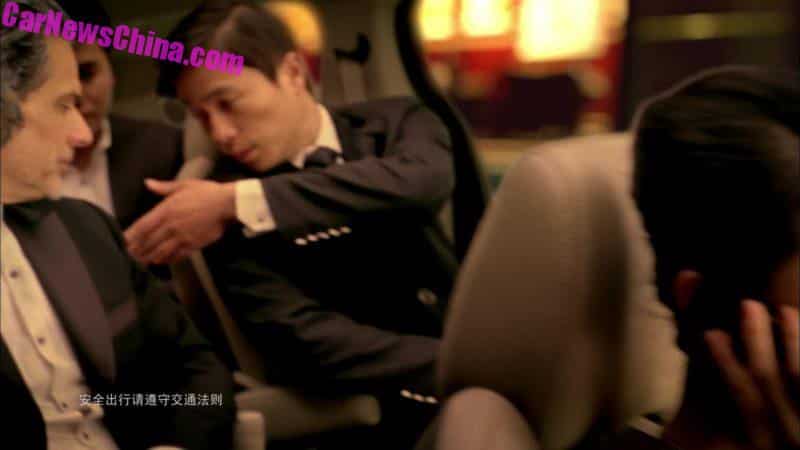 Advertisement for the GL8 targeting businessmen looking for a spacious interior to have a meeting in.
Think of it this way: At the time, China was not able to make decent luxury cars. The highest luxury Chinese car you could buy in 2002 was the Brilliance BS6, which was even worse. So if you wanted luxury, you had to buy a foreign brand. And to avoid high taxes, your car had to be manufactured in China. And apparently, the GL8 was the best offer to fit these criteria at the time. Not that it was the best car in the world, but GM came first on the "luxury" market.
And this is how a minivan designed for American families became Chinese executives' most desirable car in the early 2000's. And the sales went well. They went so well that in 2006, when the Chevy Venture and Pontiac Oldsmobile were replaced in the US, the Chinese GL8 was slightly updated for China, becoming the GL8 Firstland.
The changes were minor and mostly aesthetic. It was essentially the same car. Still, the previous version was available on the market as the entry-level trim. It was powered by a 2.5L V6 putting out 152 horsepower. Sales kept going up, and most GL8 buyers were in Shanghai and Beijing.
In 2008, a critical year for GM who almost went bankrupt, Buick was making 80% of their sales in China. Without China, Buick would have probably ended up where Oldsmobile, Pontiac and Saturn did. In History books, that is. And the GL8 contributed to this heroic save of the brand.
But I should mention that the Buick Excelle, a cheap 4 meters long sedan, made for most of the brand's sales in China at the time. It's the real savior, owing its success not to its luxury features, but to Buick's aura in China. The Excelle was for the low-mid class "I wanna look rich" guys.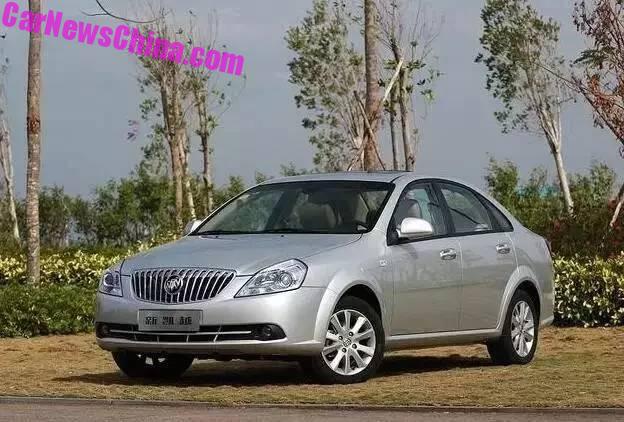 The first generation Buick Excelle: a cheap sedan that made Buick's most sales.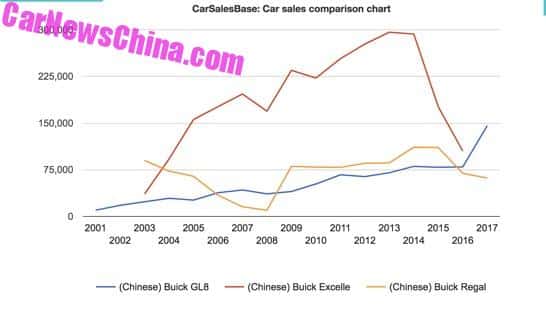 The irony is that what lead to GM's downfall in 2008 was their outdated product offer in the US, which the Chevrolet Venture (redesigned as Uplander), perfectly represents. With oil prices dangerously rising, American cars had to change. Building big heavy boats with sluggish gearboxes and oversized inefficient engines was just not suitable for America anymore.
Plus, the crappy plastic interiors were way behind European and Japanese standards. Americans were simply asking for better cars. However, in China, this old-school formula still worked. The Chinese did not care about the handling, nor fuel economy. They wanted comfort, space, and a luxury brand plate on their car. The GL8 incarnated just this. Thus in 2008, Buick was still going strong.
Nevertheless, Buick anticipated a similar shift of the Chinese demand. One year after presenting an all-new "Business MPV" concept at the 2010 Beijing auto show, they unveiled the 3rd generation GL8, a complete redesign by Shanghai-GM. The handling and safety of the vehicle was much improved, a turbocharged 4-cylinder Ecotec version was available, it was mated to a 6-speed gearbox, and the car was this time designed for comfort rather than practicality.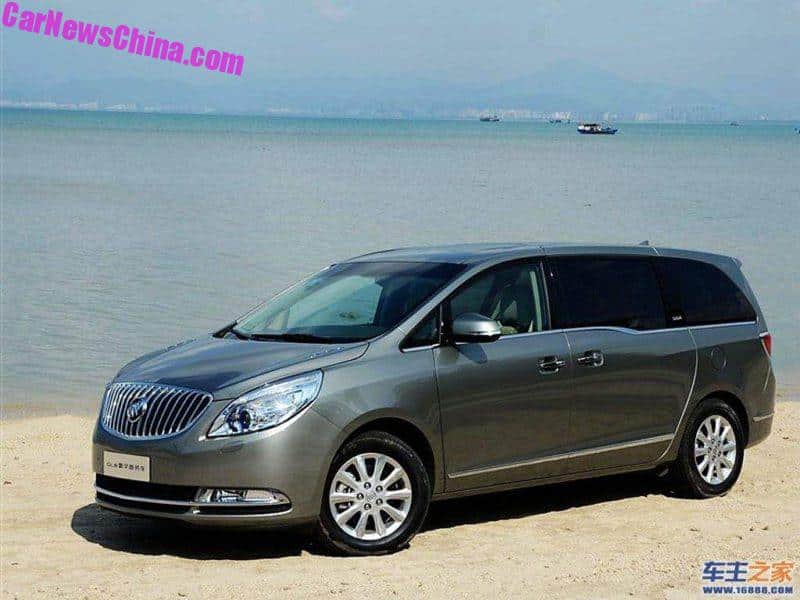 The 3rd generation GL8, designed by Shanghai-GM for China only.
I recently got the occasion to be driven in a 4th-gen GL8. Immediately I could tell that Buick has put a lot of effort to make the car as luxurious as possible. And this only comforted my belief that the 1st generation's luxury status was almost an accident…
This article was written by Emilien Moulin, born in France and based in Shanghai, where he studies automotive engineering at the JiaoTong University. We are very happy he wants to work with us! You can reach out to Emilien via LinkedIn.