Here we have a very fine and perfectly maintained Porsche 968, seen by reader Ali Khalili in Shanghai. An interesting find because the 968 was never officially sold in China. It might be an ex-diplomatic car or smuggled in via Hong Kong.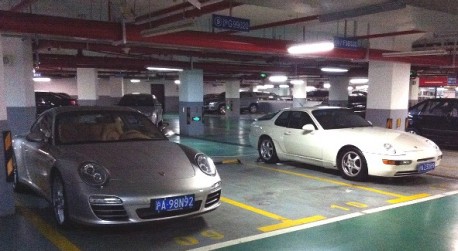 Great combination: 968 and 911.
The 968 was the successor or the 924 and was made in Germany from 1992 until 1995. In those days a car buyer in China could only get a Beijing-Jeep, a Shanghai-Volkswagen Santana, or, depending in which province he lived, all sorts of crappy local cars.
Porsche wasn't in China yet and neither was any other sportscarmaker. Some luxurious cars however found their way to cities in the mainland through diplomatic channels and a gigantic smuggling-scheme that was based in Hong Kong. The same scheme was used to 'import' ten-thousands of big-expensive Japanse cars, like the Toyota Crown and early Mazda 929's.