"China is a country and market of speed. Many of the things we need for China cannot be developed and researched in Germany because the environment and ecosystem are not there. So one of the decisions supported by headquarters was to work on a strategy of partial localization."
Another year, another record.
Porsche was able to grow sales again in China in 2021, by 8 percent year-on-year to an all-time high of 95,671 vehicles, despite the pandemic and supply chain constraints caused primarily by the semiconductor shortage. China remained the German premium sports car maker's largest single market for the seventh consecutive year, accounting for close to a third of the brand's total global sales of 301,915 vehicles. Deliveries of electrified models such as the all-electric Taycan accounted for 18 percent of sales in China.
And get this, in the 20 years since it officially entered the Chinese market in 2001, Porsche has grown sales there every single year. That streak nearly ended in 2020 when the pandemic hit, but the brand could still eke out a slight gain of 2.5 percent that year.
"I must say, in the end, I'm very satisfied with the results because of many reasons," said Dr. -Ing. Jens Puttfarcken, President & CEO of Porsche China. "2021 for me is just a continuation of 2019 and 2020, a year of uncertainty, a year of being urged to react flexibly to a changing environment. So I would say we are delighted."
Puttfarcken made the comments in an exclusive conversation with AutoXing on January 24.
Actual order intake in 2021, according to Puttfarcken, reached about 100,400 units, exceeding 100,000 units for the first time. "The attractiveness of the Porsche brand in the Chinese market is better understood if we look at the order intakes than the real sales numbers," he said.
All model lines did well in 2021
The Taycan, in its first full year on the market, delivered 7,315 units, more than quadruple the 1,400 units sold in 2020, contributing nearly 17 percent of the 41,296 units sold worldwide. The two-door sports cars 911 and 718 combined delivered about 10,400 units, up about 1,000 units over 2020. The iconic 911 saw deliveries rise 67 percent from 2,400 units in 2020 to over 4,000 units in 2021. The Cayenne and the Macan SUVs remained the brand's top-selling models in China, each selling about 30,000 units. The Panamera executive limousine sold more than 16,000 units, increasing nearly 3,000 units over 2020 and accounting for roughly half the model's global sales of just over 30,000 units.
In general, Porsche and the luxury segment have grown proportionately compared to the overall market thanks in part to a pandemic-induced buying habit that Puttfarcken describes as people rewarding themselves with presents and big-ticket items like a Porsche, spending that would have otherwise gone to overseas sightseeing and shopping trips. Many Porsche customers that are high net-worth individuals working in the financial sector also benefited from the extraordinary performance of the U.S. stock market.
"People will stay in China, but people will still consume," said Puttfarcken. "China has been growing its economy over the last two years. Yes, there are a couple of clouds in the sky, but I'm sure that the Chinese government will find the right solutions and not let anything happen to the Chinese economy. At the same time, we also had a lot of new products that we brought through 2021 to the market."
The Taycan, in particular, benefited greatly from getting onto the purchase tax exemption catalog for EVs in the second half of 2021, according to Puttfarcken, and quickly became one of the market leaders in the RMB800,000+ BEV segment. It also benefited from more model variant availability, such as the 4S and RWD versions launched at the end of 2020, reaching out to a broader public.
And interestingly enough, Taycan customers, at an average age of only 30, are even younger than Porsche customers in general, who's already young with an average age of 35. They are also higher educated and more affluent.
"This is a young, high-tech, savvy clientele that is very affluent, very much influenced by all these innovations and technical environment, and wanting to upgrade their consumption," said Puttfarcken. "They are attracted by the Porsche brand when looking for something new, innovative, and that also fits their lifestyle and expresses their mindset very well. Two-thirds (of Taycan customers) are new customers to the brand who've never driven a Porsche before."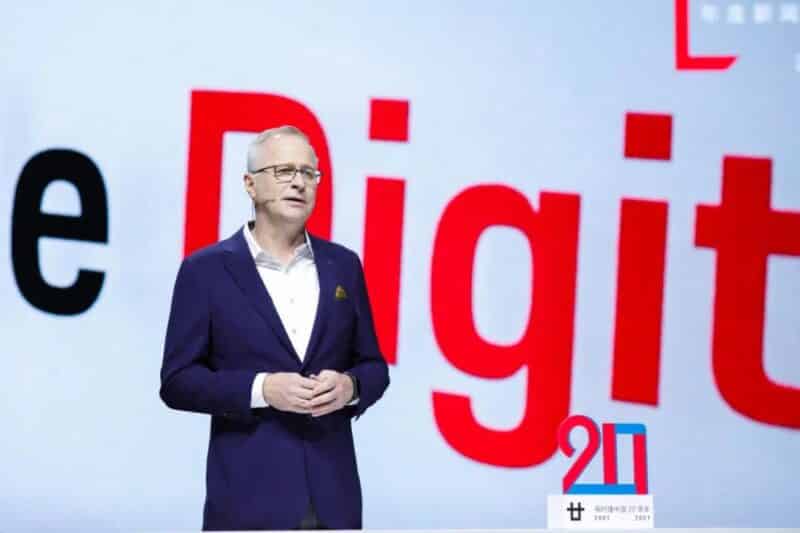 To help Taycan customers' charging needs, all 116 Porsche Centers in 76 cities in China had 800V high power charging (HPC) infrastructure set up as of the end of 2021, and nearly 380,000 public chargers are available, according to Puttfarcken. In addition, Porsche is adding destination chargers into shopping malls, hotels, and resorts, including 200 charging piles by the end of 2022. It also had 101 public charging piles in 20 cities exclusively dedicated to Porsche customers.
"One of the very important topics that we are working on this year is to further elaborate on our charging strategy to provide the right kind of charging offer to our customers," said Puttfarcken.
So what were the learnings from the Taycan having been on the market for 20 months, and mainly traditional automakers like Porsche have been a bit late coming into the EV market? Puttfarcken pointed out a transfer of customers and the brand image going from being a recognized and high-value brand that processes ICEs to being the same high-value brand building EVs.
"Because we are coming a little bit late, we have more to explain," he said. "It's not automatic that people would say, Porsche brings up a battery-electric car."
In addition, many metrics that traditional carmakers, especially German ones, were proud of, such as horsepower, torque, and speed, become less relevant compared to EVs, which devalues the traditional values of a carmaker. "This is something that we are also speeding up with: putting those digital innovations into the car, especially for Chinese customers," said Puttfarcken. "And put this into balance with our engineering, design & development, and manufacturing qualities. If you sit in the Taycan, there is not a single moment of question that you are sitting in a true Porsche, and when you drive the car, you would have the feeling that you are driving a true Porsche."
Puttfarcken conceded that China is a country and market of speed and has been thinking very much into what can be done to speed up and get quicker in terms of decision making and development because of many of the things that Porsche need for China cannot be developed and researched in Germany.
"Because the environment, the ecosystem is just not there," he said.
So, to speed things up, Porsche headquarters supported a decision to work on a strategy of "partial localization" along with Porsche Digital China on digital solutions in three areas: digital solutions that go into the car that is integrated into Chinese ecosystems; customer solutions like a charging app that gives customers digital services around the vehicle; and digital solutions around dealers offering customers an end-to-end process to integrate digital and physical experiences at dealerships seamlessly.
In addition, Porsche also announced last August the establishment of an R&D satellite in Shanghai that will come into effect in 2022 to have additional R&D capabilities to address local customer needs. The new R&D satellite location will improve the overall efficiency of local R&D by integrating the know-how and experiences of Porsche Engineering China, Porsche Digital China, and Porsche China Product Management Department.
"We will form a core team which will expand and has more R&D capacity to develop solutions that need to go into the car that is made in China, for China, but also made in China, for the rest of the world," said Puttfarcken. "It was more and more understood that we have to have a stronger local presence here in China. We gain more self-confidence, more possibilities to add to the digital, and the pure normal engineering work from a Chinese perspective with our colleagues in Germany to determine the speed we need here. I think that's the right strategy."
Asked about prospects of the overall industry, the premium market, and Porsche itself, Puttfarcken believes the chip shortage will still be affected this year. Still, the BEV market will go way beyond 3 million cars, and the premium segment will continue to increase at a pace more than that of the overall market, possibly rising by 5 to 10 percent.
As for Porsche itself, the latest iteration of the Macan, the last edition of the current generation of the Macan before it goes completely electric in 2023, officially begins deliveries in April. The Taycan Cross Turismo will be arriving later in the year, as will the 718 GT4 RS Clubsport, and a couple of novelties and unique variants will also hit the market. That gives Puttfarcken confidence that sales will finally cross the 100,000-unit mark.
"With the order bank we have, and with higher interest that we have from Chinese customers, I'm cautiously optimistic that we can make it," he said. "All signs look positive that we can do it."
But Puttfarcken reiterated that though the 100,000-unit mark would be a psychological barrier and something nice to communicate, the number itself is not that important.
"For Porsche, it's not important what the final number is, but to serve our customers and whatever request from customers," he said.
As for the likelihood of the Taycan doubling deliveries over last year's levels?
"I hope we will be able to do so. We would be ready to do so," said Puttfarcken.
The interview was taken before Porsche officially announced Jens Puttfarcken is leaving Porsche China.