This is the new Zhongxing Urban Ark, a small SUV that will debut at the Beijing Auto Show next week. The Urban Ark already wins my prize for the best named car. Congrats! But!, 'Urban Ark' is literally translated from its Chinese name,都市方舟. Zhongxing, aka ZTE Auto, might still use a different English name. If they do, they loose the prize, except for sure when the other name is even better…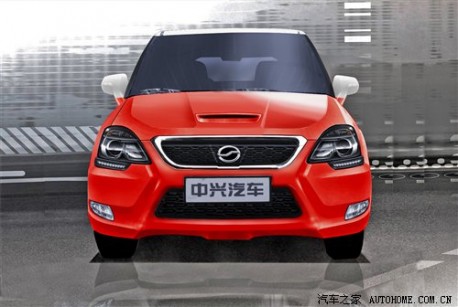 Back now to the car. Zhongxing says it is a 'compact city cross-over". Compact it is: 4000/1650/1750. Power comes from a Mitsubishi-sourced 1.5 with 113hp and 147nm, mated to a 5-speed manual transmission, a CVT is in the works but will debut later. The Urban Ark is 4×2 but Zhongxing will offer 4×4 in the future as well. Price is expected to range from 70.000 yuan to 90.000 yuan, the Urban Ark, I really like that name, will be listed on the China car market in the second half of this year.
The Urban Ark's internal name is C12, Zhongxing is also working on another funky city SUV. Internal name is C11, it is basically the same car but with a much better front. Hopefully it is on the Beijing show as well.
Via: Autohome.