The Bentley Mulsanne Diamond Jubilee Edition launched in China yesterday evening, just two days before the start of the Beijing Auto Show. The special-edition Mulsanne celebrates the British Queen Elizabeth sitting on the throne for 60 years. Bentley so will only make 60.
The very British car however was launched in China and priced immediately: 6.88 million yuan or 1.09 million USD. The Mulsanne Elisabeth II seems therefore meant more for the Chinese market and now so much for England. A good idea from Bentley, rich Chinese car buyers dig everything that smells like royalty. Now!, how special is this Bentley? Well, it is decorated all over with badges depicting… horse drawn carriages, without the horses.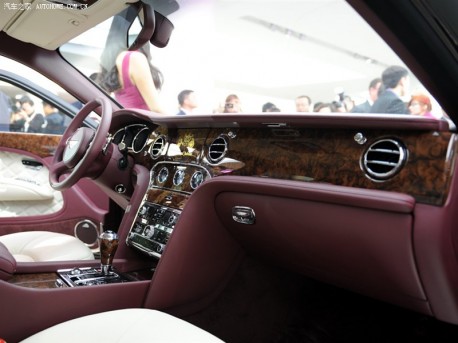 The standard Mulsanne costs 4.98 million yuan in China, or 790.000 USD. That's a lot of extra money for a few horseless, and therefore useless, ancient forms of transportation. Look here: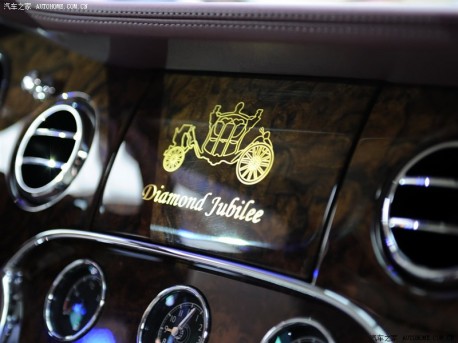 That loox like a sticker! Responsible for all this madness is Bentley's Mulliner department, always good for a special Bentley or two. Here's the whole list of extra stuff:
Burr Walnut Veneer
Two Plain Hide Loose Cushions with 'Diamond Jubilee' Embroidery
Diamond Quilted, Perforated Seat Inserts & Door Panels
Lambswool Rugs (in addition to standard overmats)
Veneered Gear Lever
Veneered iPod Drawer & Minor Gauge Panel  (digggggg that!!)
Diamond Jubilee Overlay to Fascia & Picnic Tables
Ambient Interior Mood Lighting
Rear Quarter Vanity Mirrors with Veneer Surround
Drilled Alloy Sports Foot Pedals
Seat Ventilation & Massage to Front & Rear Seats
Rear Seat Entertainment Package
'Naim For Bentley' Premium Audio System
Hide colours – Linen, Burgundy and French Navy
Personalised Embroidery with Gold Thread
Six paint options including – Beluga over Claret (duo tone), Black Sapphire, Claret, Pale Sapphire over Black Sapphire (duo tone), Pale Sapphire, White Sand.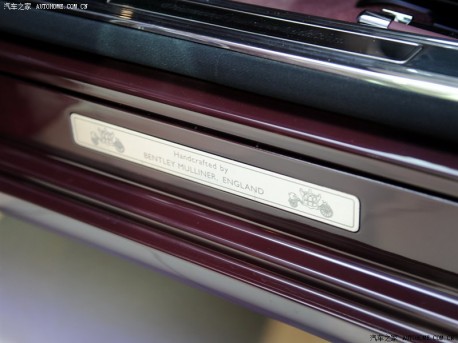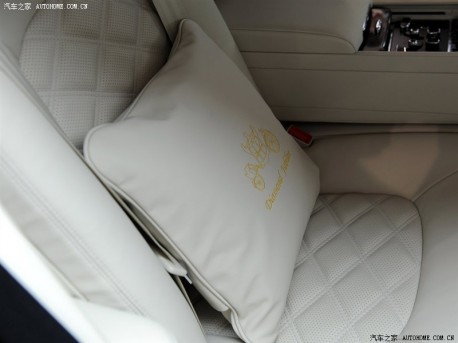 This, is just sad… If I was a horse, I would s**t on this pillow. Power is unchanged at 513 horses and 1020nm, coming from a 6.75 liter twin-turbo V8 mated to a 8-speed automated manual transmission. Wheels look like 60 years ago: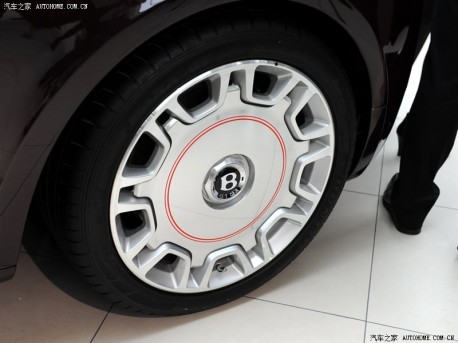 No matter how ugly, sales-wise it will work out fine, Bentley will sell 'm all in no time.
Via: Autohome.