When it arrived in 1990 this BMW 850i was a proper super car, a 5 liter V12, sleek profile and pop-up headlights, a mean machine for road 'n track! Sadly, the 8 never raced, but it proved its worth on the road for all who were lucky enough to drive one. The 8-series was made from 1989 until 1999, the 850i was the first to get the then new V12, later on the 5.4 liter 850Ci and the 5.6 liter 850CSi would follow.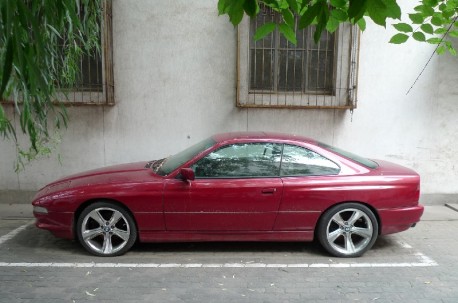 The 8-series was never officially imported into China, some however reached the country through diplomatic channels and some via the gray market. This incredible red example is always parked on small lot very near to my home here in Beijing. Sadly it hasn't moved for a year but fortunately one of the compound's guards cleans it up once in a while. The owner lives in a building nearby and also owns a 1990's 3-series, which he never uses either. Strange maybe, but I got myself a 300-car tin toy collection I don't 'use' at all. Sometimes having something is enough…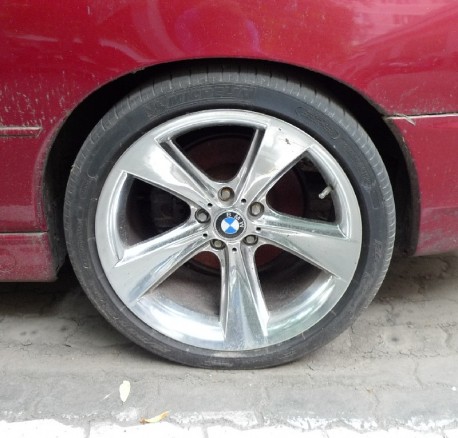 Huge 21inch Michelin tires and 5-spoke alloys are not original but look perfect n place under this super sportsmachine. Output of the fat V12 was 295hp and 450nm, good for a 230km/h top speed and a 0-100 in 6.8 seconds, still very respectable numbers today.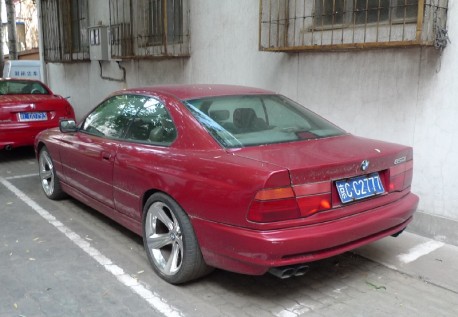 In front of this great and powerful BMW sits a very gayish Peugeot 206CC which hasn't moved for over a year as well. The guard however never cleans it, showing he can tell a car from a not. Good guard.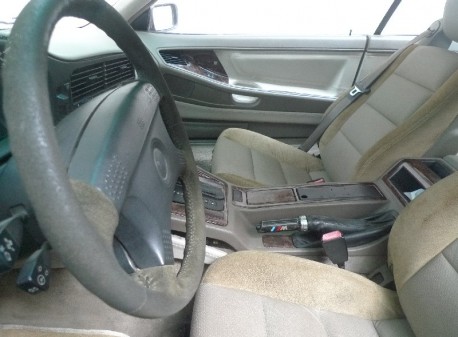 A look inside reveals this mighty monster has been silent for fat too long. Lotta dirty dist and the seats are simply rotting away, no protecting seat covers here… Note M-badge on hand brake. BMW-badge from steering wheel is gone, maybe dropped off, Beijing's desert-like climate kills glue, no matter how German.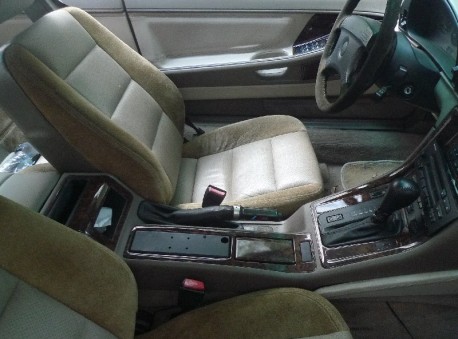 The 850i was available with a 4-speed automatic or a 6-speed manual, which was pretty fancy for 1990. One wonders whether this 850 can be saved. I guess it will be hard, mostly because there ain't no parts available for the 8-series, and BMW mechanics have none experience with it. The engine for sure would run like a lama after adding some juices but fixing the drive-train and suspension won't be easy at all.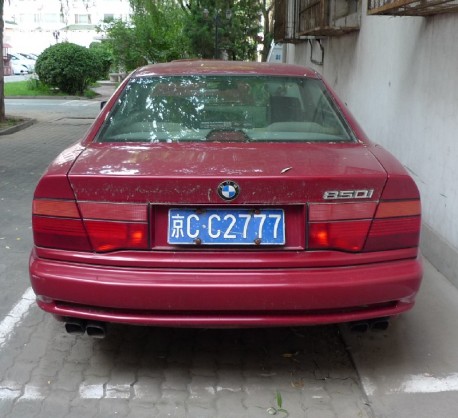 Then this beauty better go to a museum of sorts! Where people can see her pretty! Because one day no matter how hard our hero guard keeps cleaning the rotting will also start outside, and that indeed will be the real beginning of the end.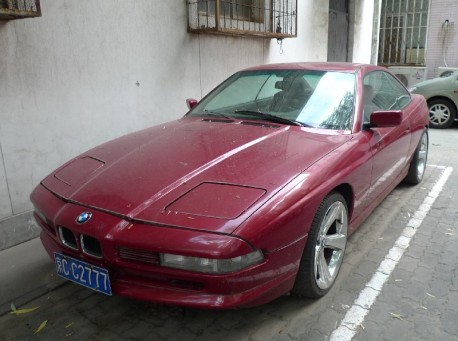 Hold on, you brilliant BMW…