This is a very pimped Toyota Land Cruiser J70 seen on the Auto Tuning Car Show in Beijing. Production of the J70 started in 1984 and continues until today, making it one of the longest running 'single cars' (unlike for example the Toyota Corolla which has been redesigned a zillion times) in the world. The J70 Land Cruiser isn't officially exported to China so this great pimpo likely came to Beijing via the gray market, it is the first J70 I ever met in China.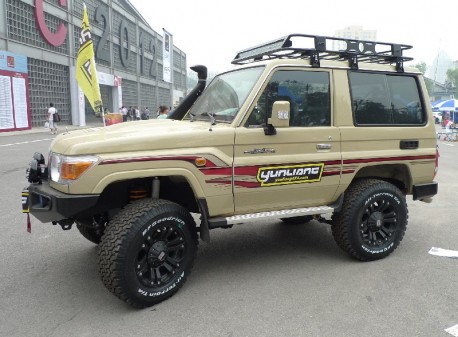 Well, where to start? Higher suspension, huge tires, black alloys, bull-bar, roof-rack, snorkel, big front-bumper, fog lights, side-steps and weird stickers. A true beauty! There are many engines available for the J70, this is China so we can rule out the diesels. That leaves us with the 2.4 four-cylinder, the 4.0 l6 and the gigantic 4.5 l6. This again is China so big is better, this particular car was indeed powered by the 4.5. Toyota does give the Chinese car market some Land Cruiser, the 200-series is made in China by the FAW-Toyota joint venture and sells very well, its platform will also underpin the upcoming Hongqi SUV. And earlier on we met a very gray Land Cruiser 60 series on a second hand car market.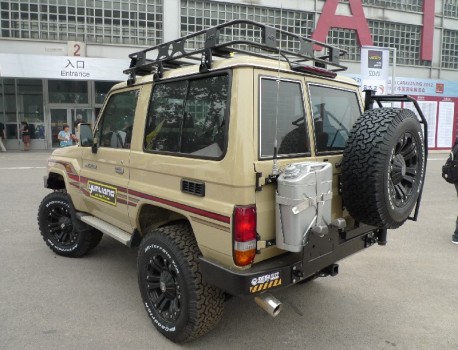 Adding: jerry can, spare wheel, bigger bumper, shiny exhaust pipe, and a kinda weird ladder going over the spare wheel to the roof.