Relations between China and Japan are on an all-time low thanks to a nasty row over a few rocks in the sea, which might sit atoppa treasure of natural gas. The Japanese government decided last week to buy three of the islands from their private Japanese owner, igniting protests in China that turned very violent in places. The patriotic protesters targeted everything Japanese, including shops, restaurants and especially cars. One Chinese auto maker decided to cash in on the anger!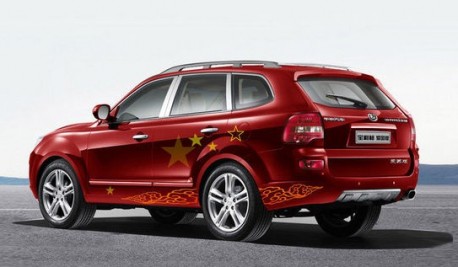 This is the Hawtai Baolige Patriotic Edition, it will be launched on the Chinese car market on September 25, it is based on the Hawtai Baolige that was launched in November last year.  The Patriotic Edition is painted in China-red, with five yellow stars as in the Chinese flag and some waves around the rear wheels that likely refer to the disputed islands. As far as we know the Patriotic Edition will be unlimited.
The Baolige is powered by a 1.8 turbo from SAIC and (legally) based on the platform of an old Hyundai Sante Fe. Nothing Japanese there, although Hawtai did have plans to offer a Mitsubishi 2.4 in the Baolige, but that never happened.
Via: 163.com.