A very special BMW seen in Beijing, very sadly left to rot on a parking lot very near to my home. The owner of this extremely rare BMW E30 325i Sport M-Tech also owns the BMW 850i where I posted on earlier. Up until a year ago both cars were still maintained and cleaned up, but the owner has mysteriously disappeared and his BMW's are looking worse by the day. I asked the guards but all they knew was that the parking fee was paid for until February 2013. I'll keep an eye on developments… Back now to this red Beauty!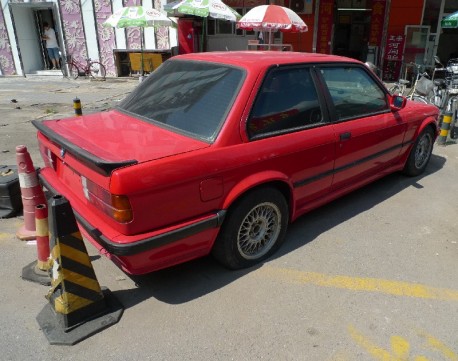 The BMW 325i Sport M-Tech was the most sporty E30 except for the mighty M3. The engine was untouched; a 2.5 liter six-in-line with 169hp and 226nm. But the rest of the car was touched quite a bit! Suspension was harder, chassis was lowered, and power was sent to the rear wheels by a close-ratio sport differential. Other changes were optical; a body kit, 15inch BBS alloys, twin exhaust, a small black wing at the back and several M accessories inside. The BMW E30 3-series was made from 1982 until 1994, the 325i Sport M-Tech arrived in 1988. The E30 was never exported to China but some cars came in gray.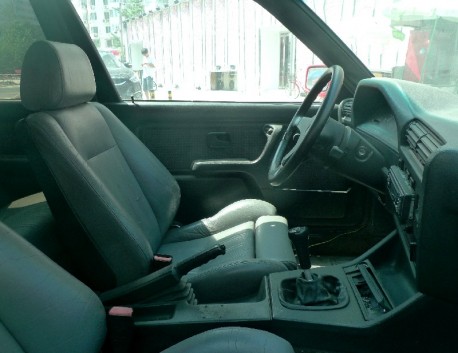 Interior is losing its pretty very fast! Beijing's dust gets through anything. Fortunately Beijing doesn't have much rain so moist is less of a problem, a good professional clean-up can do miracles here, if it happens soon enough… Radio seems to pop out of the dash, looked like an after market replacement, hopefully the original is still around somewhere.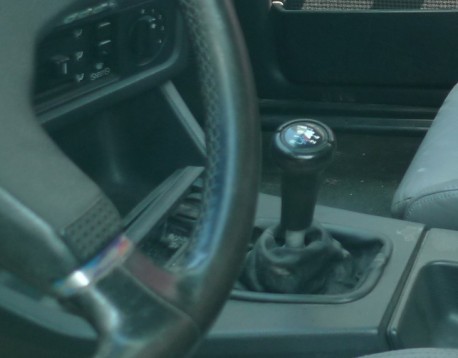 M steering wheel and gear knob.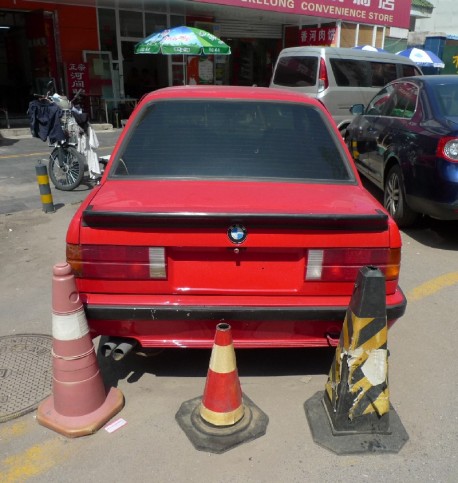 Rear was heavily protected with three traffic cones, so somebody at least still keeps an eye on it…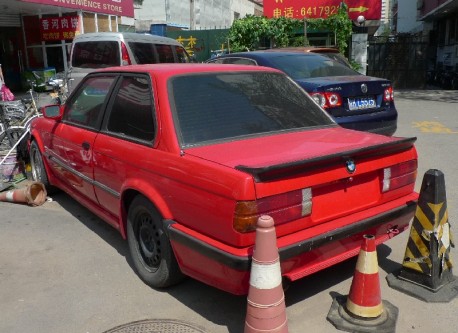 One of the racy wheels is missing, it will be very hard to find a replacement in China, but I guess it must be possible to get one from Germany or the UK.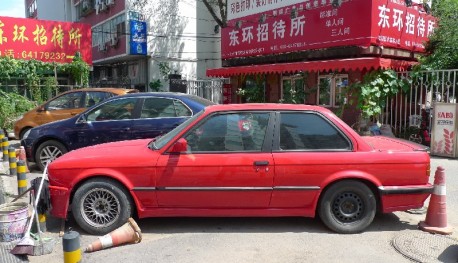 The paint is still good, thanks again to Beijing's desert dry climate. The sun however is merciless here on this open parking place without any shade. It has been parked here for about 6 month now, before that it stood on a much safer place inside the compound near the 850 where it was in the shadow for almost the whole day.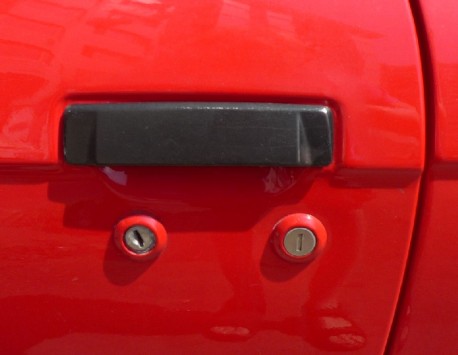 This is really weird. A second lock in the driver's door, no idea what it does. Original on the right.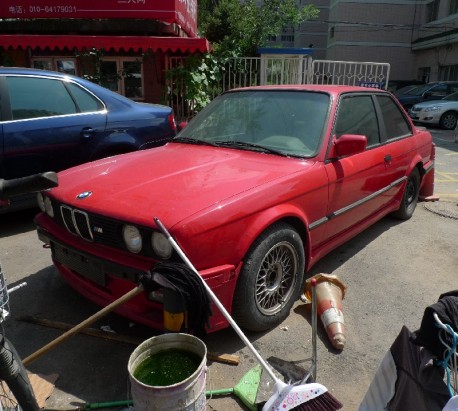 The green stuff is used to clean the pavement in front of the nearby shops. It loox, and likely is, very poisonous. I hope they won't use it on our E30!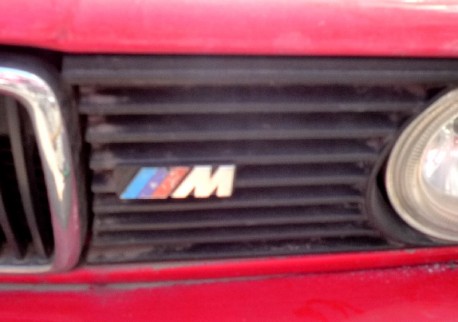 This is a fantastic 1980's autocar, and, working or not, very much approved!