A spectacular spy shot from the Landwind E31 SUV testing on shore of Qinghai Hu, a gigantic lake in the remote and mountainous Qinhai Province. The Landwind E31 will be called Landwind X5 when it hits the Chinese auto market in January 2013, debut is expected for the Guangzhou Auto Show in November.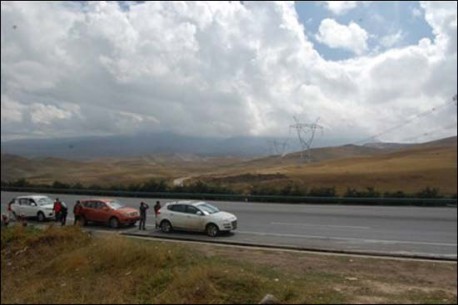 On a mountain road. The E31/X5 is by far the funkiest Landwind ever made, a sort of shrunken Landwind X8 but much cooler. Price will start around 110.000 yuan to compete with fine cars such as the BYD S6 and the Great Wall Haval H6.
New news about the engines. Base power plant will be a 160hp Mitsubishi-sourced 2.0, this we knew. But!, there will also be a 180hp 2.0 turbo, mated to that still kinda mysterious 8-speed automatic. The naturally aspirated 2.0 will have to do with a 6-speed automatic. Earlier we heard about a 1.5 turbo but it ain't sure whether that engine is still on the table.
Via: Sohu.