Audi has launched the Audi R6 China Edition on the Chinese supercar market.There will be only 80 cars, numbered 1-99 but without the numbers with a '4'. The number four is considered to be unlucky since it sounds the same as the Chinese word for 'dead'. Strangely the China Edition is based on the pre-facelift Audi R8 while the facelifted model was launched in Europe in June.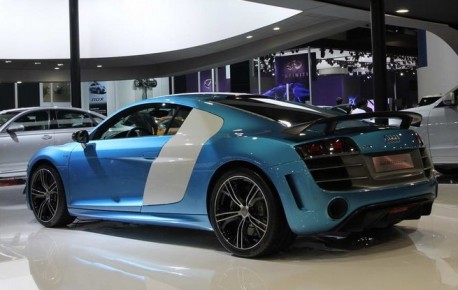 The facelifted R8 however hasn't been launched in China yet, so maybe this China Edition must be seen as some kinda 'goodbye-model'. Or is Audi dumping some old stock on the supercar-hungry Chinese market? That would be, really bad… The Audi R8 China Edition costs 2.62 million yuan, or 420.000 USD. The base Audi R8 V10 costs 2.32 million yuan for the 2012 model.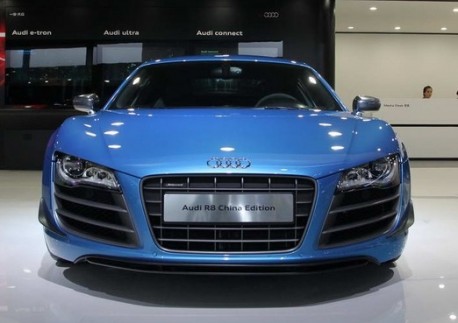 Audi is offering the car in two special colors: Malibu Blue body with Suzuka Grey sideblades or Suzuka Grey body and Malibu Blue sideblades, check! Othe special thingies: a carbon fiber aero package, 19-inch wheels with racy 5-spoke alloys, a special badge on the gearstick, and that's it.
Power didn't change, 525hp and 530nm, good for a neat 316km/h. The Audi R8 China Edition is the second China-special Audi R8 after the 'Audi R8 Limited Edition' that was launched exactly a year ago, with the same aero kit, the same alloys, and also based on the V10.