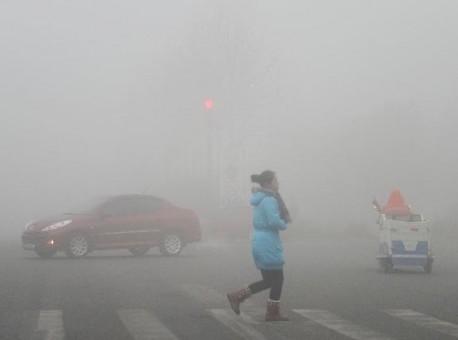 China has pledged to vigorously curb vehicle exhaust emissions after hazardous air pollution has shrouded parts of the country for several straight days, the environmental watchdog said Monday.
China will take effective measures to limit the total amount of nitrogen oxide emitted by vehicles and intensify supervision over the production, use and elimination of motor vehicles, said Tao Detian, spokesman for the Ministry of Environmental Protection.
The ministry will make more efforts to step up urban public transport development and promote the use of clean energy to cut vehicle exhaust, which is the main factor contributing to the smog in cities, Tao said.
According to data from the country's auto industry, China remained the world's largest producer and market for automobiles for the fourth consecutive year in 2012, with auto sales at 19.31 million units and production at 19.27 million vehicles.
Carbon monoxide, nitrogen oxide and other pollutants emitted by motor vehicles are among the major contributors to the air pollution problems like smog and acid rain that frequently occur in some Chinese cities.
Heavy fog has enveloped a large portion of east and central China in recent days, causing highway closures and flight delays in several provinces.
Beijing's air has been heavily polluted. Readings for PM2.5, or airborne particles with a diameter of 2.5 microns or less — small enough to deeply penetrate the lungs — were as high as 993 micrograms per cubic meter of air on Saturday evening.
Via: Xinhua.