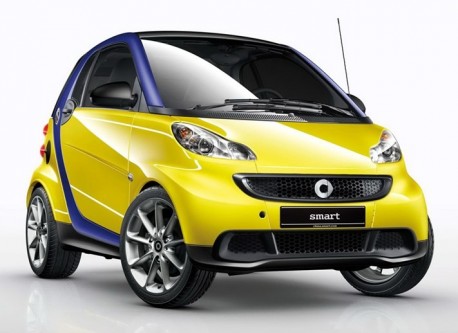 The German carmaker Mercedes-Benz (China) Ltd sold a limited edition of its smart cars on Sina Weibo, the largest Chinese micro-blogging platform. The sale marks the third e-commerce marketing campaign of this sort the company has embarked on in its third-largest market.
"It is the first time an automobile brand is offering its products in such an innovative sales approach," said Daniel Lescow, head of Mercedes-Benz China's smart vehicle division. Consisting of only 666 vehicles that cost 128,888 yuan ($20,700) each, the smart 2013 New Year Edition was officially sold on the Sina Weibo platform from 10 am on Friday.
The German luxury automaker's lifestyle brand has also cooperated for the first time with the Chinese jewelry designer Wan Baobao to design a special New Year edition for Chinese consumers, with a bright yellow and deep blue color scheme.
The special edition is also marked with a snake-shaped logo tag designed by Wan in celebration of the coming Chinese Year of the Snake.
In addition to being a new way for its smart division to connect with its customers, the event again shows the brand's ability to innovate and set trend in the automotive industry, the company said.
Bjorn Hauber, executive vice-president of sales and marketing, Mercedes-Benz (China) Ltd, said the division sold 15,680 vehicles in China in 2012, up 45 percent year-on-year.
Mao Jingbo, its vice-president, added: "The smart brand has always been innovative in communicating with consumers, introducing exciting and surprising marketing initiatives and leading a new trend in online sales in the auto industry.
"Our collaboration with the leading Chinese social media platform, Sina Weibo, is not just an innovative way to sell cars," she said.
"It is a new way to engage with consumers and is the first time that our customers will get the complete experience of using social media to do a variety of things, ranging from communications to purchasing cars."
Mercedes-Benz's smart division in China has been a pioneering auto brand in e-commerce, setting a record in 2010 for selling 205 smart cars within four hours through group buying on Taobao, an online marketplace. That type of online purchasing became popular among young Web users the same year.
Last February, 300 vehicles in the smart division's pearl grey special edition set another record, selling out within just 89 minutes on the online retailer Jingdong Mall.
Statistics show China was home to more than 564 million Web users at the end of 2012, about 50.9 million more than in the previous year.
The number of micro blog users rose by 58.73 million from 2011 to 309 million in 2012.
Via: ChinaDaily.