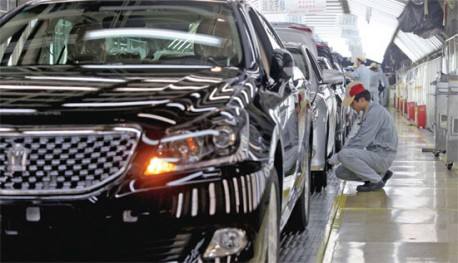 In the race to become the world's biggest auto market, Chinese carmakers have suffered much fewer setbacks than those in other countries caused by vehicle recalls due to safety defects.
This does not indicate that vehicles sold in China were better made or that quality control was greater. Rather, it was most likely due to lack of regulation and the minor penalties that companies faced for production defects.
However, this year China could see a surge in recall cases, thanks to new laws that carry much heavier fines for transgressors.
Previously, manufacturers which did not recall vehicles found to have safety defects only faced fines of up to 30,000 yuan ($4,800; 3,630 euros), hardly a formidable deterrant.
But on Jan 1, rules on recalling vehicles came into effect in China, after the State Council upgraded the previous departmental regulation to national legislation.
They require manufacturers to stop producing, selling or importing products once they are found to have defects, and to make a public announcement immediately to inform customers and buyers.
For any company that tries to conceal defects, refuses to recall vehicles, or otherwise breaches the regulations, the government can impose a fine equivalent to between 1 and 10 percent of the value of each affected vehicle.
"Assuming a car is sold for 100,000 yuan, and the production volume is 100,000 units, the fine can easily go up to 100 million yuan," says an unnamed government official .
Manufacturers have already responded to the new legislation, encouraged by the State Council's period of grace, after the regulations were approved on Oct 10, in which automakers could recall vehicles before the tougher penalties took effect.
During the final two months of the year, about 20 automakers, including FAW-Toyota and SAIC, recalled nearly 600,000 vehicles, says China's quality control authority, the General Administration of Quality Supervision, Inspection and Quarantine.
The first company to submit a recall application this year was Beiqi Foton Motor Co, the largest commercial vehicle manufacturer in China in terms of sales volume. It decided to recall 357 Auman tractors sold in a particular period.
Coincidentally, on Oct 10, Toyota announced a recall of 7.4 million vehicles, of various models worldwide, with 1.4 million from the Chinese market, due to a design flaw in their windows.
In 2010 and 2011, there were some 150 recall cases in China, but fewer than 10 were for Chinese brands, the authority notes.
Zhang Xin, an auto analyst from Guotai Junan Securities, says Chinese brands are reluctant to recall vehicles, not just because of the high cost, but also because of the damage it may do to brand image and customers' confidence in Chinese makes in general.
"While some foreign brands use recall as an opportunity to boast their social responsibilities, Chinese brands try to avoid these scenarios," he says. "This is also a result of different cultures.
"Besides, as most Chinese brands produce budget models, customers tend to be more tolerant of flaws as they haven't spent too much money."
Now, industry veterans are warning manufacturers that it is better to be safe than sorry, and risk incurring a potentially massive fine. They also say the legislation will prompt Chinese brands to improve quality before they compete with foreign counterparts in the international market.
The new regulation also urges foreign brands in China to be more responsible when faced with defects in products.
Some foreign brands have been criticized for applying double standards in different markets. While they follow stringent safety standards in mature markets and recall vehicles, many do not in Chinese mainland, even for the same car model.
At the end of last year, Volkswagen Group announced a recall of some models in Taiwan because of problems with their direct shift gearbox, but only offered an extended warranty and a software update for customers in the Chinese mainland.
The company argued that there was no difference in their actions in how they affected customers.
But Zhang from Guotai Junan Securities warns that recall is not equivalent to warranty, so customers "should not expect an immediate recall whenever something happened to their cars".
"They are two different concepts," Zhang says. "Warranty is to maintain cars in daily life, and the problems it solves differ in thousands of ways. But a recall case is only initiated when the manufacturers or their supervisors believe there is a design flaw that may cause accidents on a large scale."
Song Jian, director of the automobile technology study institute at Tsinghua University in Beijing, says the government still needs to work out specific details of the new recall regulation regarding customer usage of the affected vehicle.
"The government should outline detailed safety standards that are consistent with international ones, so that companies have no excuse to escape their responsibilities," Song says.
The new regulation also allows room for customers to report defects they find in daily use.
China's quality control authority this week also published new regulations on warranties for car buyers.
The rules, which stipulate the responsibilities of the vehicle seller for the repair, replacement and refund concerning private cars sold in China, will take effect on Oct 1 this year.
Car sellers should replace a car or provide a full refund if serious quality problems are found within 60 days of its purchase, or 3,000 kilometers.
Via: ChinaDaily.