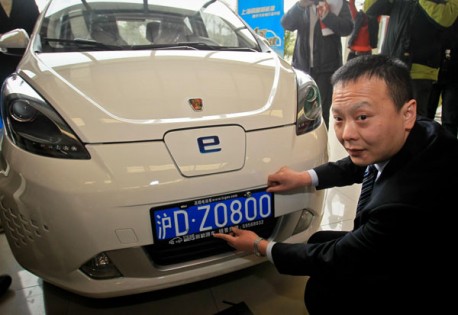 Shanghai resident Qian Jun didn't have to spend a single penny on a license plate for his newly-bought battery electric vehicle (BEV). The electric car cost him 140,000 yuan ($22,498) in total, including a vehicle purchase tax and car insurance. Normally, a domestic BEV costs buyers 200,000 to 300,000 yuan.
Shanghai is now offering financial subsidies for purchases of BEVs on top of central and local government funding, helping car buyers to save more than 100,000 yuan each.
The municipal government issued regulations to encourage private purchase and use of new energy vehicles at the end of last year. Free car plates for new energy vehicles are one of the incentives.
"The performance of this electric car matches that of a petrol vehicle with a 1.8-liter engine," said Xu Weihan, who is in charge of BEV sales at Tzgev Limited, a company specializing in new energy vehicles.
Qian said his average daily commute is around 20 km, adding that he only has to charge his car's battery once every four or five days. The monthly electricity bill for his car is about 60 yuan, far less than the money one normally pays for gasoline.
"I mainly charge the car at work, since there are charging posts near my company," Qian said.
Shanghai now has over 1,000 charging posts, most of which are located in the city's Jiading district, where Qian lives. The city is planning to build 50 battery switch stations with 5,000 charging posts over the next three to four years.
"Electric vehicle technology has become more mature and people now have to pay much higher prices for license plates. This has led to more people coming to ask us about electric vehicles," Xu said.
The average bid for a plate in Shanghai soared to a record high of 75,332 yuan during a monthly auction that ended on Saturday, an increase of 5,986 yuan compared with last month.
"Environmental protection could be another reason for the popularity of electric vehicles," Xu added.
Dangerous levels of air pollution in some Chinese cities have been blamed on increased vehicle emissions resulting from a greater number of cars hitting the streets in recent years.
Via: ChinaDaily.