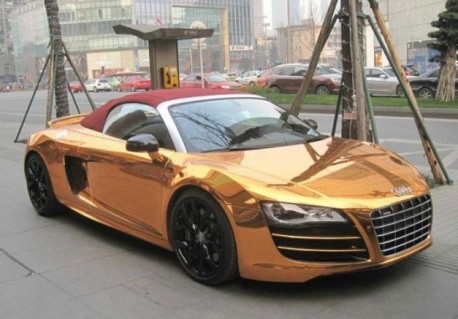 An extremely smoggy Monday morning in Beijing, we need Bling! And Bling we have, this is a V10 powered Audi R8 Spyder supercar wrapped in gold, seen on da streets in the great city of Dalian in Liaoning Province. We better get the vehicle in the Capital quickly to Bling the Pollution away. Well, Dalian and Beijing are only 500 kilometers apart…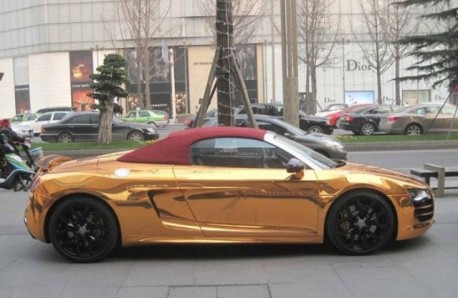 The Audi R8 loox fantastic in gold. The wrap seems of high quality and neatly covers the bumpers. the mirrors however are intentionally in black, which doesn't work too well on this vehicle. Fortunately there is some more good-pretty in the form of a red roof and black alloys. Engine is good too, the 5.2 liter V10 poops out 525hp and 530nm, good for a 316km/h top speed.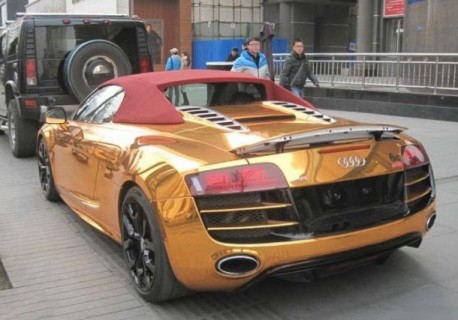 A great bling machine. The Audi R8 is a very popular sportscar in China and our collection is starting to get rather serious: Audi TT, lime green, broken, Bling, China Edition, hits taxi, matte black, ABT Lambo-doors, another matte-black,  hits mail truck, Limited Edition, in blue and in matte army-green. Price in China for the V10 Spyder starts at 2.49 million yuan or 400.000 USD.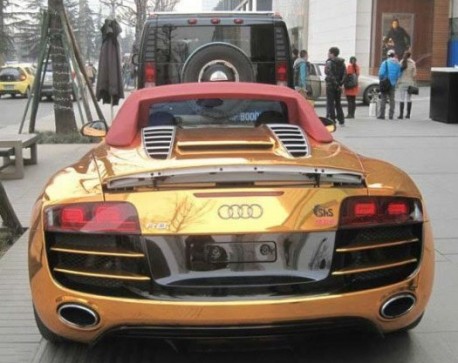 Parked behind Hummer H2.