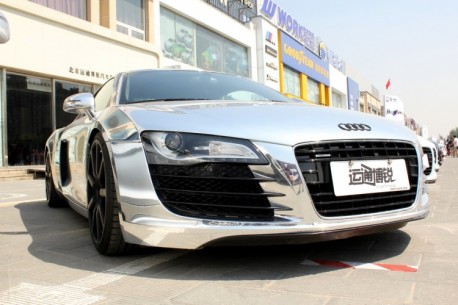 A very cold Friday morning in Beijing, the weather bureau says this is the coldest winter in 27 years. Time so for Bling to heath us up! Here we have a fantastic all-silver super-bling Audi R8 sportsmachine, seen in the Shunyi Distric in northern Beijing.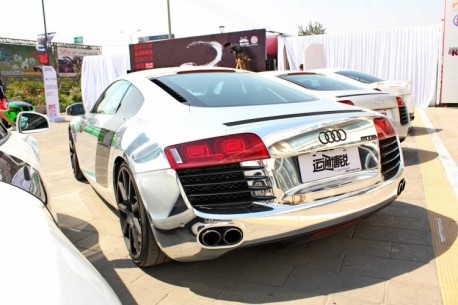 The wrap seems of very good quality and is neatly applied over the bumpers and mirrors. The air intakes and air vents are painted in a dark kinda black. Best of all are the 20 inch racy tires with gigantic matte black alloys. We Audii.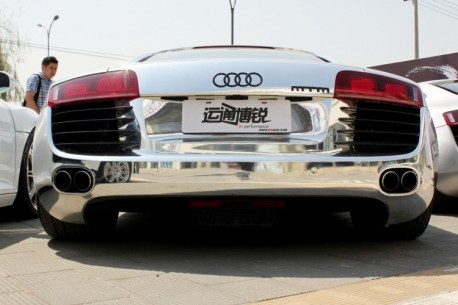 This shiny monster is powered by the 4.2 V8 but made much faster with an MTM supercharger, bringing power to 560 horsepower, good for a 302km/h top speed and a 0-100 in 4.0 seconds. That indeed, is serious Blingspeed. The base Audi R8 costs 1.8 million yuan in China. The MTM supercharger kit costs another 300.000 yuan. No cheap, but fast.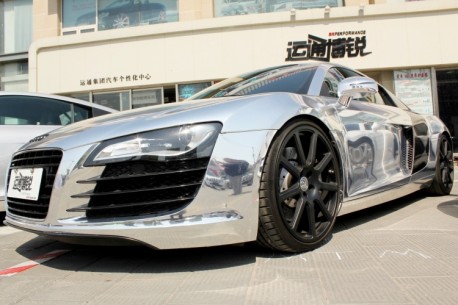 A few other notable Audi R8 supercars we met in China: China Edition, hits taxi, matte black, ABT Lambo-doors, another matte-black,  hits mail truck, Limited Edition, in blue and in matte army-green.