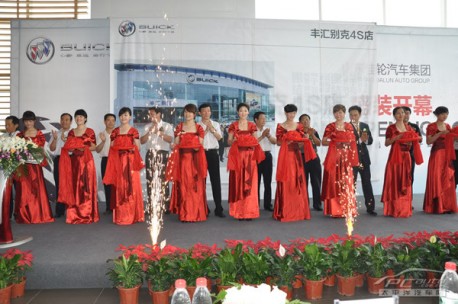 GM's sales in China increased 12.6% to 290,538 units in March, the second-highest monthly sales in this market, and 9.6% during the first quarter to a record 816,373 units.
Sales of the Shanghai-GM joint venture increased 15.2% to a record 126,785 units. Sales of the SAIC-GM-Wuling joint venture were up 10.9% to 155,065 units and sales of the FAW-GM joint venture rose 12.8% to 8,369 units.
The best-selling brand for Shanghai GM was the Buick, setting a record for March domestic sales, with 70,118 units sold, up 22.8%. Sales for the Excelle family increased 23.8% to 29,875 units, followed by the Excelle XT and GT with sales up 18.4% to 16,653 units and the Regal with 8,258 units sold, up 34.4%.
Chevrolet's sales in China decreased 3.1% to 53,038 units, the most popular model being the Sail family with 19,226 units sold. The Malibu sold 8,287 units, an increase of 93.2%, an all-time monthly high. Cadillac also sold a record 3,629 vehicles in this market, an increase of 32.2%, thanks to its XTS which sold 2,006 units, becoming the automaker's most popular product.
Wuling sales were up 13.7% in March, to an all-time record of 148,060 units, thanks to its Hong Guang brand which sold 50,032 units, up 90.3% and the Baojun brand which sold 7,005 units, up 39.8%. During the first quarter Shanghai GM sold 382,028 units, up 13.3%.
Via: InAutoNews.