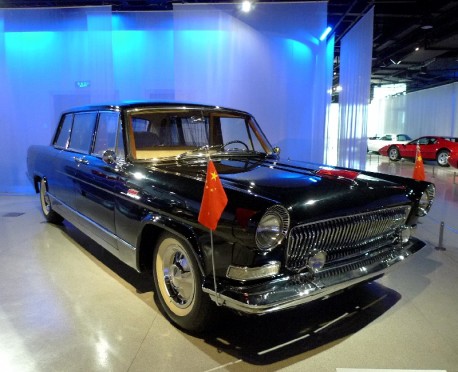 This is the perfect Hongqi CA770 state limousine from the Shanghai Car Museum, it is definitely one of the best looking examples I have seen in China so far. The Hongqi (Red Flag) CA770 was a giant sedan made exclusively for the Chinese government, only 847 cars were produced in its long life from 1966 until 1981.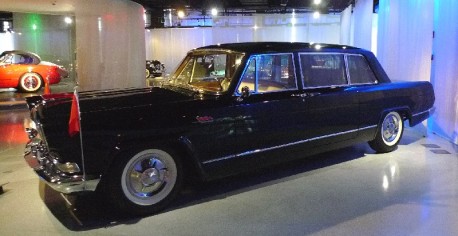 The Hongqi CA770 was based on the platform from the 1950's Chrysler Imperial, the body work however was designed in China by First Auto Works, or FAW, the owner of the Hongqi brand. The design sought to combine 'modern' elements with traditional Chinese elements.
For modernity FAW looked to the United States. Loads of chrome up front, very square greenhouse, and small tail-fins at the back. The Chinese elements come back in the grille which was shaped as a Chinese fan and the rear lamps which were shaped like Chinese lanterns.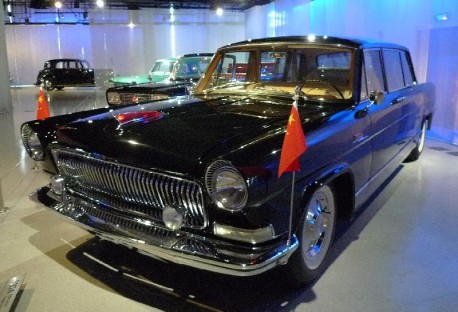 Power came from a big American 215hp 5.6 liter V8 made by Chrysler. That power it needed! The CA770 was gigantic: 5980x1990x1620, wheelbase is 3720. Curb weight was 2730kg. Claimed top speed 160km/h which is actually not that bad for a vehicle that catches more wind than a house.
Over the two years this website exist we have seen many great examples of the Hongqi CA770, today they are together for the first time: CA770G, second hand restored, second hand unrestored, abandoned 1, abandoned 2, CA772T bulletpr0of, perfect unrestored, with rubbish, two with lotta dust and one of those once again.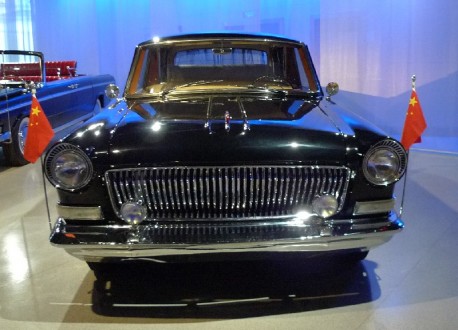 Chrome is good, more chrome is better, but Hongqi-chrome is King! A Hongqi in super state will normally fetch up to 100.000 USD, this example in Shanghai is probably worth quite a bit more than that…
The two Chinese flags look cool in a museum or on an auto show, but in the real world it doesn't work that way. When the Chinese dignitary is inside the vehicle will fly one Chinese flag. When a foreign dignitary is inside the vehicle will fly the Chinese flag on one side and the flag from the foreigner's country on the other side.
More from the Shanghai Car Museum soon later!