A very pretty and very Pink Kia K5 sedan, seen on a local tuning festival in the great city of Shanghai. The wrap is on the shiny side and neatly applied over the bumpers and rear view mirrors. The fine vehicle is further sexed up by white alloys, racy tires and a Cobra badge: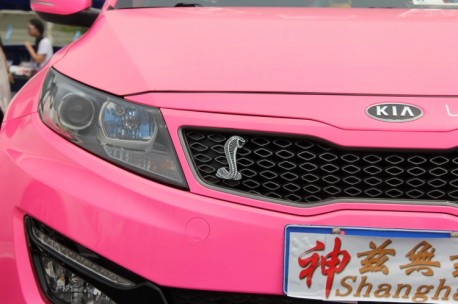 The snake somehow seems perfectly at home on Pink Kia.  Fake badges are everywhere in China, from all brands and for all brands. A neat metal example like on this Kia will cost about 50 yuan and the cheapest stickers go for 5.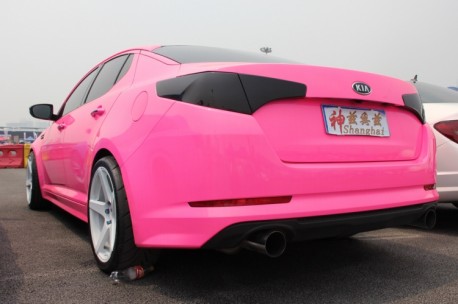 Black rear lights, black diffuser and a giant exhaust pipe complete the Pinky Kia at the back. The Kia K5 is made in China by the Dongfeng-Yueda-Kia joint venture, price starts at 159.800 yuan and end at 249.800 yuan. Engines: 2.0 and 2.4, and the hybrid is on the way. Earlier on we met a matte green example in Beijing.