A beautiful blue BMW M5, seen in the great city of Xiamen in Fujian Province by reader Pinut187, thank you for the pictures! The F10 BMW M5 is one of the fastest sedans on planet earth and it loox even faster in blue. The monster is parked in a quiet little lane, which won't look that peaceful anymore as soon as the BMW fires up its engine!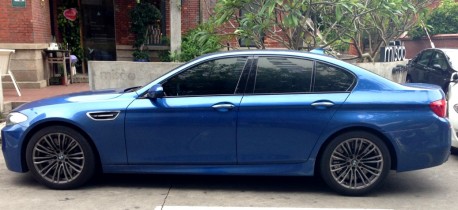 The BMW Concept M5 debuted on the 2011 Shanghai Auto Show, China is the biggest supercar market in the world so BMW wanted the M5 to be there early.
Still, the F10 isn't very popular in China, this is only the third car we see after a blue example in Beijing and a white example in Foshan. The F10 too subdued for wealthy Chinese car buyers who want to show off, a fully winged Benz AMG is just better for that kinda work.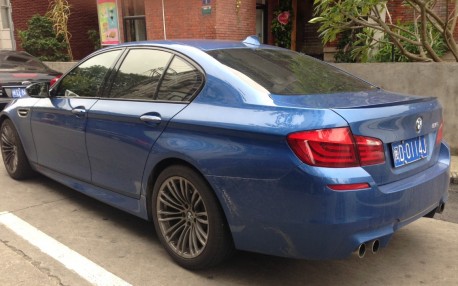 Power sure ain't too short! The twin turbo 4.4 liter V8 poops outr 560hp and 680nm. Unlimited top speed is305km/h. Money: 1.88 million yuan or 286.000 USD. The mighty M5 is imported into China, unlike the base BMW 5Li that is made in China by the Brilliance-BMW joint venture.