Spy shots showing the 2014 Audi RS7 Sportback testing in China. The RS7 Sportback debuted in January on the Detroit Auto Show and had its China-debut on the Shanghai Auto Show in April. The super speedy sportback will be launched on the Chinese car market just before the end of this year.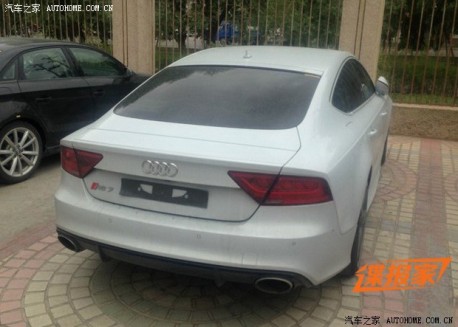 The Audi RS7 Sportback will be powered by a 4.0 liter twin-turbo V8 with 553hp and a manic 700nm, good for a 305km/h top speed and 0-100 of 3.9 seconds. Price in China will start around 1.5 million yuan or 245.000 USD.
Audi started bringing the S and RS models to China only two years ago, but with great success. The most wanted sporty Audi's are the RS5 and the RS6. The RS7 will certainly find Chinese friends but it won't be a hot dog since the sportback body isn't very popular in a country where the sedan-shape is still King.